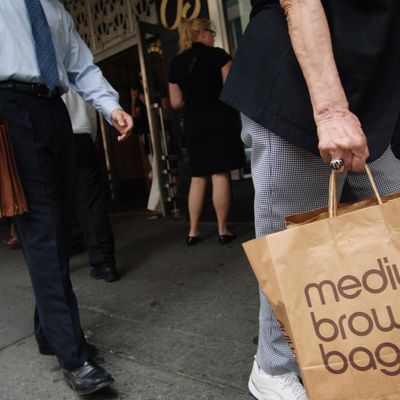 Photo: Andrew Harrer/Getty Images
Think there's no harm in buying an expensive dress, wearing it to a party, and then returning it to a store with no visible stains and/or odors later on? Well, so-called "wardrobing" — a common retail work-around — is not such a harmless crime. According to the Business of Fashion, retailers suffered $8.8 billion in losses last year* due to unsalable, gently used and returned merchandise.
At least Bloomingdale's has had enough of our sneaky, spendthrift behavior. So they're attaching three-inch black-plastic tags to visible places on clothing, like the front bottom hemline. Much like Net-a-Porter's dangling, ugly black tags, the new devices on Bloomingdale's clothing are unhidable; once removed, they cannot be reattached. No more wearing and returning, unless you decide to pretend "visible tags" are a new trend.
While other brands, like the highly targeted Victoria's Secret, employ similar tactics — VS has a database of repeat offenders, of which there are many — other retailers, like Nordstrom, are too concerned with shaming customers who might spend thousands of dollars at their store.  "It is a delicate balance of loss prevention and good customer service, and the relationship has to be handled with appropriate finesse," Rich Mellor, vice-president of loss prevention at the NRF, said to BOF.

So you don't want to break the bank for just one event? Head on over to Nordstrom where the customer is still always right. Even if they are returning a visibly stained cocktail dress.
*This post has been updated: The industry lost $8.8 billion last year, not just Bloomingdale's.