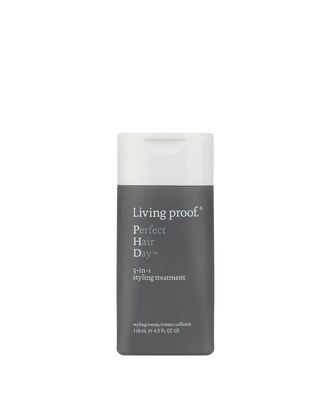 I've never met a woman who thinks her hair is naturally perfect. Chances are, unless you're French and claim you do nothing but wash your hair in Evian every night, it likely takes a creative cocktail of products to get yours the way you like it. And let's say you have limp, frizzy, and color-damaged hair (ahem), you probably have an arsenal of cans and bottles in your bathroom cabinet, some of which might even negate the others. You have to choose between volume and frizz control. And, honestly, who has time to make sure to use all of the products correctly? Crisis.
The bio-technolgists at Living Proof love solving hair problems. Known for their effective anti-frizz shampoo and conditioner, they've released a steady stream of other products that have sought to solve our biggest hair woes: fighting breakage, increasing volume, and getting that ultrasmooth shine of a celebrity hairstyle. But they'd never figured out how to do it all in one product. Until now. This month they've released Perfect Hair Day (PHD), which combines two of their patented molecules: OFPMA (which tames friz by wrapping hair in a silcon-free shield) and PBAE (which adds microscopic thickening agents).
I've been experimenting with this product for two straight weeks, which may not make my findings scientific, but the first time I tried it directly on dry hair (because I was impatient when I got the bottle at work) even though it's meant to be used on wet locks. A few drops smoothed over my frizz helped to tame it. That night, after a wash with my regular shampoo (not a Living Proof brand), I combed it through from roots to ends as advised. Then I did nothing but let it air-dry. The following morning my hair felt full, and styling with a curling iron went extra fast because my hair simply complied with the iron in a way that it normally won't. I was starting to believe. The next time I washed my hair, I applied PHD and blew it dry. That yielded the best results of all. Smooth, thick hair. I slept on it. In the morning I did a few quick hits of the iron and was good to go, no serums, sprays, or anything else needed.
Over the next week I tried it over and over. Though I found that I needed to wash my hair more often, the product gave consistently good results. Time to weed out some of those bottles clogging my cabinet. The perfect way to start a new season.
Perfect Hair Day (PHD) 5-in-1 styling treatment, four ounces for $26, at Living Proof.