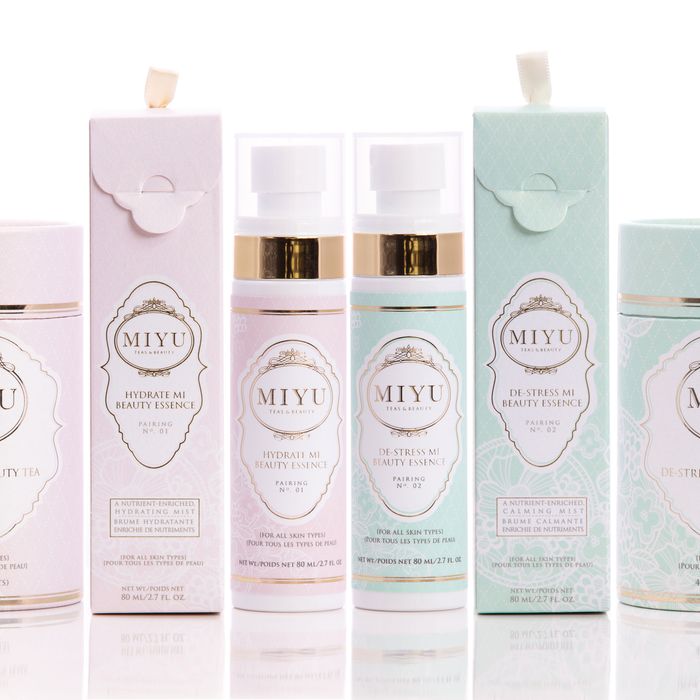 Canadian-born Connie Tai, 32, knew since the age of 14 that she wanted to work in the beauty industry. But instead of getting a job at her local Clinique counter, she earned a degree in chemistry, then moved to New York City and got another one from FIT in cosmetics and fragrance marketing. After that, she worked for Bliss, where she launched over 30 products for the brand. Most people would call this a pretty successful career, but Tai then went for a third degree, an MBA. (Feeling like an underachiever yet?)
A newly launched beauty brand called Miyu is the result of all that studying. The line is one of the more clever concepts to surface in a while, a fusion of science, tradition, trend, and gorgeous packaging. Miyu pairs teas and skin care, and the products are meant to address your lifestyle rather than a specific skin type. "It's the same concept as pairing wine with cheese," Tai said. "We pair our essences with tea. They share some ingredients but they complement each other." (If only someone would come up with a beauty product based on cheese.)
The idea was born after Tai's father started a nutraceuticals company based on traditional Chinese healing. This coincided with a stressful time in Tai's life in which her skin started breaking out and current products on the market weren't working for her. "I started reading more about the philosophy of traditional Chinese medicine. I really started to get interested in how lifestyle affects your health and ultimately your skin," Tai said. "I didn't feel there was any particular product that addressed this specifically. "
There's a "beauty from within" moment happening in the industry right now — Bliss just launched an array of new oral beauty supplements — but Tai noted, "Supplements just aren't enjoyable to take." But there's nothing more relaxing than a cup of tea, right? Tai is on trend here. Kusmi Tea released a "BB tea" a few months ago to make complexions more luminous.
Currently there are two different lines under the Miyu brand: "Hydrate Mi" and "De-Stress Mi." Each includes a tea and a "beauty essence," which is essentially an amped-up facial mist that has the same level of active ingredients as a more traditional serum, and is loaded with hyaluronic acid for maximum hydration. You use the beauty essence in the morning and evening, and drink the corresponding tea whenever you want. (They don't contain caffeine, so bedtime is an option.) Miyu includes three signature ingredients in its skin care, all of which have been used in Chinese medicine for centuries. They contain green tea for its high level of antioxidants, pearl for its minerals, and white peony for its brightening properties.
Everyone is a sucker for pretty beauty products, and this line is particularly gorgeous. Rather than go the route of modern, clean lines, Tai wanted a European look for her packaging. "I wanted the products to have the science behind them," Tai explained. "A lot of products that do have science aren't that attractive. I wanted to have something look as beautiful as how it functions."
Miyu launched in August at Birchbox and in Canada at Topbox. The De-Stress Mi essence promptly sold out in two weeks. You can still buy it at Birchbox or at MIYU's website. Pairings go for $42, or you can buy the essences and tea à la carte. One lump or two?