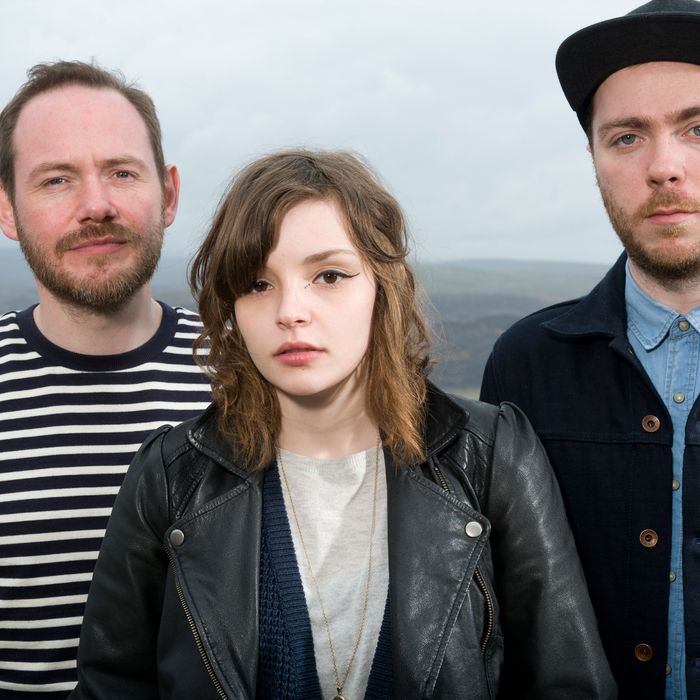 Photo: Steven Dewall/2013 Steven Dewall
Chvrches singer Lauren Mayberry is the latest female musician to publicly wonder when and how a fusillade of online sexual harassment became part of her job description. "Why should women 'deal' with this?" she wrote in the Guardian. "I am incredibly lucky to be doing the job I am doing at the moment — and painfully aware of the fact that I would not be able to make music for a living without people on the internet caring about our band. But does that mean that I need to accept that it's OK for people to make comments like this, because that's how women in my position are spoken to?"
In the spring, electronic musician Grimes (a.k.a. Claire Boucher) published a similarly exasperated manifesto on Tumblr. "I don't want to be molested at shows or on the street by people who perceive me as an object that exists for their personal satisfaction," Boucher wrote. "I'm tired of creeps on message boards discussing whether or not they'd 'fuck' me." Rapper Kitty Pryde has pushed back against her rapey fans (as well as those of her mentor Danny Brown) in her writing for Vice and on her Tumblr. The rape-mail phenomenon has been equally well-documented by female writers, including Laurie Penny and Caroline Criado-Perez.
And like U.K. feminist campaigner Criado-Perez, Mayberry's online harassment only got worse after she publicly complained about it, posting to Facebook a screengrab of a message from a stranger saying he thought they'd "make superior love together." The trolls brought their A material to the comments of that post:
"This isn't rape culture. You'll know rape culture when I'm raping you, bitch."

"I have your address and I will come round to your house and give u anal and you will love it you twat lol."

"Act like a slut, getting treated like a sluy [sic]."

"It's just one of those things you'll need to learn to deal with. If you're easily offended, then maybe the music industry isn't for you."
Mayberry emphasizes that Chvrches is an Internet-savvy band that relied on social networks for its early champions and still values connecting with fans directly there. She goes out of her way to say that she doesn't hate men; she has resisted "push the girl to the front" marketing for the band; and she can take criticism of her music.
What I do not accept, however, is that it is all right for people to make comments ranging from "a bit sexist but generally harmless" to openly sexually aggressive. That it is something that "just happens". Is the casual objectification of women so commonplace that we should all just suck it up, roll over and accept defeat? I hope not. Objectification, whatever its form, is not something anyone should have to "just deal with".
For now, she wants the trolls to know that she's reading all the rape messages, and they make her cry, but she's going to keep making music.