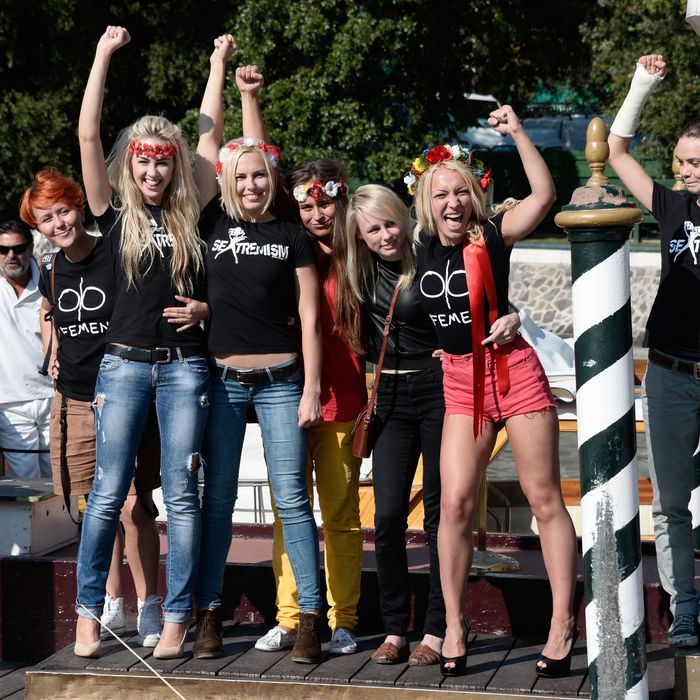 Photo: Luca Teuchmann/Getty Images
File under "retrospectively logical bummers": There's a shady male puppet master behind Femen, Ukraine's topless feminist activists. A new documentary about the group, Ukraine Is Not a Brothel, by 28-year-old Australian Kitty Green, reveals that Victor Svyatski, a self-described "consultant" to Femen, quietly founded and still controls the group. (Disturbing pictures of him after he was beaten by Ukraine secret service (he says) for his involvement in  Femen here.) "It's his movement and he hand-picked the prettiest girls because the prettiest girls sell more papers," Green tells the Independent. "The prettiest girls get on the front page … that became their image, that became the way they sold the brand."
Like any shadowy figurehead worth his salt, Svyatski was reportedly reluctant to appear on camera. This is probably because he knew he deep down he was a not-nice guy who sent them on a dangerous mission to Belarus, would "scream at" Femen members and "call them bitches," and would wind up being filmed saying things like:
These girls are weak … They don't have the strength of character. They don't even have the desire to be strong. Instead, they show submissiveness, spinelessness, lack of punctuality, and many other factors which prevent them from becoming political activists. These are qualities which it was essential to teach them.
Unsurprisingly, one of the Femen members describes the dynamic between the women and Svyatski as "Stockholm syndrome": "We are psychologically dependent on him and even if we know and understand that we could do this by ourselves without his help, it's psychological dependence." Even less surprising: Svyatski admits that yes, somewhere in his "deep subconscious," he might have gotten into the whole feminism industry as a way to meet chicks.