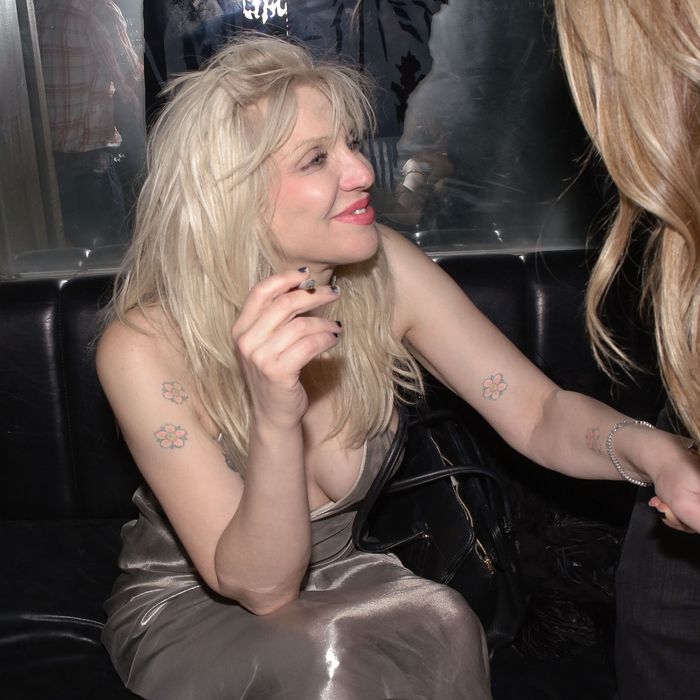 Courtney Love.
Photo: Andrew Toth/Getty Images
"Does anyone have a cigarette?" asked Courtney Love as she took the stage at the Dream Downtown's Gallery, where Hole's drummer, Scott Lipps, was celebrating his new book last night. Someone in the audience tossed her one, and she blew smoke into the microphone. "Thanks!" She then delivered a wall-shaking performance of "Malibu" and "Violet," peppering her twenty-minute set with a running commentary about current pop stars (she called Miley Cyrus "a hillbilly" and Katy Perry "boring") while audience members Paris Hilton, Taryn Manning, and Kate Nash giggled awkwardly.
Afterward, Love snuggled into a booth at Electric Room and, when we approached her for an interview, welcomed us with a big smooch.
NYM: Did you hear about the Gwyneth Paltrow versus Vanity Fair feud? 
CL: No, what is it?
She sent an e-mail to friends saying Vanity Fair was "threatening" to put her on their cover, and asked them not to give quotes.
Gwyneth is one of my best friends. If Gwyneth says don't do it, then fuck you, Vanity Fair! I'm going to stick up for her and be very articulate and you're going to publish every word I say!
Okay.
If she had something she wanted to sell, or a movie or something like that, then she'd go to her publicist and say, "Let's do Vanity Fair." For Vanity Fair to do a write-around about Gwyneth is uncool and déclassé and boring and terrible of them. And it just shows you where Vanity Fair has fallen. They have Taylor fucking Swift on the cover getting a puppy.   
You mentioned Katy Perry being boring before. How come?
I'm not trying to be a bitch — she's a nice girl. But she just bores me.  
You hung out with Gaga at the V party on Saturday. What'd you two talk about?
We had a really good discussion. She's cool — we talked for about fifteen, twenty minutes. She's going through a lot of changes, and has been hanging out with Marina [Abramovic] and also my friend Klaus [Biesenbach], and sort of discovering that side of herself. I really like the natural thing [she's doing lately] — I mean, I'm sure she'll go back to Gothic stuff. But she heard that I was going to leave so she came to find me. It was cool — like the popular girl came to tell me not to leave lunch hour. 
Do you think she's influenced by your music?
No, not at all. She's been around gay guys her whole life, and I think she's finally trying to get her own identity and find out who she is. I thought it was very brave of her at the VMAs to put boos in her audio track.  
How far along are you with your forthcoming album?
We have the single, which comes out when my book comes out this winter. But we're missing a song that's modern … I would love to do a duet with Jay Z. Wouldn't that be great? Gwyneth asked him if he heard my version of "99 Problems" and he said it was brilliant, so …  
So you guys really are pals, huh?
She's a great mentor. Gwyneth has never, ever given up on me — even when I was on Adderall and stuff, and I love her for that. 
Adderall has such a bad rep nowadays, doesn't it? 
Terrible drug! And not only that, but everyone's on it.