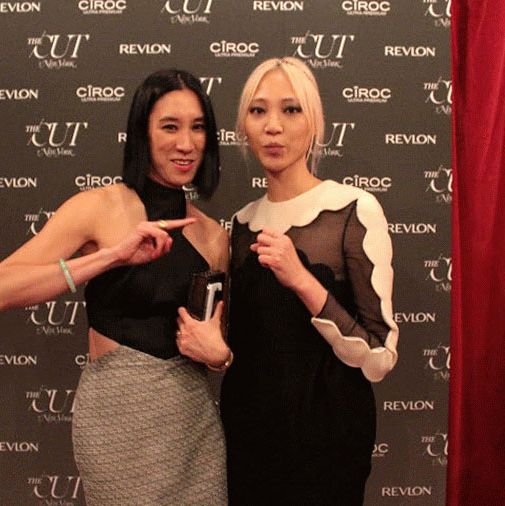 What is it that is so satisfying about a good GIF? Is it the ability to capture an expression — a wink, an eye-roll, a laugh — without those awkward caught-in-the-middle faces? Is it how they approximate the moving photographs in Harry Potter? The Cut's been making original GIFs from Fashion Week moments for a few seasons now. At our rain-soaked party last night, we were the first media brand to make red-carpet GIFs using Google+'s new AutoAwesome feature. It automatically generates short animations when it detects a series of five or more photos taken in quick succession, zero Photoshop skills required. We'll be incorporating it into our red-carpet coverage going forward. For now, enjoy the Cut team, being our own guinea pigs, with some help from our more, um, graceful friends.
In a World writer, director, and star Lake Bell, minus the big rose tattoo, plus husband Scott Campbell, who temporarily inked it.
Man Repeller Leandra Medine eats her words.
Peace and love from Lucky editor-in-chief Eva Chen and model Soo Joo Park.
Do you recognize Daya (Dascha Polanco) and Mendoza (Selenis Leyva) out of their Orange Is the New Black jumpsuits?
The Jonas Brothers' eyebrows give Cara Delevingne's a run for the money.
And we're sorry you had to see this …