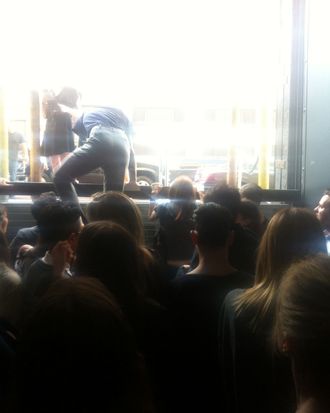 The scene.
Photo: Veronica Gledhill
News from the front lines: A freight elevator full of editors leaving the Philosophy by Natalie Ratabesi show has stalled between floors, trapping passengers in the bowels of the West 34th Street venue. Some managed to scramble out (including Eva Chen, Amy Astley, Virginia Smith, and the Cut's intrepid Veronica Gledhill — in Nicholas Kirkwood heels, no less) with the gallant assistance of Teen Vogue's Andrew Bevan and Vanity Fair's Michael Carl. One observer reports that an Italian editor is threatening to sue, and several folks are still awaiting a rescue ladder. Adventure! We'll keep you posted.
Update: Fire trucks are on the scene. Street style photographers are having a field day. No one is hurt.