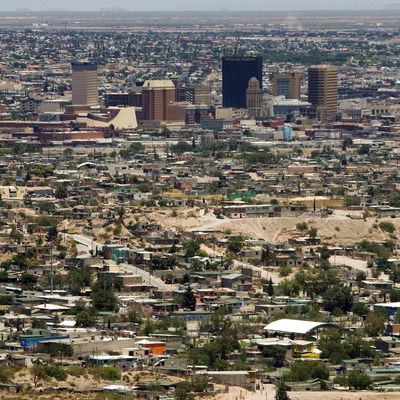 Photo: ALFREDO ESTRELLA/AFP/Getty Images
Juarez's murder rate may be dropping, but the ripple effect from years of record-setting lawlessness continues. (As do the crimes themselves, at a rate of about ten times America's homicide rate.) A woman calling herself "Diana, the hunter of bus drivers" is taking credit for the murder of two bus drivers in Ciudad Juarez — retaliation, she says, for the rape of female factory workers on their routes. The AP reports:
A woman wearing a blond wig — or dyed hair — boarded one of the school bus-style vehicles that serve as transport in Ciudad Juarez on Wednesday morning. She approached the driver, took out a pistol, shot him in the head and left the bus. The next day, apparently the same woman did exactly the same thing to another driver on the same route.
Over the weekend, media outlets began receiving e-mails from the address "Diana the hunter of bus drivers."

"I myself and other women have suffered in silence but we can't stay quiet anymore," the e-mail said. "We were victims of sexual violence by the drivers on the night shift on the routes to the maquilas," a reference to the border assembly plants that employ many residents in Ciudad Juarez, across the border from El Paso, Texas. "I am the instrument of vengeance for several women."
"Diana la cazadora de choferes" also made a Facebook page. The AP cites local reports that witnesses heard the murderer say, "You guys think you're real bad, don't you?" before shooting one of her victims, both of whom drove the 4-A bus route. Now "at least half" of the line's drivers refuse to work, even as undercover police station themselves on the route.
In the nineties and early aughts, more than 100 female bus riders disappeared in the area; many were later found raped, strangled, and dumped in desolate areas in and around Juarez. Earlier this summer, women demonstrated in Juarez to demand the release of information from police investigations of missing women, some of whom may have been victims of human trafficking.
Chihuahua state prosecutors consider Diana's vigilante confession a "working hypothesis" for the crimes, and are searching for her with a police sketch now.