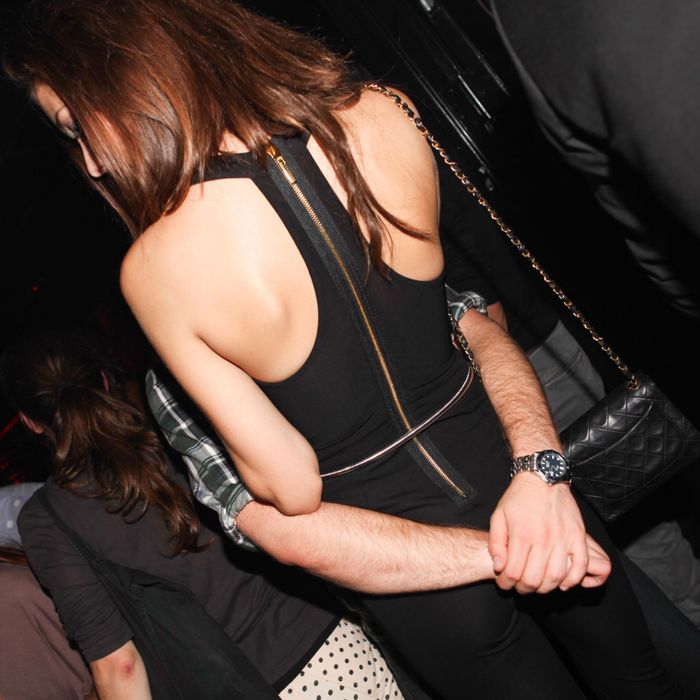 Photo: Angela Pham/BFAnyc.com/BFA NYC
To industry outsiders, Fashion Week can seem like an orgy. Models descend, Champagne flows, hip-hop stars perform 2 a.m. concerts. It ought to be what the Olympic Village is for athletes, but without the weight of the homeland on their shoulders. Or Greek Week with better booze. Isn't this why fashion editors' straight male friends badger them for plus-ones?
But here's a little-discussed conundrum: For all its beautiful people, acute personal grooming, open bars, and packed dance floors, Fashion Week is not known as a hookup scene. Rarely do you see anyone make out or pair off. No one's New York Times wedding announcement says, "They met at the Purple magazine party."
I was leaving Loewe X Junya Watanabe's brightly lit launch party at Jeffrey Sunday night (yes, alone) as young Fashion Week mascots Harry Brant and Peter Brant Jr. bounded up the stairs in complementary high-fashion military jackets. I posed the question to them: Does anyone get laid at these things?
"The models get laid at Fashion Week," Peter Jr. said.
"The professional ones don't," Harry interjected. "If they're a good model, then they're not. They have jobs."
"Okay, Harry, maybe not all models are nice girls," Peter, the elder brother, said. "I know a handful of models who have slept with someone the day before a show, friends of mine." As for himself, he doesn't consider Fashion Week suitable for "cruising."
"Everyone's kinda too tired and angry and bitchy and busy," Peter said.
According to insiders, the preening of Fashion Week has nothing to do with mating calls.
"There's so much to do," said Derek Blasberg, Harper's Bazaar editor-at-large and one of the hosts on Sunday evening. "You've got to blog, you've got to Instagram, you've got to Tweet. Why can't people just look at clothes? Why do you also have to worry about finding a boyfriend or girlfriend?"
Garance Doré and Scott Schuman — the prom king and queen of the fashion blogarazzi — met shooting street-style photos at Paris Fashion Week. But they're the exception, not the rule. At the launch of Doré's campaign for Macy's Maison Jules line Wednesday night, she was hard-pressed to come up with any other Fashion Week couplings. "I don't know anyone besides me and Scott," Doré told me over the din of an overwhelmingly female crowd.
Therein lies the primary obstacle to Fashion Week hookups: demographics. "Most of the guys here are not interested in women," Fancy Francy blogger Francisca Oredeko told me, as we approached the chaotic Phillip Lim for Target launch in Tribeca the next night. Women made mad grabs for the collection's orange leopard-print skirts and scarves, while the men's cardigans hung unmolested.
And even men seeking men face the logistical challenges of a packed party calendar. Paper editor Mickey Boardman explained that he fields texts from "cute boys" who want to go to parties every day during Fashion Week. But coordination is tricky: "I have to go to Target, but then I have to go to this W thing for Steven Meisel at ten, and then I'm meeting two cute boys at the Boom Boom Room. But they're usually kind of late, and I need to go to bed early, and what if I get stuck at the W thing with Marjorie Gubelmann?"
"You have to wing it," Boardman concluded. "You can't plan on it. If you make plans to get laid, things get too complicated."
A men's magazine editor, who swore he had witnessed many Fashion Week hookups but refused to use his name (he currently has a girlfriend), endorsed Mr. Boardman's strategy. "You go to the Boom Boom Room," he said gravely, "and you stay until last call."
Model, D.J., and Nylon correspondent Cory Kennedy said she has outgrown Fashion Week hookups of that genre. "When I was younger and drinking, every night was a mystery. Who am I going to make out with?" Now that she can see her prospects more, um, clearly, she opts out of the crowded, late-night parties. "Last night, I was like, No fashion parties for me. I'm going to Acme, where the straight men are," she said on Sunday.
Some straight men have learned to play Fashion Week expectations to their own advantage. At a party for streetwear and fashion parody labels Conflict of Interest and LPD, a friend said she'd spent twenty minutes dancing and joking with a young man she presumed to be gay. He complimented her "twerk"; she laughed at his mock encouragement. "Then he was like, 'I wanna have an awkward lunch with you,'" she recalled. She gingerly offered her business card. His response? "No, stick it in my pocket, next to my dick."
Other straight guys were less bold. At Phillip Lim's Target party on Thursday night, a pair lingered quietly in the back, wearing dress shirts and jeans. A friend who worked on the event's production had invited them.
"These women are at the tip-top of fashion," said one, a 28-year-old in finance. "Me, I just work in midtown. I almost feel like I don't belong in this lifestyle, like I'm not the guy they're looking for."
But his companion, a 29-year-old consultant, was cautiously optimistic.
"It beats meeting girls on Tinder," he said.