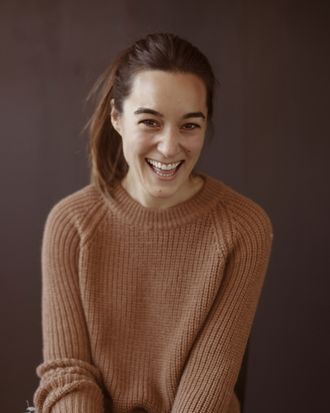 Photo: Courtesy of The Dreslyn
When Brooke Taylor Corcia left her job in Montreal as a senior womenswear buyer at Ssense, she decided to completely shift gears and open up her own clothing boutique in Los Angeles. In June, the Dreslyn launched as an online lifestyle shop, serving as a site filled with the contents of Corcia's dream wardrobe and as a voice for West Coast fashion in general. "Living in California and seeing that whole West Coast interpretation of high fashion was always really appealing to me," she told the Cut. "People think of Los Angeles fashion as being either very red carpet or very, very casual. But there's an in-between street style that a lot of women carry out so well. I found it very appealing to represent that."
Designers carried at the Dreslyn include Band of Outsiders, Rag & Bone, Opening Ceremony, Tess Giberson, and Elizabeth and James — and while only women's and home goods are currently being sold, there's a possibility that menswear might trickle into the Dreslyn in the future. Most notable? The shop's virtual styling and presentation of products (a pin-board-style grid system), and because it's a "social" shopping destination, there are outlets to share (or pin) these styled looks on just about every social-media channel desired. We spoke to Corcia about her thoughts on the L.A.-girl aesthetic, the Dreslyn's emphasis on various social-media platforms, and her personal style inspirations. As a bonus for L.A. residents, a same-day messenger-delivery-service option exists.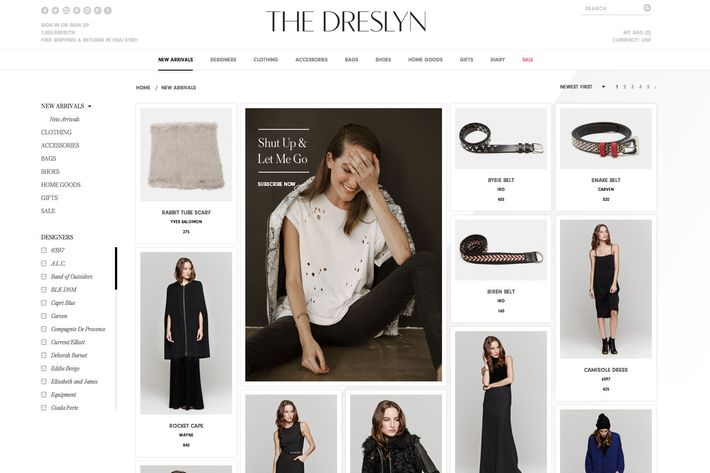 Tell me about how you came up with the name.
The name was actually a bolt-of-lightning situation. We had been tossing out a lot of names because we have room for growth in different departments. We didn't want something that was too gender-specific. I was actually driving when the name popped into my head, and when I went home, I found that the meaning of Dreslyn is a constant evolution of creativity, the arts, a need to create and produce.
What would you say is the L.A.-girl aesthetic?
We do so much layering out here, so it's always pieces that are easy, accessible, and not too stuffy. I find in California you can be on the beach in the earlier part of the day and then out to dinner. There's just so much going on here on any given day, so adding that extra layer is important. There's a little more casualwear — women are in slacks more, a little bit more laid-back.We're offering pieces you can pull on and wear and not be too concerned about needing to match it exactly with the right underpinnings. It's already functional and a little bit looser in the draping.

How would you describe your personal style?
It's really based on utility [laughs]. I wear a lot of black, I look for pieces that can take me the distance. I'm a big believer in an investment piece. I love a great jacket, leather, things that are more timeless. I think that when we buy for the site, also, we want to acknowledge trends but without being too focused on something that you wouldn't wear for a few seasons.

Do you have any style muses?
There are definitely a lot of women who inspire me. I honestly just go by things that I would want to wear. But obviously, Kate Moss is always a big one. Erin Wasson's style is really great. We tend to go between the more edgy rocker girl and really sweet and feminine collections like Carven and Giada Forte that are very French-inspired. Australian fashion has been a major influence. There are some Australian bloggers that have been really inspiring to me and that whole West Coast sensibility. Really, women off the streets and what I can picture, myself and my friends — people that I personally know and admire.
I noticed a home-goods section on the site as well. How does that play into your overall vision for the Dreslyn?
It really came from the point of view of being a lifestyle boutique. I wanted to bring this boutique sensibility to this online space, knowing that growth happens, to be a full lifestyle destination. We not only grow in what we offer in womenswear, but we can even expand to menswear. I think that's really an important differentiator for us. The way we're approaching it is to really just present things that we find exciting, inspiring, and beautiful.
There's a diary portion on your site filled with mood boards, blog posts, photos, and more. What made you decide to create that?
We're so socially focused, that's our opportunity to speak to our customer. Of course customer service is really important to us, but on a sale-by-sale level, it's happening in a computer so you aren't having the experience of coming into a store and talking with the salespeople. We really wanted a place where we can show people what's going on behind our doors, and when we do model castings, and who the people behind the brand are.