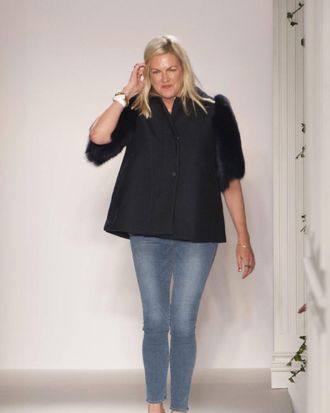 Emma Hill.
Photo: Imaxtree/Matteo Volta
Yesterday marked Emma Hill's final show as Mulberry's creative director, a position she has held for six years. When her departure was announced in June, WWD attributed it to "disagreements with management over creative and operational strategy." During her tenure, she launched Mulberry's ready-to-wear collection, and raised its profile from British accessories brand to internationally-renowned fashion label with a celebrity following that includes Kate Moss and Lana Del Rey. 
In an interview with the Telegraph before her show this weekend, Hill wouldn't air any dirty laundry on her soon-to-be-ex-employers. The label is supposedly moving in a more "luxurious" and "exclusive" direction since CEO Bruno Guillon joined the label from Hermès last year; these goals run counter to Hill's more populist, irreverent sensibilities, but she knows better than to complain about it. "I'll enjoy watching it grow," is all she would say of the company.
The label hasn't yet found a replacement for her, and she hasn't confirmed a new job, although she was rumored to be in the running for Reed Krakoff's former position at Coach (the post went to her Mulberry predecessor, Stuart Vevers, instead). Perhaps she'll just take a well-deserved break. "I'm not dropping off the face of the earth," she reassured the Telegraph, adding that she was headed "straight to the pub" after her show (a woman after our own hearts), and then off to a spa retreat for a few days.
Her final show was an ode the label's British roots, set to patriotic song "Land of Hope and Glory" (known in the U.S. as "Pomp and Circumstance"), which is often played at sports games and other events as a national anthem of sorts. As she has done in the past, Hill sent canines down the runway — in this case, a swarthy-looking English bulldog in a sweet little onesie — as well as proper-looking white lace and floral prints. It was a fitting finale, and she'll be missed; hopefully she won't stay away too long.