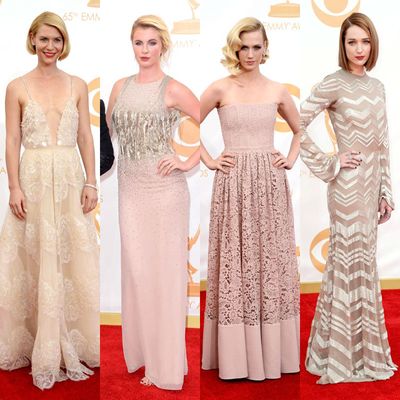 The color beige brings to mind the scene from Sex and the City (bear with us) when Mr. Big complains to Carrie that his new wife loves beige. "Everything in my apartment is now beige. Beige is bullshit," he moans. On the plus side, beige is the epitome of inoffensiveness; it's neutral and goes with everything. But it's also bland, the color of Band-Aids and boredom. And at the Emmy Awards last night, it was the trendiest dress color by miles.
Sure, all the beige wearers tried to make their dresses unique, and you can picture stylists saying, "See, this ruffle and/or neckline and/or bead detailing makes it really special!" But in the end, a parade of pale, pearly-colored dresses (also referred to as "nude" or "flesh") is like vanilla ice cream with no toppings: perfectly nice, but nothing to write home about.
There were exceptions, though, even if they were predictable: Several actresses wore plunging scarlet gowns, including perennial bombshell Sofia Vergara. Others, including Tina Fey and Anna Chlumsky, stuck to the well-worn path of jewel-toned fishtail dresses, which are usually flattering if not entirely memorable. And there were notable outliers, including Lena Dunham in floral Prada and Kiernan Shipka in fresh, embellished Delpozo. 
We're still a ways away from awards season, so consider this an amuse-bouche for hopefully more exciting red-carpet looks to come. Click through our slideshow to see the top ten trends from last night.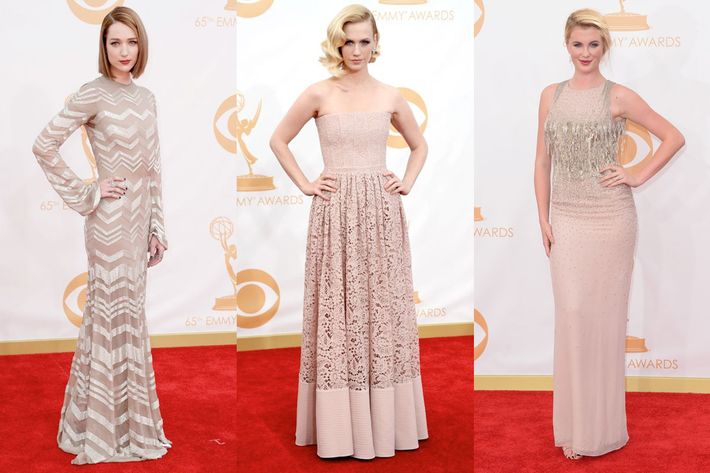 Modest Beige
Kristen Connolly, January Jones, and Ireland Baldwin all went the beige route last night, with the least success out of everyone. Their dresses were modestly cut and, despite some vague attempts to be interesting (Connolly's sheer zigzag skirt, Baldwin's odd armpit fringe), they weren't exciting enough to withstand such a wimpy color.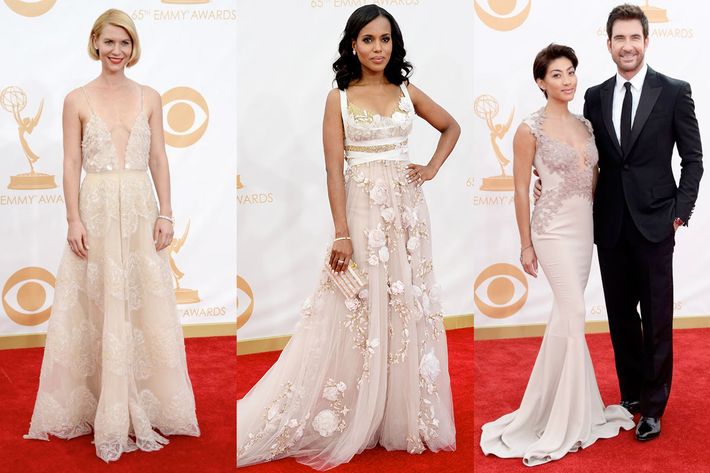 Sexy Beige
More beige came by way of Claire Danes, Kerry Washington, and Shasi Wells, and while these dresses still have their problems (Danes looks uncomfortable, and Washington looks like an over-decorated maypole), at least they're quite striking. If you're going to go beige, you've got to go bold, and an unexpected neckline is an effective way to do so.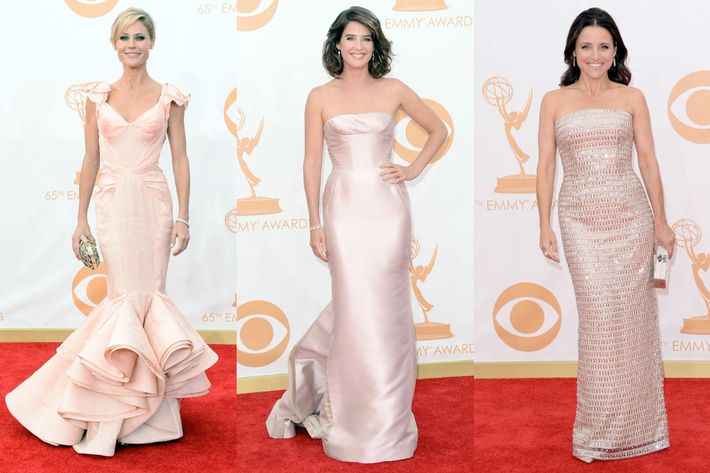 Shiny Beige
Julie Bowen, Cobie Smulders, and Julia Louis-Dreyfus also got the beige memo, but added shine and/or sparkle, which jazzed things up marginally.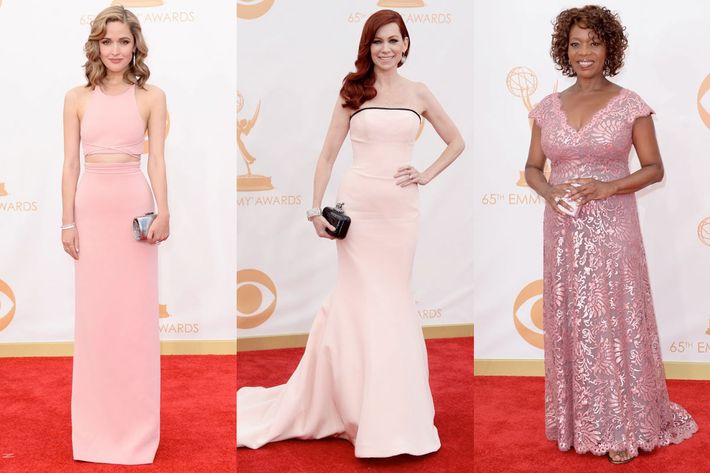 Blushy Pink
Rose Byrne, Carrie Preston, and Alfre Woodard's dresses erred more on the "blush pink" side of the color spectrum, but not quite enough to separate them from the pack. Rose's dress is close enough to her skin tone that you barely notice that slice of midriff, while Preston's is too reminiscent of 1000 Island dressing (not a good thing, especially for a redhead).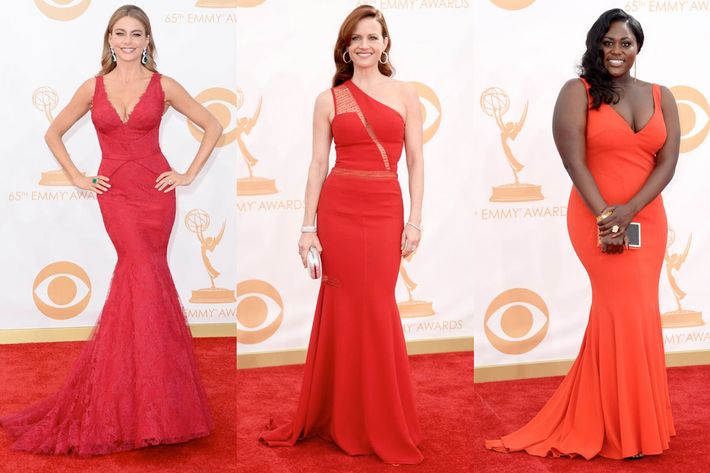 Va-Voom Red Fishtails
You can depend on Sofia Vergara for many things, and one of them is a sexy fishtail dress in traffic-stopping red. Both Carla Gugino and Danielle Brooks went for a similar look, because it's hard to go wrong with classic Hollywood glamour.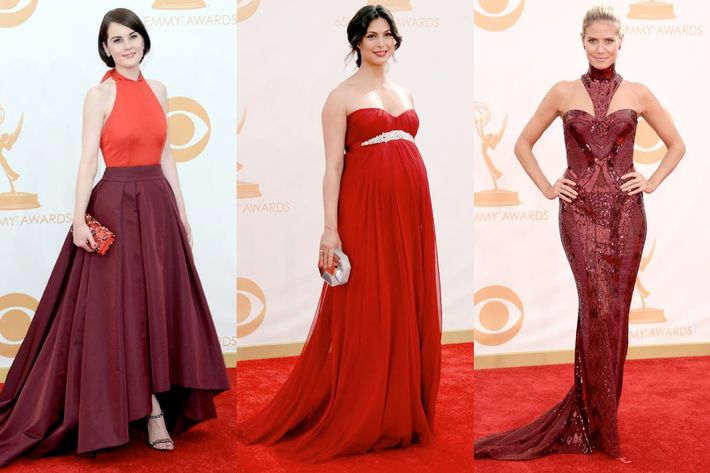 Variations on Red
Michelle Dockery, Heidi Klum, and a pregnant Morena Baccarin tried slightly more unusual red dresses than the cleavage-baring, Vergara-esque type. Sure, the real highlight of Baccarin's look is her tummy, beautifully framed by that crystal belt, but the dress works well. And Dockery's two-toned Prada is both simple and striking. Klum looks costumey, as usual, but at least she really brought it.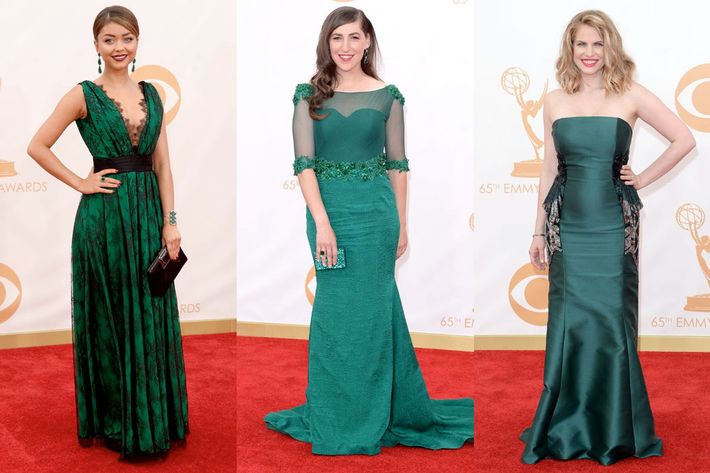 Flattering Emerald
Everyone looks good in a rich green. Sure, these dresses weren't knock-your-socks-off fabulous — in fact, they're all quite prom-y — but the color is eye-catching (see also: the most popular color of 2013) and photographs nicely.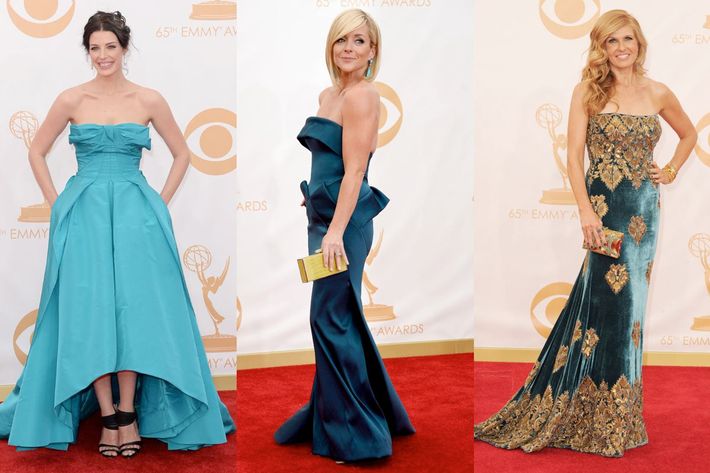 Embellished Teal
A first cousin of emerald, teal is another easy crowd pleaser; these actresses went a more decorative route, with ruffles and gold trim. Jane Krakowski's fun peplum was the arguably better use of excess fabric than Jessica Pare's pleated mullet skirt, and Connie Britton gets points for the gold embellishment, even though the velvet is a bit much.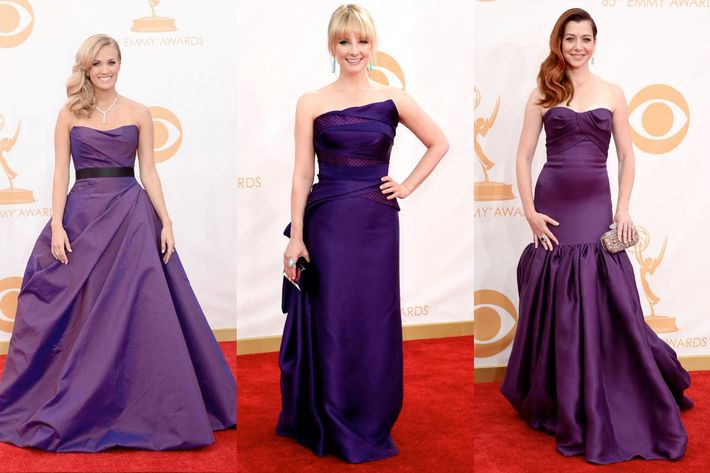 Bold Grape
Carrie Underwood, Melissa Rauch, and Alyson Hannigan all went for regal purple, another easily digestible jewel tone. Basically everything on the blue end of the color spectrum is easy to pull off. Moving on.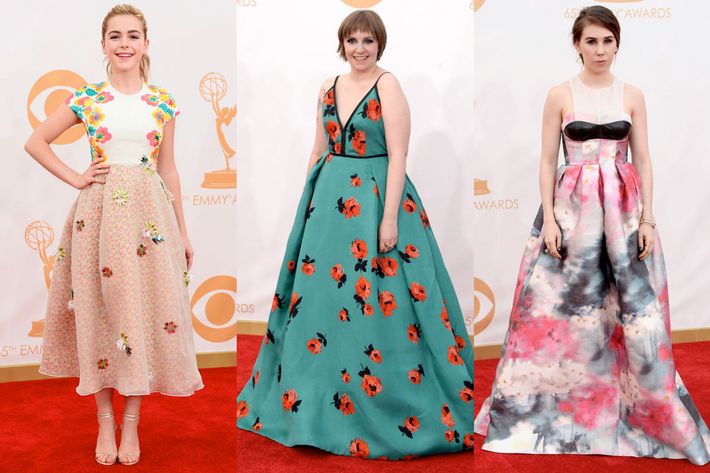 The Floral Outliers
Very few actresses strayed away from solid colors, but those who did went for bright florals. Kiernan Shipka's dress was almost part of the beige bandwagon, except for a few well-placed flowers, printed on her bodice and then affixed to her tulle skirt in appliqué form. Meanwhile, Girls actress Lena Dunham went for ballsy Prada, and her co-star Zosia Mamet wore a painterly rose print. The latter two may not have been the most flattering dresses of the evening, but at least they were different, and in a sea of monochrome almond, that counts for a lot.