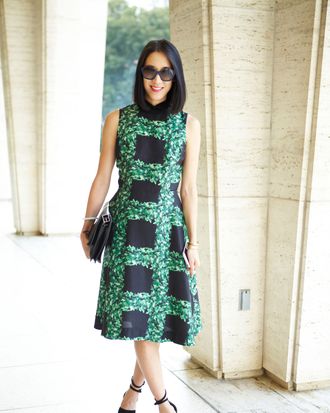 Throughout New York Fashion Week, newly minted Lucky editor Eva Chen will document her daily wardrobe for the Cut. (Welcome, Eva!) And unlike many showgoers, she improvises with her closet every morning. "It's called panic dressing," she said when we caught up with her outside the tents this morning. "There are some people who meticulously plan their Fashion Week outfits for weeks, or months. I frantically prepare the weekend before." Behold, her inaugural ensemble:
Dress: Rodarte. "It's the first Rodarte piece I've ever purchased in my life. I got it from Forward by Elyse Walker, which is one of my favorite e-commerce sites. I've always wanted to own a Rodarte dress; I feel like it's the modern-day version of Cinderella's gown. When I took it out of the box, it was folded into this teeny, tiny square. I held it up and was like, 'Okay, it's a cute dress.' But when I put it on, I fell in love with the shape."
Sunglasses: Miu Miu. "I bought them this week. My first pair of navy sunglasses."
Bag: Céline. "I've had it for a while. I inexplicably found it at a Neiman Marcus Last Call for 80 percent off. It was in perfect condition and they couldn't explain why it was there. But I was fully happy with that."
Shoes: Alexander Wang. "I bought them this weekend. Hopefully the fashion gods will be kind to me and they won't be too uncomfortable. I like them because the front almost looks like a pointy pump that had the toe bit snipped off."
Jewelry: Cartier. "I have two Cartier bracelets, the Love bracelet and the Juste En Clou nail bracelet, which were gifts from my husband for various anniversaries. FYI, husband, my birthday's coming up. And this jade bangle is a gift from my parents. I've been wearing it for like a decade. It's a Chinese good-luck kind of thing. Everyone in my family has one, and once you put it on you can't take it off."
Nail polish: Gelish. "I don't usually do gel nails; it's kind of a must-have for Fashion Week. And they're from Gelish and the color is called Tiki Tiki or something like that. They're nice and bright."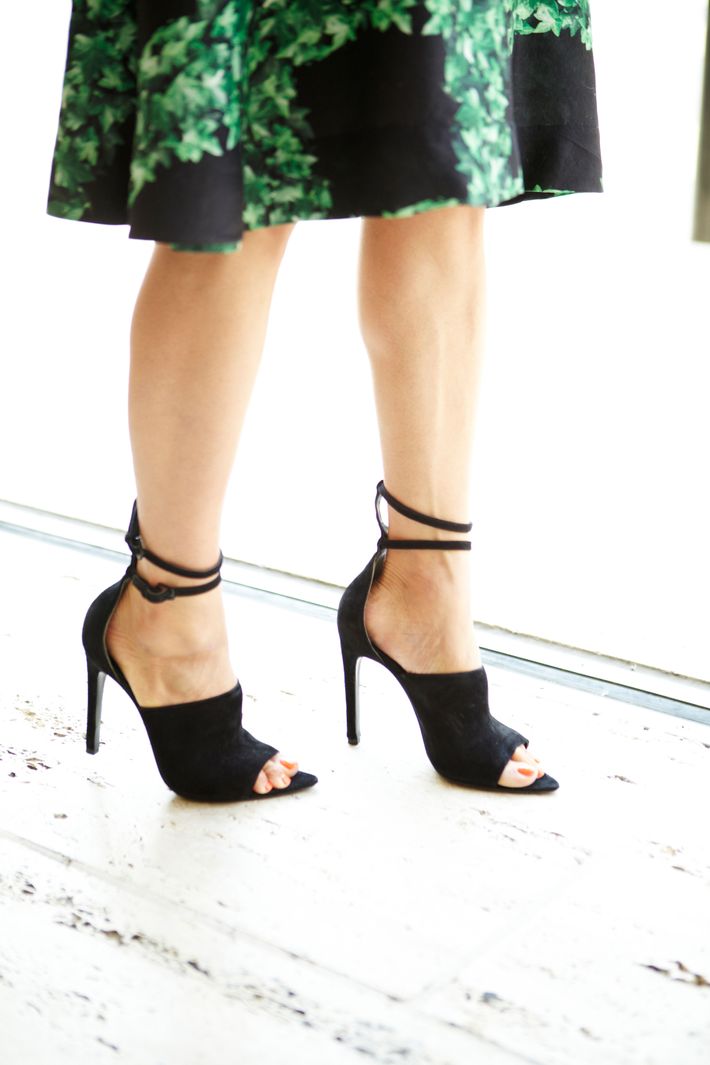 Shoes: Alexander Wang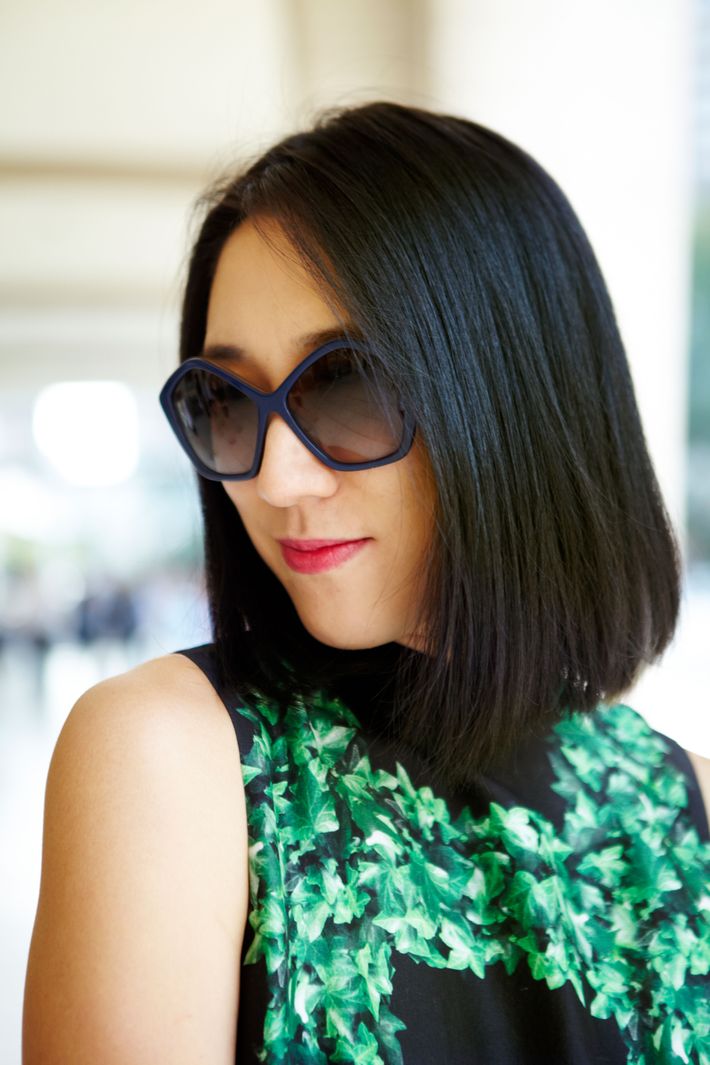 Sunglasses: Miu Miu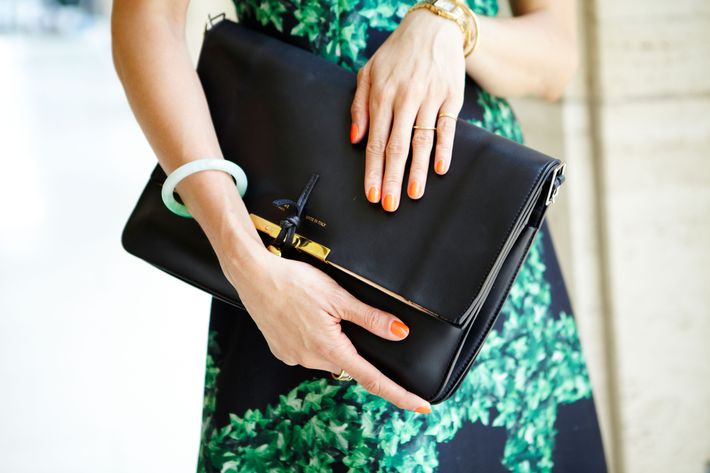 Bag: Celine. Nails: Gelish. Bracelets: Cartier.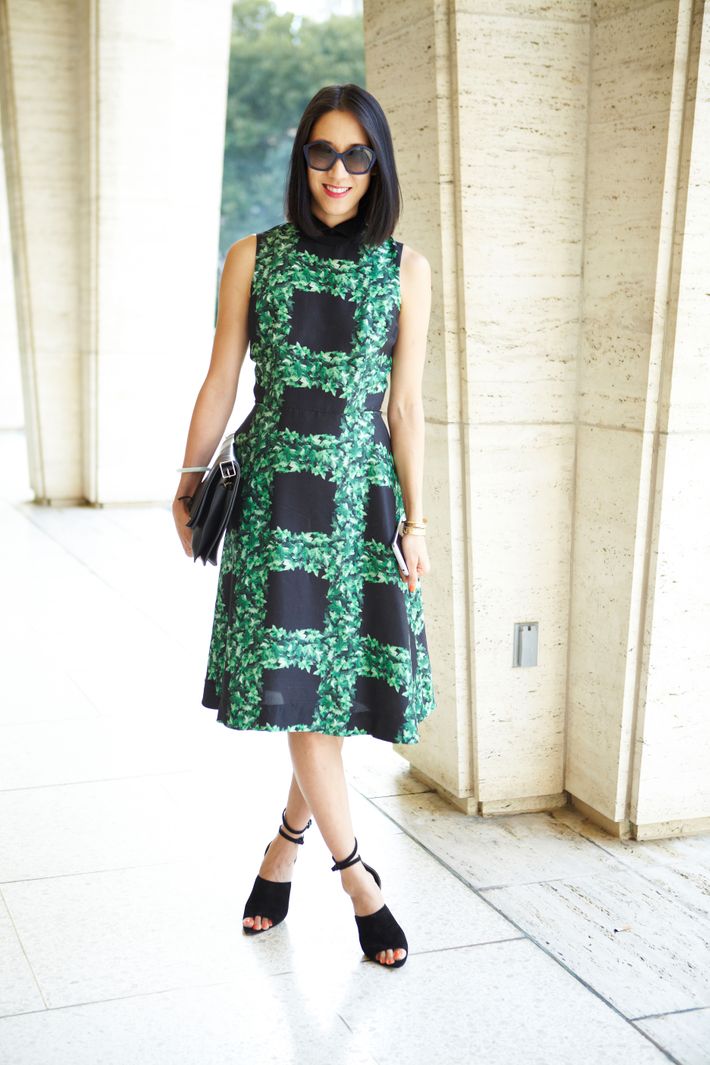 Dress: Rodarte