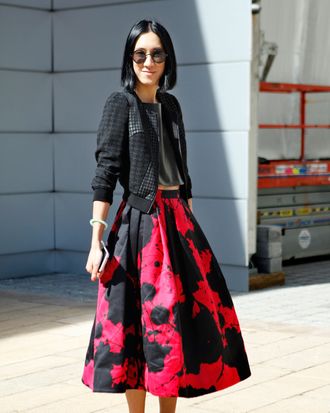 Eva Chen.
Photo: Bek Andersen
We're halfway through what has possibly been the sunniest, most blue-skied New York Fashion Week in years, and the Cut's fashion diarist Eva Chen is enjoying it with one of summer's biggest trends — the crop top. Her feet are starting to suffer, though: "The reality is that I have a pair of Birkenstocks in the car that I change into between shows," she explained, showing us her secret pair. "It's kind of embarrassing." (And yet, she's in good company.)
Jacket: Unknown. "I bought this in Hong Kong. I can't remember the name of the store. It was just like a bodega that sold exceptionally cheap clothing. This jacket was $4. I bought like ten things there, and I love it all."
Sunglasses: Unknown. "My sunglasses are also from [the Hong Kong store]. They're super cheapo sunglasses, and I lose sunglasses frequently, so it's nice to have a few pairs that don't cost a lot. I think they were $7 — they cost more than the jacket, which is funny. My husband calls these 'The Edge' glasses, because that rock star has a pair like these."
Shoes: Balenciaga. "I love these shoes. I love the detail along the back and the heel. They're beautiful, but they're very difficult to walk in. I saw a street-style picture of Taylor Tomasi wearing these shoes on the cobblestones in Paris, and I wanted to e-mail her and be like, 'Seriously, how are you wearing those shoes? Please give me some tips.'"
Skirt: Tibi. "This skirt is huge — it took up three seats at Carolina Herrera, and I had to apologize profusely to my seatmate."
Crop Top: Tibi. "It's leather."
Bag: Chanel. "It's funny, I've used this bag maybe twice in my life. I bought it a few years ago, but it's a very uptown bag, so I don't use it very often. One Halloween, I dressed up as Blair Waldorf, and my husband was Chuck Bass, and I carried this bag. But I think it works with the voluminous skirt."
Bracelet: Nike FuelBand. "I purchased Nike FuelBands for both my father and my father-in-law, because I'm trying to get them both to exercise more. So I bought one for myself too. I think it's really a dad thing. They're both really into it and they send me their updates. I don't wear mine every day, but my dad's been prodding me, like, 'Hey, don't forget to wear your FuelBand, because I'm beating you every day.' But I feel like wearing high heels is a very underrated workout!"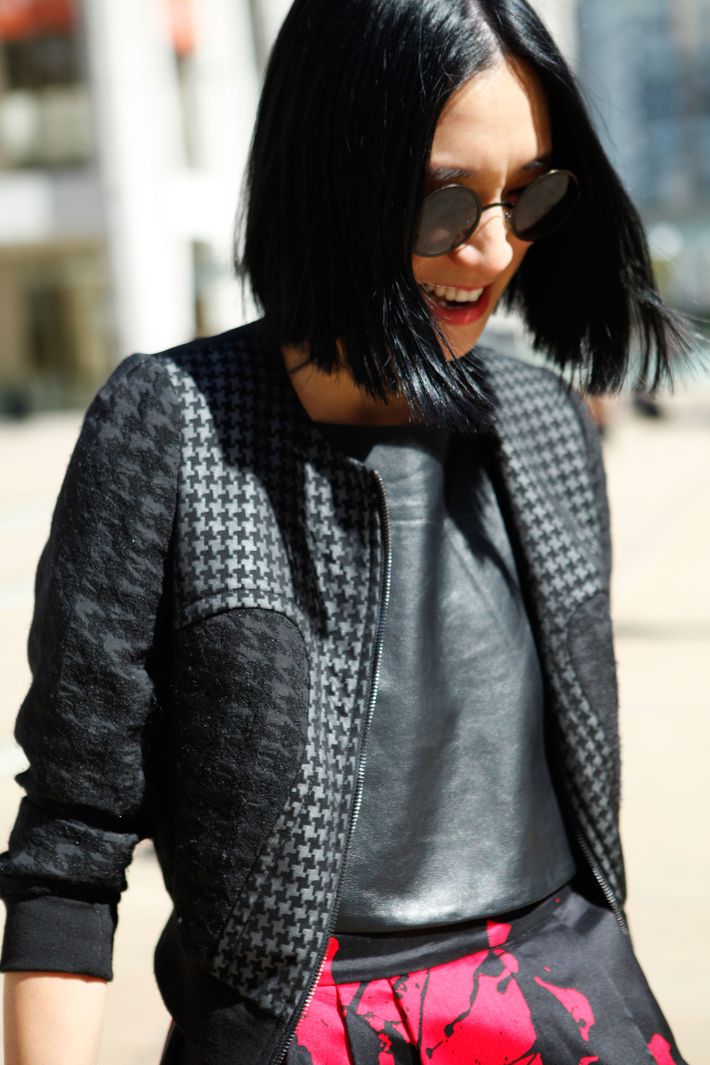 Sunglasses: Hong Kong bodega. Jacket: Hong Kong bodega.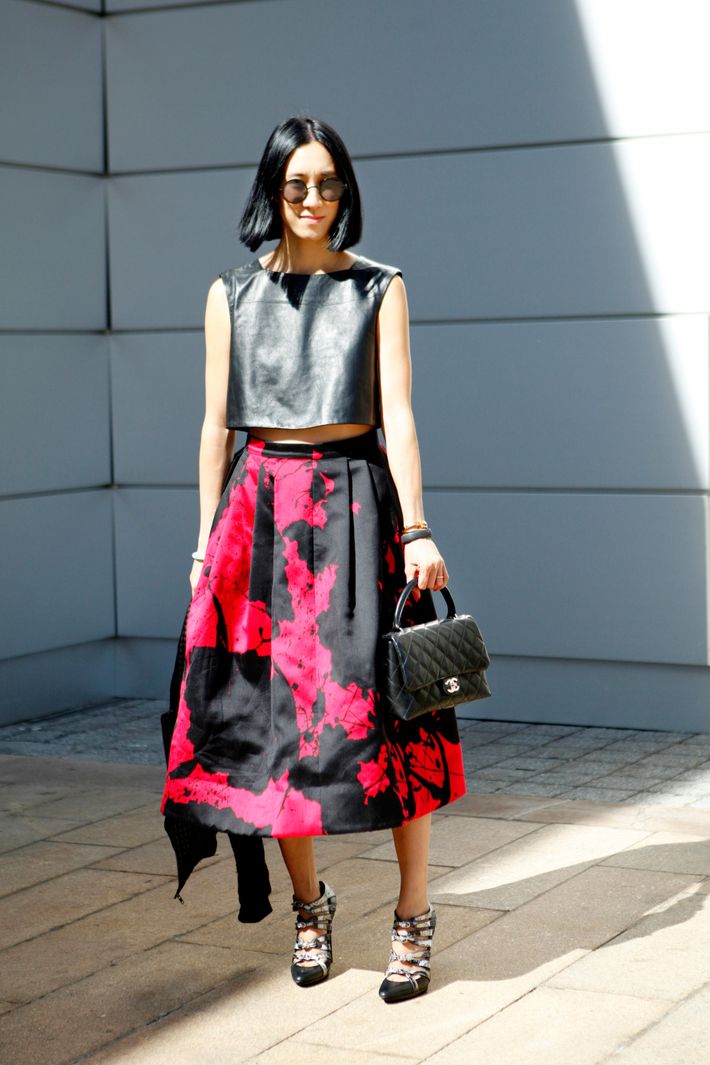 Top: Tibi. Skirt: Tibi.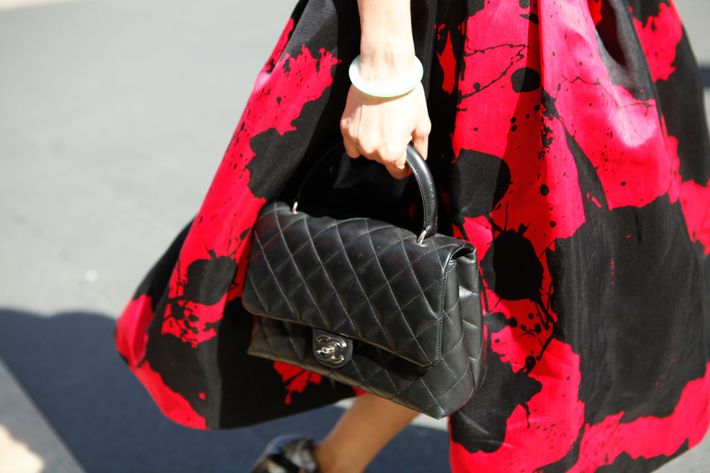 Bag: Chanel.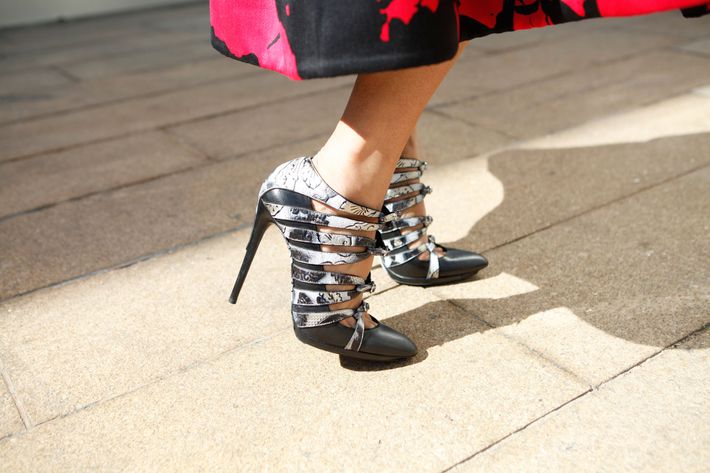 Shoes: Balenciaga.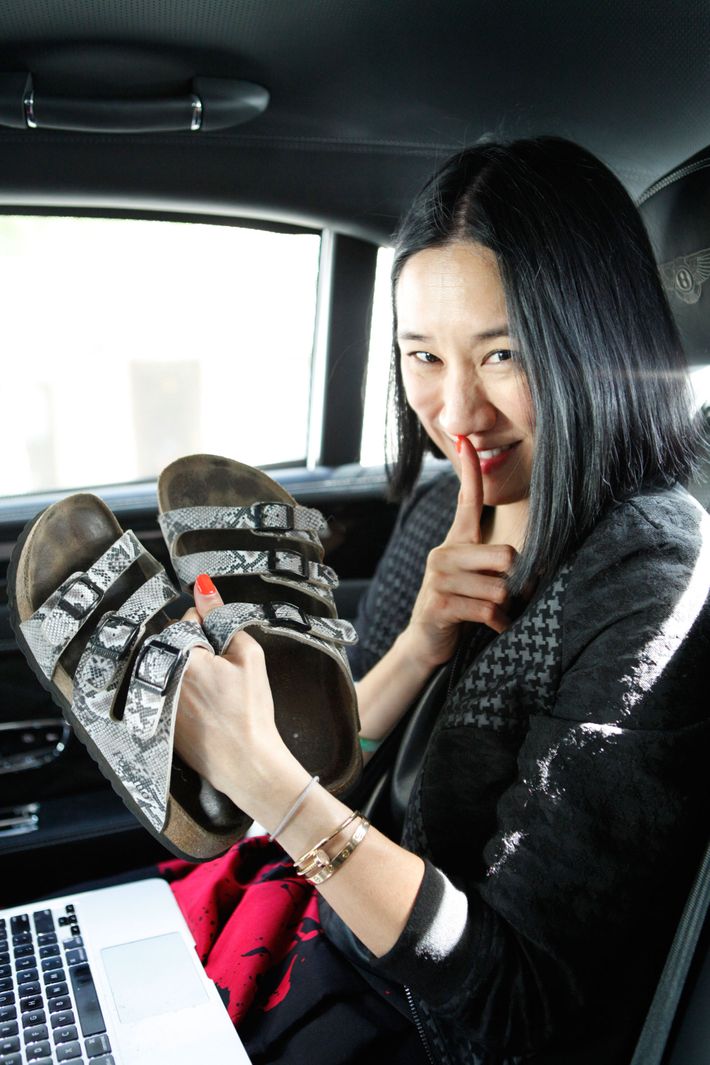 Shoes: Birkenstocks. FuelBand: Nike.