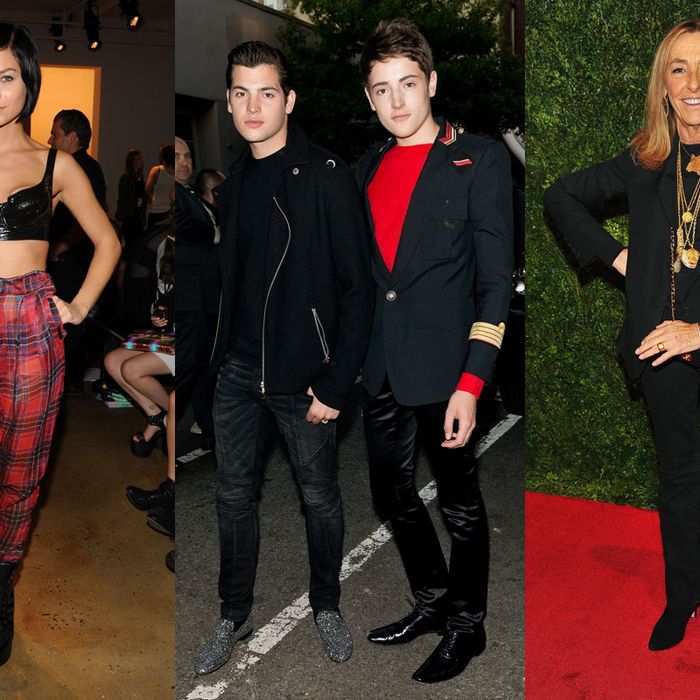 Leigh Lezark, the Brant brothers, and Carlyne.
Photo: Getty Images
E-cigarette company NJOY was one of New York Fashion Week's sponsors this season, and they were everywhere: Cocktail waiters dutifully handed them out at parties, and showgoers were permitted to "smoke" them in the tents. But just because a brand is ubiquitous doesn't always mean it's cool. Even Courtney Love, former NJOY evangelist, was puffing on the real thing when she performed at the Dream Downtown on Sunday night. We polled fashion insiders for their thoughts on smokable gadgets, and got mixed reviews.
Irina Shayk, model
"I haven't tried them. I quit smoking, so. But I think electronic cigarettes are better than [real] cigarettes, and it's definitely better for your heart as well, and for the people who are around you, so I think it's a good choice."
Leigh Lezark, D.J.
"They're much better than smoking real cigarettes, because it's not like, chemicals. Nicotine itself isn't bad for you — it's everything else, the paper even. Inhaling smoke is bad for you. I tried them before. They've been around for a while. Courtney Love did a party for them, like, ages ago."
Carlyne Cerf de Dudzeele, stylist
"Of course I tried them. I love them, because you don't have to go out every five minutes to smoke when you are at a party or a restaurant. But I read a lot of bad things, so for the moment, I am stopping. I mean, I stop the electronic cigarette. I never really stop the real one. But I'm a little afraid about electronic cigarettes. I read a lot of articles on this. Perhaps it's even worse than the real kind."
Derek Blasberg, editor-at-large, V and Harper's Bazaar
"No one has offered me any e-cigarettes! Don't I look cool enough to smoke an e-cig? Jeez. I haven't been offered, nor have I partaken."
Harry Brant, socialite
"I don't smoke them. Youthful [points to face]. But I think they're better than the real kind."
Erica Schwiegershausen and Erin Whitney also contributed reporting.