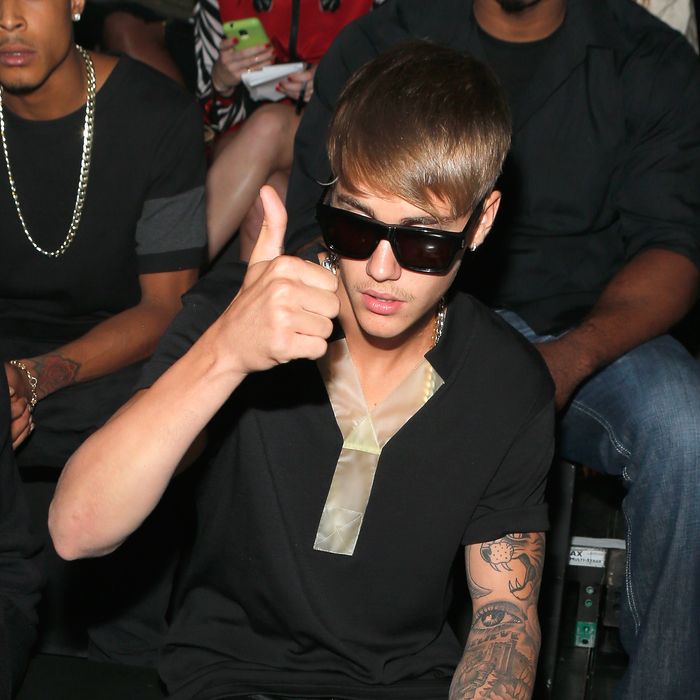 Photo: Jemal Countess/Getty Images
A very late clutch of flashbulbs at Y-3 on Sunday night heralded the arrival of True Blood man-slice Joe Manganiello, so of course being responsible reporters committed to educating our readers on the issues of the day, we sidled on over there to see what he looks like in person. The answer is: Yes.  To whatever you're asking. (Unless the question is, "Was he shirtless?" Even TV werewolves observe polite social customs, it seems.)  For reasons most likely to do with pheromones, the assembled media gathered there, snapping photos of Joe next to designer Jeremy Scott and ignoring anyone else in the front row. They sat ignored in relative quiet darkness: a snowboarder, a model, NBA star John Wall, Justin Bieber … A record scratch went off in our heads. Justin Bieber? Alone? Where were the squalling children? Their delirious mothers? The hurled undergarments? Has Bieber Fever dulled into merely a clammy malaise?
The answer to that: No. Not entirely. Although The Biebs wasn't giving interviews, he did let a couple fans take photos, one of whom was so elated that she bunny-hopped away from him while flapping her hands and breathing, "Yes yes yes yes YES," before throwing her arms around whoever had brought her there. "Who's over there?" a reporter asked us. When we told her, her eyes widened. "Bieber? FUUUUUUUUUUUUCK," she whispered. Son, I think we've found your next album title.
It's amazing Bieber managed to get in there without the least bit of fanfare. Presumably this is because the Fashion Week crowd is outside his target demographic, but we genuinely only noticed him because like magpies we headed for Manganiello's orbit and then there he was. And again, because of our devotion to Things That Matter, we can tell you the following: Bieber is neither tall nor short; he's somewhat slight, and overall basically exactly the way you imagine him to be; he did not appear to be wearing pants whose crotch tickled his knees; he did sport sunglasses and a baseball cap and glaring white kicks; and we still basically don't really get it.
But it's apt that he popped up here at a show whose theme was "Meaningless Excitement" since that's basically what happens around him every time he so much as leaves his hotel to go get a coconut water. As the intentionally chaotic show unfolded, we couldn't help wondering what he was thinking. There were seven outstanding drummers playing thunderous rhythms; would this inspire Bieber to enter a Tommy Lee phase? Lots of the female models were in harem pants, the likes of which he owns many; would he point at a pair for maybe-girlfriend Selena Gomez, so they could have matching outfits? How did the Swag Prince enjoy the shoes that resembled nothing so much as feet strapped to a week-old hunk of lemon pound cake?
There, alas, we have no answers: Bieber's Wintour-esque dark shades obscured his every emotion, and at the end of the show he was out of there so quickly and smoothly that he might as well have vanished in a cloud of smoke. Was he even real? Did two perpetually shirtless people really, truly attend this show fully clothed? We didn't stop to ponder it because a beleaguered friend nearby suddenly felt weak and overheated all of a sudden. Wait, maybe Bieber Fever IS alive and well.
For more from the Fug Girls, visit their blog, here.