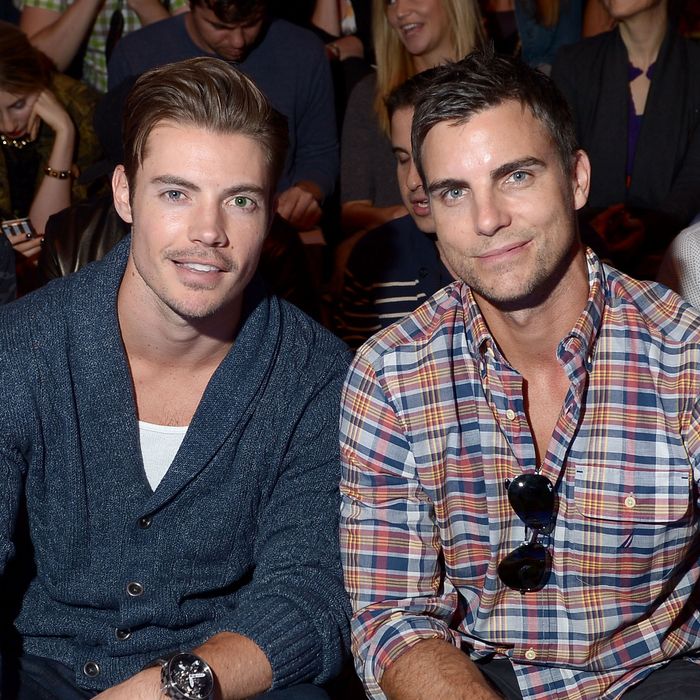 Photo: Michael Loccisano/Getty Images
The gods are smiling on us: Day two of Fashion Week brought our second helping of Fancy Gentlemen in the front row, and we ate it up like the bagel we forgot to buy for breakfast. Nautica on Friday afternoon thoughtfully put Rizzoli & Isles dreamboat Colin Egglesfield right next to Josh Henderson of the Dallas remake — who smiles a lot more than his squirrelly and smarmy alter ego John Ross does — and they gamely posed for pictures with female fans after the show and flashed very pearly whites indeed. Henderson had girlfriend Andrea Boehlke in tow, but she didn't seem to mind — which is good because she is twice a former Survivor contestant and therefore has Done Things and can probably outwit, outplay, and outlast anyone who's armed with just an iPhone and grabby hands.
Next to them we spied NFL free-agent tight end Visanthe Shiancoe (who, since Baltimore got its nethers waxed the previous night by Denver, may have been celebrating no longer being a Raven) and free-agent safety Kerry Rhodes, who talked it up a lot with Egglesfield — we assume because Rhodes is a huge fan of Egglesfield's work on The Client List (or as Susan Lucci's magically unaborted child on All My Children), and if that's not true then please don't tell us because it will harsh our man-bonding buzz.
If you'd asked us which male Carrie Diaries cast member we would see first at Fashion Week — if any — we would not have said Matt Letscher, a.k.a. Carrie Bradshaw's dad, whom we call Dadshaw. But when we saw him next to Boehlke, observing quietly and looking quite cute in his specs, we couldn't resist chatting him up about his first Fashion Week. "Being backstage for the show is exactly as crazy and intense as you would expect it to be," he mused. "Stylists running around, hair flying everywhere. It's a lot of fun. We move at a different pace [on TV sets]. This is more like a Broadway opening."

Letscher also talked a little about the challenge of working on what he called "Carrie Bradshaw in a parallel universe" — in other words, the fact that The Carrie Diaries and its source material diverge from Sex and the City, whose popularity means it's widely regarded as canon no matter what Candace Bushnell intended. Specifically, the Dadshaw character doesn't exist in Sarah Jessica Parker's Carrieverse, which fans often point to as psychologically significant. "Yeah, people didn't know what to do with that in the beginning," he admitted. "Part of the theory is that she now has such an exemplary father figure that it explains her struggles with men later because they can't live up to the example that Dad set." Then he cracked, "I like to think some of that comes from me and my general brilliance." Does that mean we can therefore blame Dadshaw for all the awkward stuff, like being dumped by Post-It, or Mikhail Baryshnikov?
In fact, it must be weird staring at tiny, young, lovely AnnaSophia Robb and knowing what funky romantic pickles — and frank Dadshaw-unapproved brunch talk — she gets herself into later. "Oh, yes, those thoughts do enter my head. And Dorrit, her sister, isn't even in the other show, and she is the real troublemaker. I shudder to think what she gets up to in four or five years," Letscher said. "But it's more surreal that I [play] the dad of a 16-year-old. I never thought I'd get old enough to be that person." We feel you, friend, but it could be worse: You could've gotten Ian Ziering'd and been cast as one of her boyfriends instead. Now that can harsh a buzz.