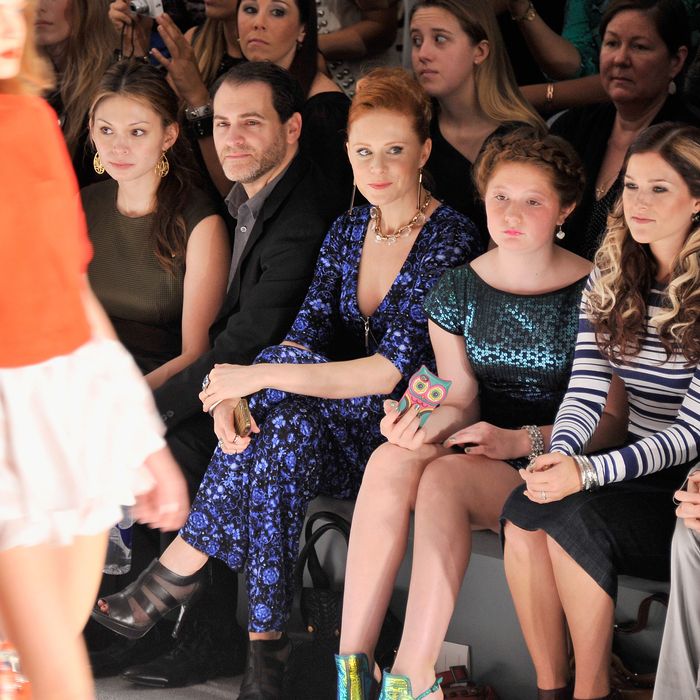 Photo: Stephen Lovekin/Getty Images
It was ragingly steamy-hot on Wednesday — the kind of day when your sweat glands erupt the second you step outside, resulting in a permanent salt-water coating on your skin — and the celebs at Nanette Lepore's show had to stay cool and unruffled despite not being dressed for the weather. "It is so hard today to look decent," said Margarita Levieva (late of ABC's Revenge), clad in a black tuxedo jacket over her red dress and fanning herself. "My face is melting off. I'm going to look at the pictures later and be like, 'Oh, no.'"
"I am from Florida, so I'm used to this," Vampire Diaries' Candice Accola told us. She swears this humidity is good for your skin, and we're willing to believe that, if that's what it takes to psych ourselves up to go outside. "Just tone down the makeup. Let your hair do what it's going to do," she advised. "You have to just lean into it." We may not have a choice, as Mother Nature appears hell-bent on leaning into us first.
Accola was in a satin suit, Boardwalk Empire's Christiane Seidel had on what appeared to be a sparkly jumpsuit, and gymnast Nastia Liukin wore a kimono-style one. We were mildly concerned that their commitment to those clothing choices constitutes leaning in so far that they're all going to pass out. Kelly Rutherford looked much breezier in a gorgeous floral dress, and spent much of the show leaning into the bearded hipster dude on her arm, whom we saw with her at Alice + Olivia and who we assume is her boyfriend — which means either that the rumors of real-life love with Rufus Humphrey were false, or that it died as Gossip Girl did. Xoxo.
But, if you will forgive us, the most intense heat was being generated by Levieva's Revenge co-star Gabriel Mann, who is as charismatic and charming in person as you'd hope. We heard him joking — or not — that his alter-ego Nolan Ross would probably roll up to Fashion Week "wearing Thom Browne, but two sizes too small." We obviously asked him about the crazy wardrobe on Revenge, which is the drama's primary highlight for us. "At one point, I probably had six layers on, including a double popped collar," he reminisced. "I always look at Nolan's wardrobe as social armor. The more layers, the more protection he's using for himself." Aha. Like SPF, but against vengeful lunatics.
Don't get too attached to the layered look, though: Gabriel told us that season three's Nolan is "a little more relaxed, he's a little sexier. Not so buttoned up." This is because apparently season three is all about — spoiler! — "hyper-sexual manipulation. Less clothes, less layers means quicker to the bed." Told you it was hot out there.
For more from the Fug Girls, visit their blog, here.