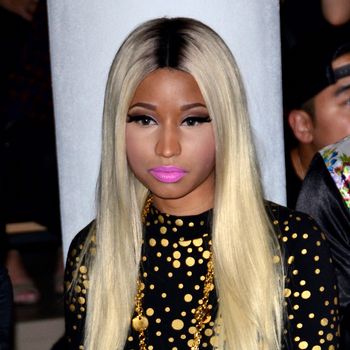 Nicki Minaj.
Photo: Brian Killian/2013 Brian Killian
Crop-top mania really IS here, you guys. We saw Tracee Ellis Ross, of all people, sporting one at Jeremy Scott on Wednesday afternoon. Ross's crop was loose and somewhat flowing — adjectives we previously had no idea could even apply to the crop top — which meant that when Ross the Younger leapt enthusiastically into the elevator at Milk to hug a friend, it flapped up and flashed us all. "Oooh, boobies," Ross announced as she smoothed it down. Hey, at least her boobies were getting some air; the rest of us are sweltering.
Speaking of sweltering, we checked in with Vampire Diaries star Kat Graham (whose short hair was looking very chic) to see if she had any fashion tips to beat the heat — after all, they film in Georgia. Surely she's learned stuff. "They've had me in a sweater because I have to film in what [my character Bonnie] died in. So it's a hot sweater jacket. So I have NO tips on how to stay cool. We have ice cubes? I asked craft services one day to bring out Otter Pops," she offered. It seems unfair, we said, that heaven has no wardrobe changes and poor Bonnie has to sport the same warm jacket for all of eternity. What if it goes out of style? "I know," Kat said. "In MY afterlife we get a new outfit every 30 minutes."
And if Jeremy Scott had been held on Kat Graham's astral plane, everyone would have gotten at least one wardrobe change. The show ran 45 minutes late because we were all waiting for Nicki Minaj, who finally strolled in sporting a Rapunzel-long blonde wig and both of her aggro bodyguards in tow. We waited so long for her, in fact, that Paris and Nicky Hilton swanned in, posed for pictures, left, and then reentered to pose for pictures AGAIN. We waited so long that two photographers smoked an e-cigarette while camped out on the runway. We waited, and we cursed the lack of Wi-Fi in the venue. If we can't tweet that we're waiting, is it even really happening? The existential question of our time.
Other celebs we spied while we were all bit players in Waiting for Minaj included show veterans A$AP Rocky (with girlfriend Chanel Iman, who you'd think would have her own work to do at the moment) and the Jonas Brothers. We didn't see those two factions interact at all, but wouldn't that be an intriguing musical departure for them all? Think about it, boys.
Speaking of musicians, Iggy Azalea continued the storied tradition of shows where photographers snap her photo and then turn and ask us who she is — it's happened three times, which makes it officially a trend — but once the show was over, she was swarmed by fans wanting pictures with her. If the kids know who you are, the press will come around eventually, Iggy. Just lean over and ask the Jonai down the row. We're sure they can tell you all about it.
For more from the Fug Girls, visit their blog here.