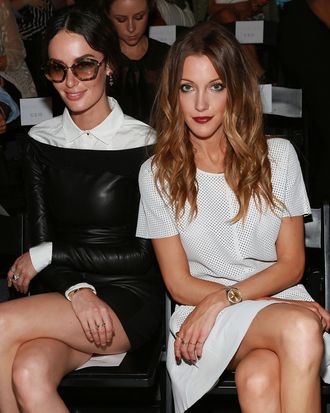 Photo: Robin Marchant/Getty Images
"J. Mendel is popping my cherry big time!" exclaimed actress Melonie Diaz at the designer's show on Wednesday afternoon. It's so heartening to run into a celebrity who's absolutely just tickled to be at Fashion Week, especially on a sweltering Day Seven, when our feet are swollen, our skin is sticky, and our hair is in danger of being put on an involuntary psych hold. So it was a breath of air in a stagnant tent to talk to Diaz (from Fruitvale Station), who was so stoked she was practically bouncing. "I follow on Instagram, so I saw all the prep photos, but to see it in person backstage and meet [the designer] Gilles was insane," she said. "It was like show-and-tell for him. So exciting. I can't believe I'm here."
Given Fruitvale Station's positive Oscar buzz, it seems likely that while this may be Diaz's first big fashion moment, it won't be her last – thanks to a little winter gauntlet we all know as Awards Season. "It would be nice, but you know, can't count those eggs before they hatch," Diaz said. "But it's hard not to think about my ideal looks. I'm not gonna lie, I do have a Pinterest going."
Diaz took in the show alongside her stylist, Brad Goreski, and models Jessica Hart and Molly Sims, the latter resplendent in an orange lacy frock and seemingly enjoying the news — shared by a friend — that a couple people in standing room had been trying to figure out who she was from behind. It's true that at Fashion Week, when you see the back of a tall golden-haired lady with an updo, it is not nearly enough information to make a positive ID. It's like saying, "Watch for me at the baseball game; I'll be the one cheering and drinking beer."
Hart came straight from Rachel Zoe's show, which had two celebrity rows: one down near the photogs that included Holland Roden, Charlotte Ronson, and Julie Henderson, and another near the top of the runway where Hart, Coco Rocha, Olivia Palermo, and Katie Cassidy sat.
"I am exhausted," confessed Cassidy when we asked about her Fashion Week omnipresence. "But I am launching my blog this week so I really need to know what's going on." Cassidy is calling the site Tomboy KC, inspired by her own personal tastes: "Basically it's that, as modern-day women, we are expected to compete for the same jobs as men, so why can't we dress the same as them?"  she said. "Like, blazers, boyfriend jeans, and vests, but you can also still rock a pair of stilettos with them or look sexy in a button-down." Fortunately for Cassidy, the sporty-chic shirt and skirt she had on were ventilated with tiny little holes; we perspired so badly we actually had to stop and say to her, "We are disgusting." She laughed. "I am too!" she insisted, still looking chill even though she blotted at her face with her hand. "I am so not calm, and I am very sweaty. But, you know, it's human nature, it's natural, it is what it is. Just roll with it." So that's two people in good moods on Day Seven. We would salute them both, if after the sweat bath we weren't so terribly afraid to raise our arms.
For more from the Fug Girls, visit their blog, here.