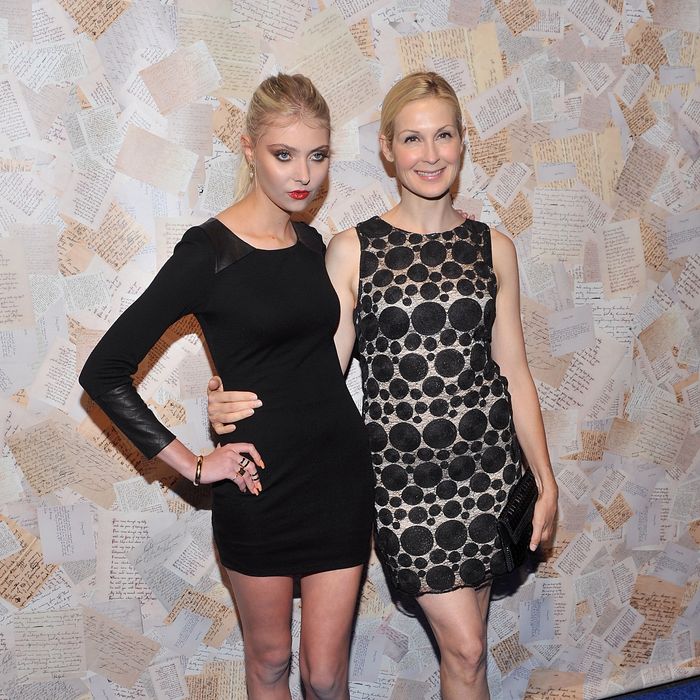 Photo: Henry S. Dziekan III/WireImage
The first thing Kelly Rutherford did at Alice + Olivia on Monday night was scream. Heads whipped in her direction as Rutherford burst through the line of photographers and onto the red carpet to sweep her former TV stepdaughter, Taylor Momsen, into a tight embrace. Gossip Girl itself may be gone, but apparently the love will never die.
"She looks amazing!" Rutherford said to a PR girl, and she was right — in fact, Momsen looked better than we've seen her in a while. Her platform shoes were gone, replaced by pointy-toed black heels that seemed way less likely to make her snap an ankle. Gone was the Sharpie-thick black eyeliner (although perhaps she simply used up the entire local supply over the last three years). Instead, Momsen was fresh-faced and smiley as she self-consciously tugged down the hem of a  short black frock that is (by far) not the micro-est mini we've ever seen on her. The only real hallmarks of her rocker-girl persona were the approximately ten tiny silver rings running up along her left ear. Momsen still does perform — we heard her telling people she goes out on tour in October, and that when she's on stage, her leather jacket is "like my second skin" — but it's nice to see that she's not so on all the time anymore, if only because we can't imagine how much Ponds cold cream she went through in a given day.
Paris and Nicky Hilton came together, posed together, remembered aloud going to their first Fashion Week together when they were 15, and said that at one time even Kathy Hilton may have thought of them as a unit: "When we were young, our mother used to dress us as twins," Paris told a reporter. And they must have at least coordinated for the show: Paris had on a houndstooth dress and booties and Nicky picked a red plaid skirt and black top. Both looked ladylike and cute in a way that probably would have made 2004 Paris and Nicky as queasy as it looked like Cory Kennedy felt when she arrived.
Sneaking in behind the Hiltons was Lydia Hearst, who along with Anne V is replacing Coco Rocha and Karolina Kurkova as the non-Naomi mentors on The Face. We were curious whether she'd be a mother hen coach, or a whip-cracker. "Oh, probably a bit of both, actually," Lydia said. "I'm a very loving, kind person, but I can also be very honest, and I don't do well with drama. Mostly I just want to keep a level head and try to help them understand how to survive this business." Hearst said she was actually approached about doing the first season, as well, "but I was actually underground in a cave in the Dominican filming a movie." You know. The usual conflict. We call that Just Another Tuesday.
Model Julie Henderson attended wearing what looked like a leotard under her skirt, with a necklace shoved down underneath it so far that it poked out and gave her a weird third nipple. Figure skater Johnny Weir sported half of a pleated white skirt — in the back, like a bum cape — and hugged fellow Olympian Sarah Hughes on the red carpet. Back by the bar, Carrie Diaries' Chloe Bridges laughed and took selfies with Jamie Chung. And through the throng we also spied Cassadee Pope, winner of season three of The Voice; Kelly Bensimon; Louise Roe; and Tinsley Mortimer. We heard rumors that Kat Graham of Vampire Diaries was present, but never got a visual confirmation of that, which is a shame because she always has a deliberately strange configuration of hair that's worth ogling.
Rounding out the crowd was Orange Is The New Black's Taryn Manning, in a multi-colored maxi dress with a sparkly short jacket. Manning acted sweetly overwhelmed by the whole Fashion Week experience, struggling to remember the names of all the shows she's attended, and noting that she's gotten a couple of war wounds from her return to the red-carpet scene. "I was getting something tailored, so I got pinned into a dress this morning, and then when they tried to take it off me, I got stabbed," she said, "The pins dragged all over me. It took fifteen minutes to get it off." Ouch. We've heard the maxim that fashion is pain, but we always hope that stops short of drawing actual blood.
For more from the Fug Girls, visit their blog, here.