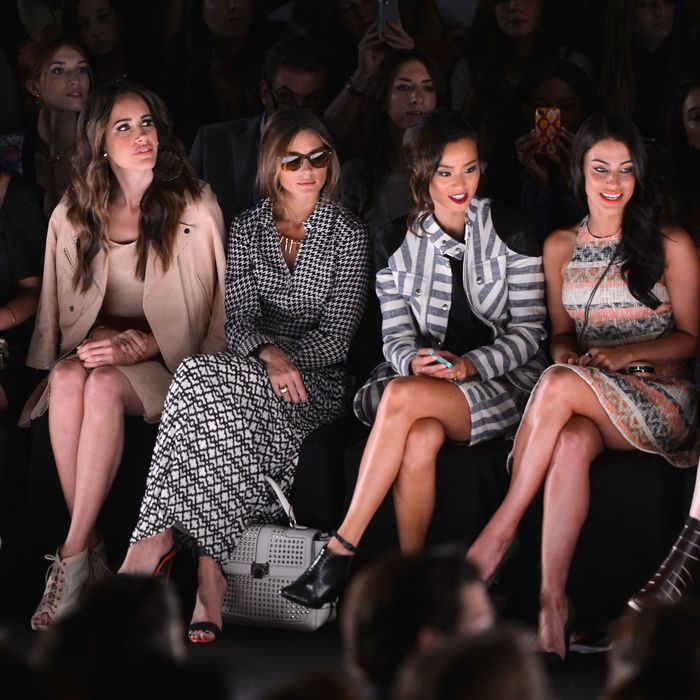 Photo: Stephen Lovekin/2013 Getty Images
The scene at Rebecca Minkoff on Friday afternoon was so crazy and chockablock that front-row guest Holland Roden (Teen Wolf) got trapped on the runway in the paparazzi crush and couldn't get to her seat. Most people might have been sour-faced and crabby about being jostled and shoved and left to tap her toes and get blisters — especially when her seat was lost altogether for a while — but not Roden. "How do you survive this?" a girl asked her, to which she replied, "It's fun! I'm lucky. I don't survive it; I relish it."

We wish Nicky Hilton had heard that — it might have helped her mood. Hilton came in through the throng giving surly one-word, over-the-shoulder answers to a camera crew, and, while in her defense it was super crowded in there, it would not have killed her to stop and smile in exchange for the free front-row seat. Speaking of which, when asked by the crew if she ever comes to a show where she is not in the front row, Hilton pulled a face and replied, "I'd watch it online." The teeming standing-room crowd, desperate to find even an open seventh-row spot, probably wishes she had.
Hilton and designer Nate Berkus sat across from celebrity row, which also included Jessica Lowndes of the late 90210 reboot; Louise Roe, Olivia Palermo, Jamie Chung, and Bella Thorne, who took a selfie together; and Kelly Osbourne and Zosia Mamet, who wore matching aggressive topknots. In person, Zosia does not seem as stern as she comes off in some red-carpet photos, and she was dressed much more cheerfully — she wore a great purple leather coat and black booties with a polka-dot dress that was definitely a touch short but overall much lighter and better-fit than her usual garb. The buzz was that she was not granting interviews; instead, she sat between Lowndes and Osbourne, who were talking to other people, and ended up staring at the ground with nothing much to do. She didn't seem unpleasant, either, so maybe Mamet should rethink her interview stance. We are nice! Sometimes. And "Those girls asked me the worst questions" is at least a better story later than "So, the floor … yeah."
Everyone's energy got a boost when Janelle Monáe struck up her band and played four live songs to score the runway show. Clad chiefly in white with black suspenders and boots, Monáe worked the hell out of it in front of two dancers who looked like shimmying referees. It was so upbeat that it made us wish Monáe could've scored all of the other things that happened or will happen today, too, like copious typing and getting whacked in the head with a camera and eating a sandwich. That would make us as happy as Holland Roden up in here. Although, if forced, we'd take just the sandwich.