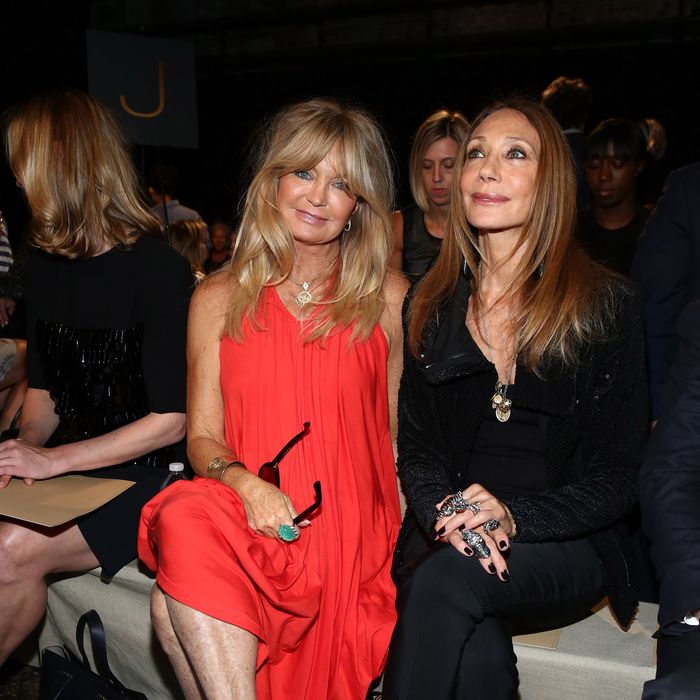 Photo: Neilson Barnard/2013 Getty Images
In a darkened room, it can be hard to ID a celebrity from a distance, but some people are unmistakeable, which is why it took about half a second to recognize Goldie Hawn at the Donna Karan show on Monday. The best word we can summon to describe Goldie is … Goldie. Her tan was Goldie. Her hair was Goldie. Her orange-red shapeless dress — like a muumuu for cruise ships, but we mean that as a compliment — was über Goldie. She's so consistent at this point that she is her own adjective.

We didn't get a chance to ask her anything, like whether she agrees that the rumored Overboard remake is just messing with perfection.
Partly we didn't want to interrupt her conversation with her seatmate, Karan's daughter, but also because she was besieged with people wanting pictures. Specifically, gentlemen. Specifically, silver-haired gentlemen. Specifically, gentlemen we are pretty sure may have been in love with her since before Overboard was even a glint in Garry Marshall's eye. Goldie was gracious to all of them, and either genuinely recognized the names they offered to her, or was too … well, Goldie … to tell them otherwise.
The other segment of celebrity row consisted of Joy Bryant and Ali Larter, the latter a distinctive blonde in a very slinky black and white number that made us wonder how she keeps her designer clothes intact with a two-and-a-half year old. "Well, he's not here now," she winked. "But I'm not precious with clothes, I'm not precious about food. I'll be in a designer dress and still want to pick up my kid, because I can't keep my hands off him, especially if I'm going out for the night." Then she paused. "Okay, once or twice I MIGHT have done a quick dart out the door when I see the spaghetti hands."
As for non-toddler-related wardrobe malfunctions, Larter actually had one earlier in the day. "My zipper didn't work, so I was in the back at Carolina Herrera getting stitched up," she said. "I used to stress about this stuff, but now I just laugh, because I get to be backstage with all the models being sewn up by the experts — how cool is that?"
Sounds like a pretty Goldie outlook to us.
For more from the Fug Girls, visit their blog, here.