Fug Girls: Ne-Yo Surfaces at Carolina Herrera
Photo: Joe Schildhorn /BFAnyc.com/BFA NYC
After so many broken hearts this past weekend — Blake Lively at Hervé Léger (false), and the Great Rihanna Rumor of Zac Posen (so false) — it's a thrill to finally report that one came true: Ne-Yo was, in fact, in the house for Carolina Herrera on Monday morning. Wearing a jaunty cap and what appeared to be a hoodie, the singer came out from backstage at the very last second to drink in the frothy ladylike concoctions; as to why that was his cocktail of choice, we can only assume he is deeply invested in a speculative Fantasy Emmy Fashion pool and wanted to goose his chances. But really, the "why" of it all matters not. What's important is that he came, and a restless world that had stopped trusting can finally believe again.
Speaking of Emmy dresses, at least two celebrities in the house were surely shopping for the upcoming ceremony: We spied Christina Hendricks (in the best front-row seat, next to a delighted-seeming Bill Cunningham) and Lady Mary herself, Michelle Dockery, looking as tall and elegant as you would hope. Dockery was waylaid on the way to her chair by a trio of well-heeled older women, all of whom politely peppered her with observations about (from what we could tell) Downton Abbey, poor Sybil, poor poor Cousin Matthew, and, of course, concerned musings about whatever will become of Lady Mary now. As far as we could see, Dockery — who must be used to this by now — did a lot of smiling and nodding, but no spoiling. Come on, lady. We're all dying to know if this is finally the season when someone gets fed up and pushes Thomas down a well.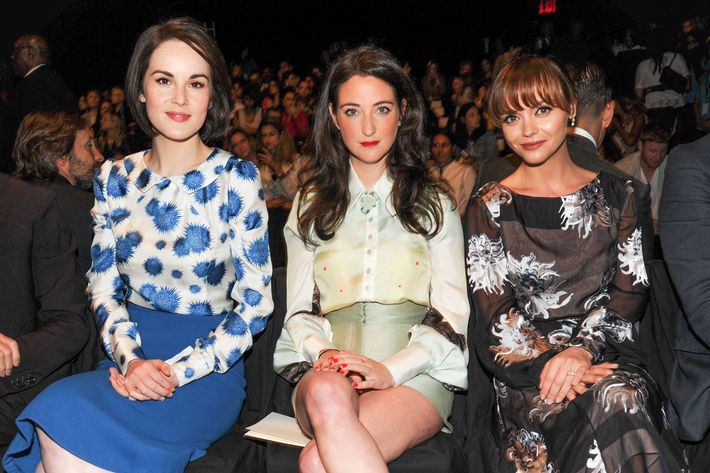 Also getting her frock fix — but pushing no one down anything — was Rose McGowan, who is always a kick. We happened to be standing nearby as she was brought out from backstage, right past stylist Brad Goreski, who has a very impressive beard at the moment. "Are you on the bear side now?" Rose asked, gesturing at his facial configuration as her minder tromped off into the crowd without her. "Actually, I am," he laughed. It was then that McGowan noticed she'd been ditched. "Oh, shit," she said, basically right to our faces. "I lost my person." (Don't worry, she made it safely to her seat.)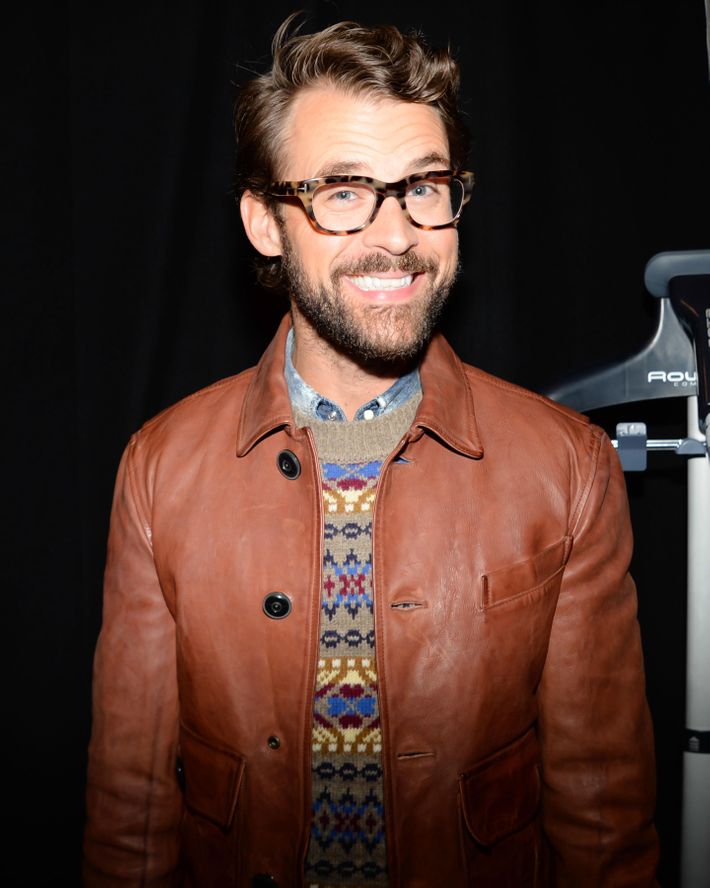 Christina Ricci followed McGowan out (and also had a powwow with Brad), and Molly Sims came next, lovely in red. Dita Von Teese walked right past us, cooing retro greetings like "How do you do," but otherwise acting rather shy. Perhaps she was self-conscious about her pants, which looked like they might have belonged to a terribly chic pair of formal pajamas. But it's okay, Dita, we get it: First show of the day. We want to wear our jammies too.
For more from the Fug Girls, visit their blog, here.