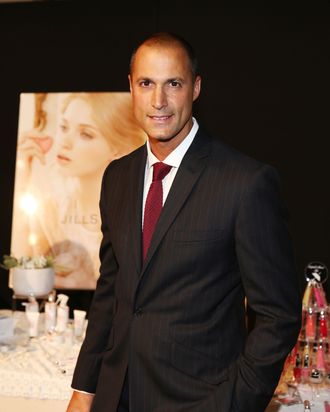 Photo: Neilson Barnard/Getty Images
There is no more soothing Fashion Week constant than the sight of Nigel Barker smoking hot Nigelry. Barker was one of the first people we spotted when we walked into Jill Stuart on Saturday morning, and, in another constant, he was gamely posing for photos. This time, though, instead of with swooning ladies, it was with small children, because if there is one thing that guy really needs in life, it is another way to make women's ovaries twitch.
But that was almost it for menfolk, apart from Million Dollar Listing: Los Angeles realtor Josh Flagg, who was sporting velvet slippers and went unnoticed by anyone but us. (We watch a lot of Bravo. For work. Obviously. Yes.) Across from Flagg sat Entourage actress Perrey Reeves, whose shoes were also noteworthy: gorgeous oxblood booties we probably need to own. Reeves was chatty, first talking to her seatmate about bathing suits, and then extolling the awesomeness of her hair team. Someone must have had a good summer.
The most interesting addition to the front row, though, was Katie Chang, star of The Bling Ring and the first (but hopefully not last) of those starlets to hit the scene. Chang, in black and gold, and with the kind of great skin that makes us pray Kiehl's will figure out how to put time in a bottle, had a pretty splashy debut given that her first-ever premiere of her first-ever movie was at Cannes. "It was trial by fire," she laughed. "I'd never had to think so much about what to wear or how I looked. I mean, as a teen girl, yeah, it's on my mind, but I've never had to pick it apart to prepare for a platform like that." That's a lot of pressure; how does a girl even pack properly for that? "Three suitcases," Chang said. "One suitcase for shoes and two for the clothes. I kept all the looks in my head and had to remember how it all went — it was pretty stressful, but I got through it." Just in case, may we suggest sidling over and basking in the healing glow of the Barker? Seems to work for us.
For more from the Fug Girls, visit their blog, here.