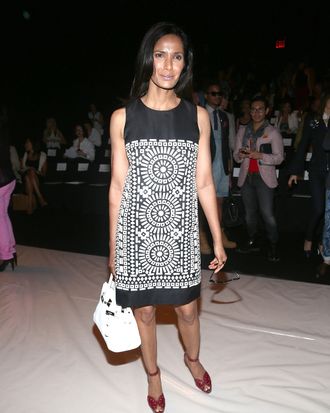 Photo: Paul Zimmerman/WireImage
"Hey, there's Padma!" we said as we walked into Naeem Khan on Tuesday afternoon, as if the host of Top Chef was our very pretty next-door neighbor and not a person who lives with Tom Colicchio inside our TVs. We asked Lakshmi — currently promoting her new line of tableware, which feels like a smart venture for a woman with a jewelry line who also hosts a cooking competition—if she gets greeted by strangers a lot. "Yes, and I always panic," she said. "I'm like, 'Oh my god, I've forgotten this person from college.'"
On the topic of OMG moments, we asked Padma if she had any sartorial regrets. "They're have been many, many, many times when I've been like, 'What was I thinking?'" she admitted. "I went to the Estée Lauder Pink Ball, and I had this beautiful white Lanvin dress. And on the red carpet, you really can't see the body through it, and I looked like I was wearing a shower curtain." She paused a moment.  "I still have the dress."
Look, a girl never knows when she'll need a high-fashion shower curtain. Hanging onto that is just smart.
Nearby we spied Jessica Lowndes, who's been making the rounds quite heavily now that the 90210 reboot is dead; Iron Chef Geoffrey Zakarian, hopefully studying up for an upcoming edible sequins challenge; and Aussie singer Iggy Azalea, for whom a girl actually elbowed us in the chest in her rush to get a photograph. That girl then turned to ask us whose photo she just snapped. We were tempted to say it was George Clooney's new girlfriend, or the Queen of Bulgaria, but it seemed like bad karma to lie — although given her disappointment, maybe we should have. We also saw Perrey Reeves again, this time in glittery black-and-white, with her arm wrapped around a young blonde stud and her hand cupping his rump. We don't know much about what Perrey Reeves has been doing since Entourage, but speculating about the who just got a lot more interesting.
Stylist Brad Goreski sat next to Lowndes and gave reporters his take on the crop-top trend. "When it first started I was like, 'That will never ever catch on,' but now you see it all the time, everywhere," we heard him say. "But there are ways to make it work. There's a big difference between wearing a crop-top and baring your midriff." He recommended high-waisted skirts or pants pulled above the navel so that just a silver of abs shows. "I don't even like wearing tank tops," he admitted. "So I totally get why women aren't into crop-tops."
Goreski seemed pleased to see Morgan Saylor, fresh off the Homeland premiere in DC — to which she drove herself. "It was just three and a half hours! It's not so bad," she said. "But I just drove back this morning so I need a nap." Still, Morgan gamely took pictures with fans. Considering last season she told us people often stop her to tell her that she — meaning her alter-ego Dana Brody — was a bitch, this seemed like a step forward. "Well, maybe it's because they haven't seen the show in a while," Saylor grinned. "I wish I could do an experiment on how long the show has been off the air versus people's reactions to me. But I think people will hate Dana less this year. She's a little less moody."
Then we witnessed arguably the weirdest of her encounters. While we waited to talk to Saylor, a man cut in front to tap her on the shoulder, and leaned in to discuss … Claire Danes. "Claire wore Valentino last night! So great!" he boomed in a heavy accent. "If you ever want any Valentino, you just ask! Okay? Yes! CLAIRE! Good luck!" And then he walked away without a second glance. When we finished talking to her, we couldn't help asking Morgan if we'd heard correctly that some random, exuberant, very tanned dude had offered her free fancy clothes. "You got that down, right?" she laughed, pointing at our notebook. "You're my witnesses." Duly noted, and happy to help. Anything for Valentino.
For more from the Fug Girls, visit their blog, here.