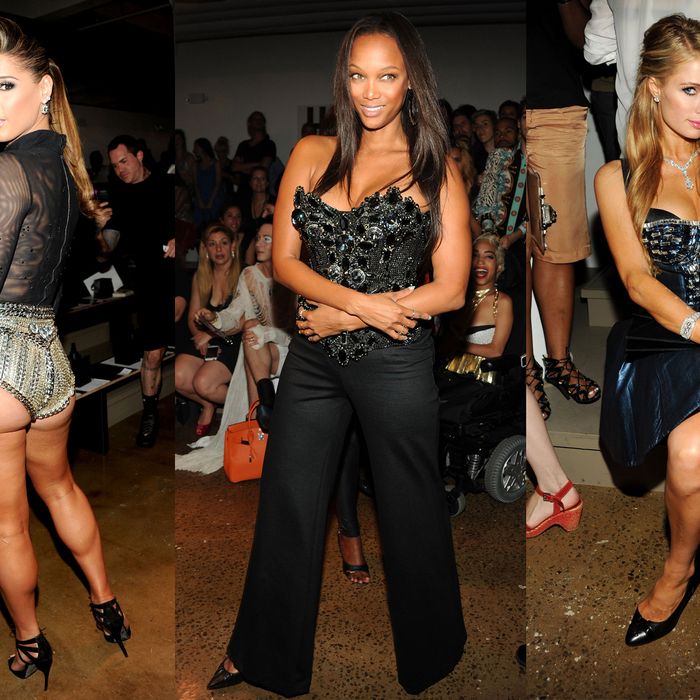 At The Blonds.
Photo: Getty Images
If Betsey Johnson's show is like a rockin' candy-coated teen sleepover, then The Blonds is an absinthe-drenched one-night stand. (We mean both as a compliment.) And the common thread at both shows, aside from copious sparkle, was also the one person we can picture enjoying both of those concepts, possibly simultaneously: Paris Hilton. We're unsure what to call her anymore, though. Is she still a socialite? Is she still a "personality"? Is she just a girl with a lot of money who likes clothes? Or has she sensed a tremor in the Nebulously Famous Force now that Kim Kardashian is on a break, and decided to fill the vacuum?
Regardless, Paris did seem to enjoy herself tremendously, and we heard several reporters complimenting her — out of her earshot — on being friendly, so at least her instincts have been re-sharpened. At Betsey, she was joined by the equally vaguely famous Adrienne Bailon, and swimsuit model Nina Agdal.
But over at The Blonds, in a sea of revelers dressed in everything from a crystallized welder's helmet to a foot-tall Mohawk, Paris was seated across from figure skater Johnny Weir — in a cobwebby cream sweater and a long skirt that we nearly stepped on when we entered the venue — and down the way from Vampire Diaries star Kat Graham. When Graham told us at Jeremy Scott's show earlier in the day that she'd be wearing a fabulous Blonds corset, she neglected to say what she would not be wearing: namely, pants. Then again, she may not have thought it was worth mentioning, because she was hardly alone on that score among the other gleefully garbed guests. (And three children. If ever there were a show at which children seemed like the wrong accessory, it is one at which we have in the past seen Amanda Lepore's vagina.)
Tyra Banks, however, was most definitely wearing pants. The supermodel entered in a flurry of security guards — three of whom, in pinstriped suits, stood in front of her until the lights went down — and in the crush we noticed that she'd paired her black sparkly bustier with what we would call "slacks" — roomy black trousers with a touch of the mom about them. It bummed us out a little because unadulterated, pantsless Blonds glam is exactly what Tyra would wear on an episode of America's Next Top Model, like in one of those scenes where she pretends to be an alien from Planet Booty Tooch or a Priestess of Smize or something equally regal and made-up.
Even stranger, Tyra didn't give us the full range of reactions we were anticipating. When the lights went down and the Darth Vader breathing began (don't ask — just go with it), the crowd whooped, cheering even louder when Phillipe Blond burst forth from a giant glittery spacesuit, exactly the way we plan to when we fake our own death by sewage-plant explosion and then crash our own funerals. But Tyra remained largely impassive. There was no smize. There was no tooch. There was no tize nor sooch nor hooty flooch, nor any other such Seussian lingo from her resurgent CW show. She pointed excitedly at one gray corset paired with teeny-tiny hot pants, clapped politely at the end of the show, and then was escorted out as quickly and efficiently as if she were Anna Wintour rushing to the U.S. Open final. It was concerning — if Tyra isn't reacting with glee to over-the-top expressions of fabulousness, something surely is wrong with her. Whatever it is, we hope it resolves itself quickly. We don't want to live in a world where Tyra Banks is anything less than exuberant.
For more from the Fug Girls, visit their blog here.