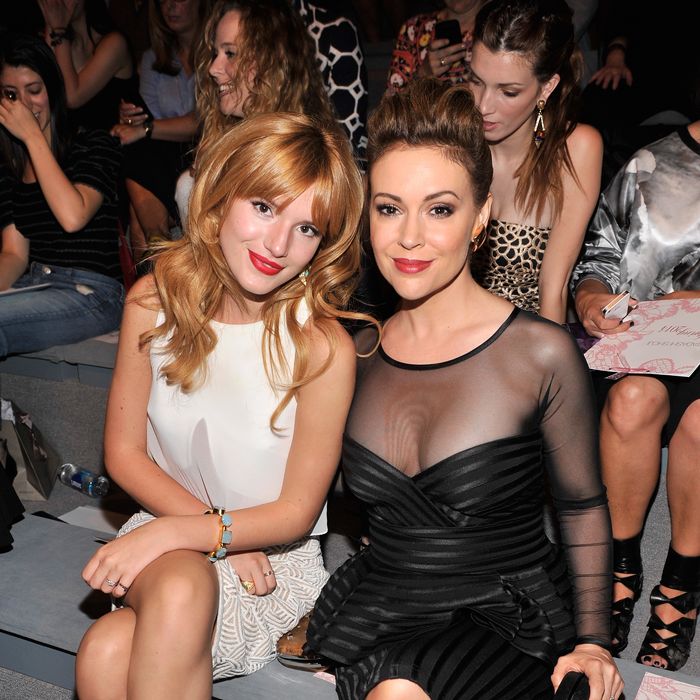 Bella Thorne and Alyssa Milano.
Photo: Stephen Lovekin/2013 Getty Images
"I swear I haven't had anything to drink," quipped actress Rochelle Aytes as we passed by the Tadashi Shoji front row. If she had, we couldn't blame her — it was, after all, a respectable afternoon hour on Thursday, and a little tipple probably helps a girl cope with all of the Fashion Week flashbulbs. But in Aytes's case, she was just rebounding after bumping into someone while giving an on-camera interview.
Aytes, who was at Fashion Week with Mistresses co-star Alyssa Milano, had on a slim, long, black Shoji gown that she said she picked out herself online — but not without some misses first. "You don't know if it's going to fit. You hope it fits, because there's no time to fix anything," she said. "They sent me two dresses, and one didn't, and the other didn't work, so then they sent another two. It's a whole process." On top of that, it took about five hours for her to get ready: "It's not that much fun, actually. It's fun when it's done and you can look at the final product and go, 'Ahhhh,' but it took longer than normal today because my hair was curly. So my process started at about eight this morning, and I was done at about one." Sounds to us like a pretty decent excuse for a drink, actually. Mimosas are basically a breakfast food, anyway, right?
Down the way sat Disney starlet Bella Thorne, all red lips and shaggy blonde hair, with a half-transparent top and some stripper-y platforms that, with grandmotherly concern, we wish she'd left at home; model Jessica White, all red lips and legs and cleavage, which was on display in a wide-open, plunging V-neck dress that barely had a skirt; and Alyssa Milano, all red lips and slightly less cleavage (though it was propped up amply in a black peplum dress) and generally looking like she is, in fact, the boss. And she may be: While her co-ster Aytes initially sat in the second row and seemed totally chill about it, by the time the clothes came down the runway, she was nestled up front next to Alyssa. Tony Danza would be proud.
Glee's Amber Riley also had a prime seat for the show. "These shoes are NOT comfortable," we heard her say as she reached down to rub her feet. It is tough sledding indeed when you're only halfway into the first day of Fashion Week and already feeling the pinch — doubly so when you're about to be a contestant on Dancing With the Stars and thus required to foxtrot in body glitter and heels. But Riley seemed more concerned about the actual dancing part than the shoes. "I'm used to having people around me to camouflage my bad dancing," she laughed. In fact, for a girl with budding blisters, Riley was very cheery, taking selfies with Tony-winning seatmate Patina Miller (Pippin) and talking to reporters about everything from makeup to holiday traditions. "Mac and cheese," she said of the latter. Perfect. See you at Thanksgiving! We'll bring the mimosas.
For more from the Fug Girls, visit their website.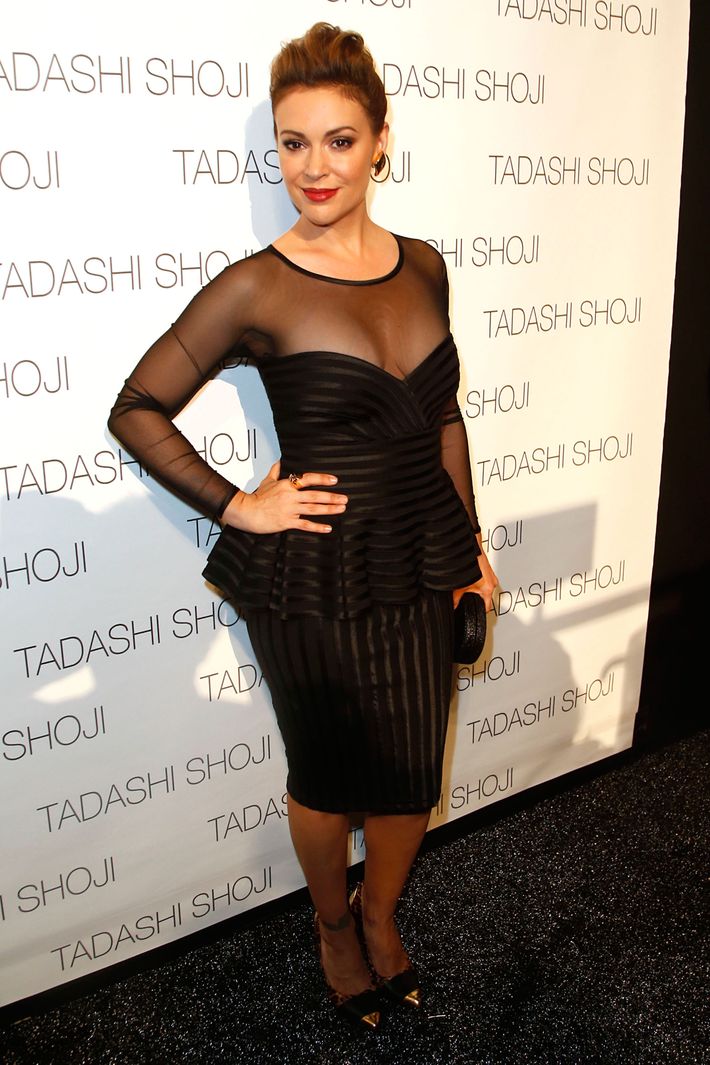 Alyssa Milano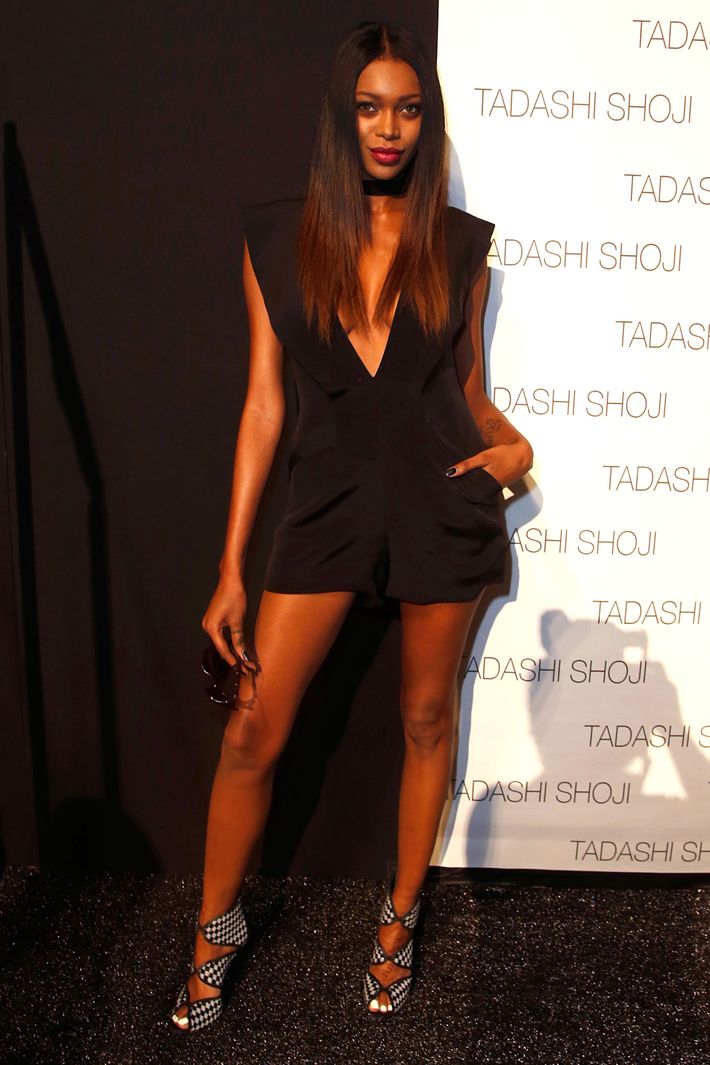 Jessica White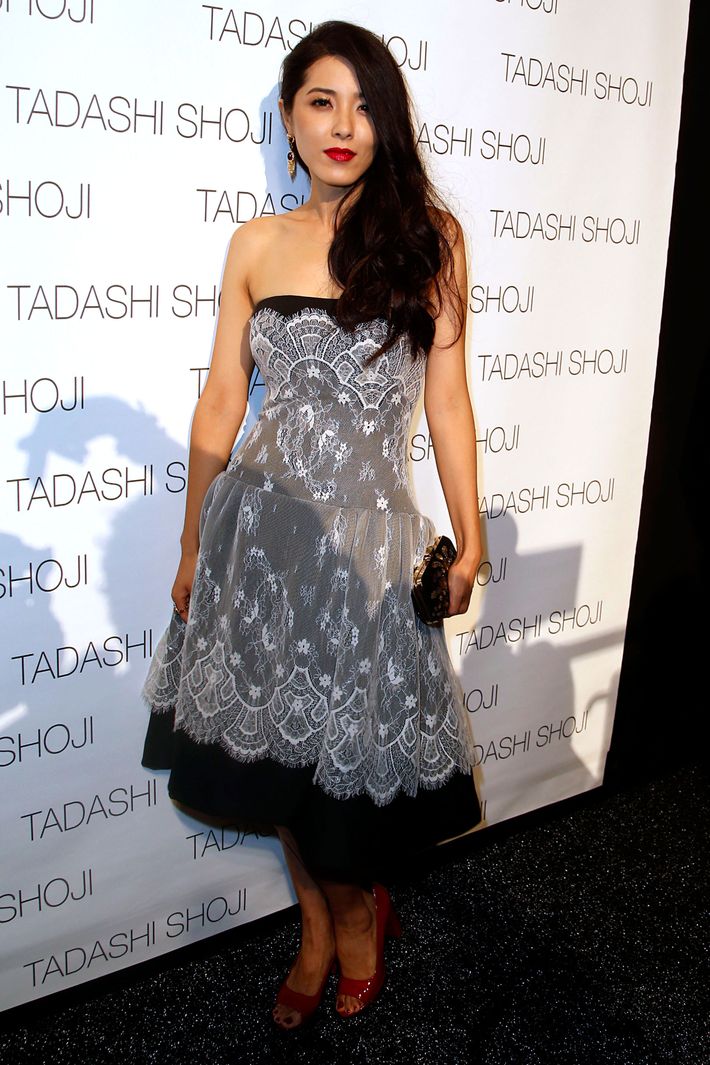 Zeng Li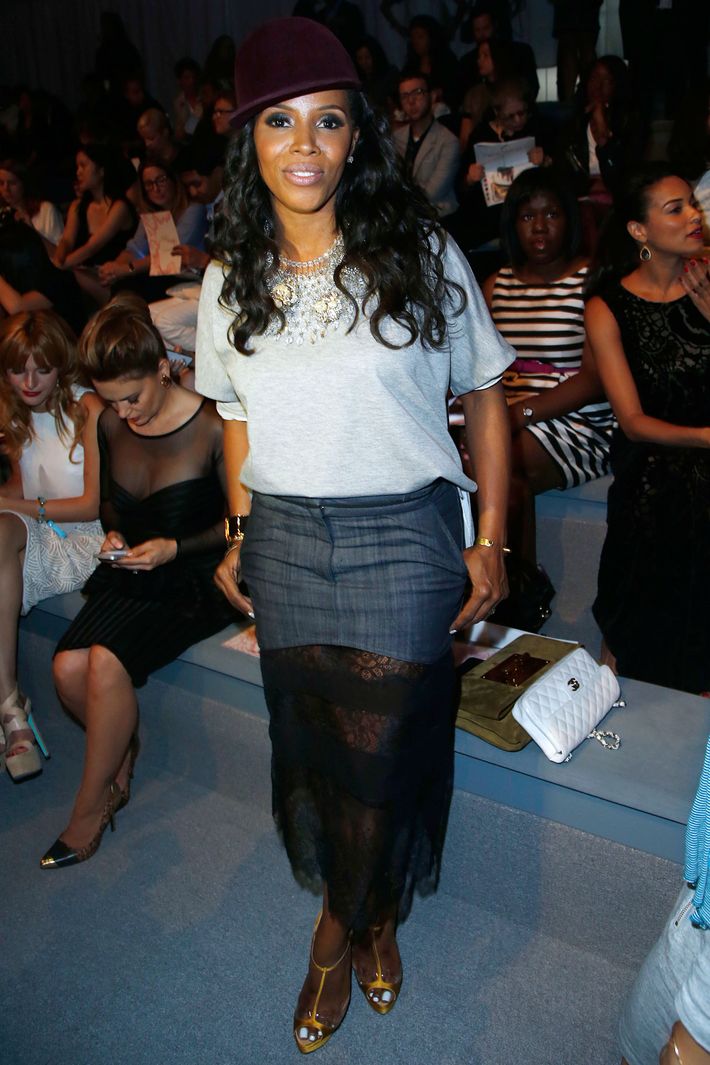 June Ambrose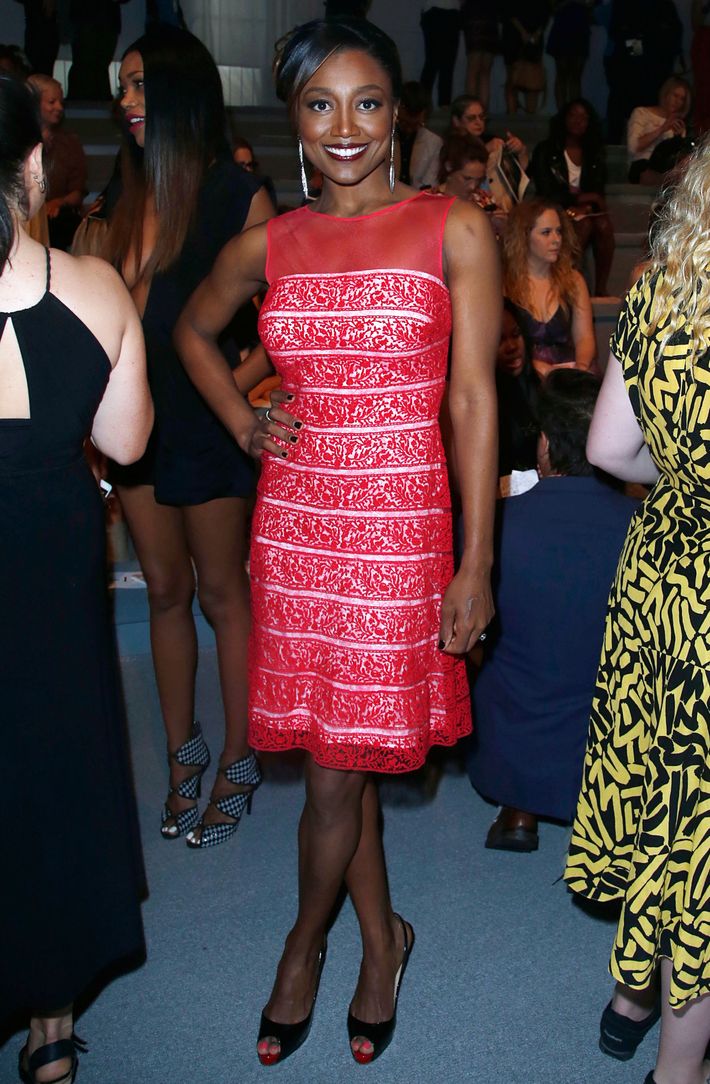 Patina Miller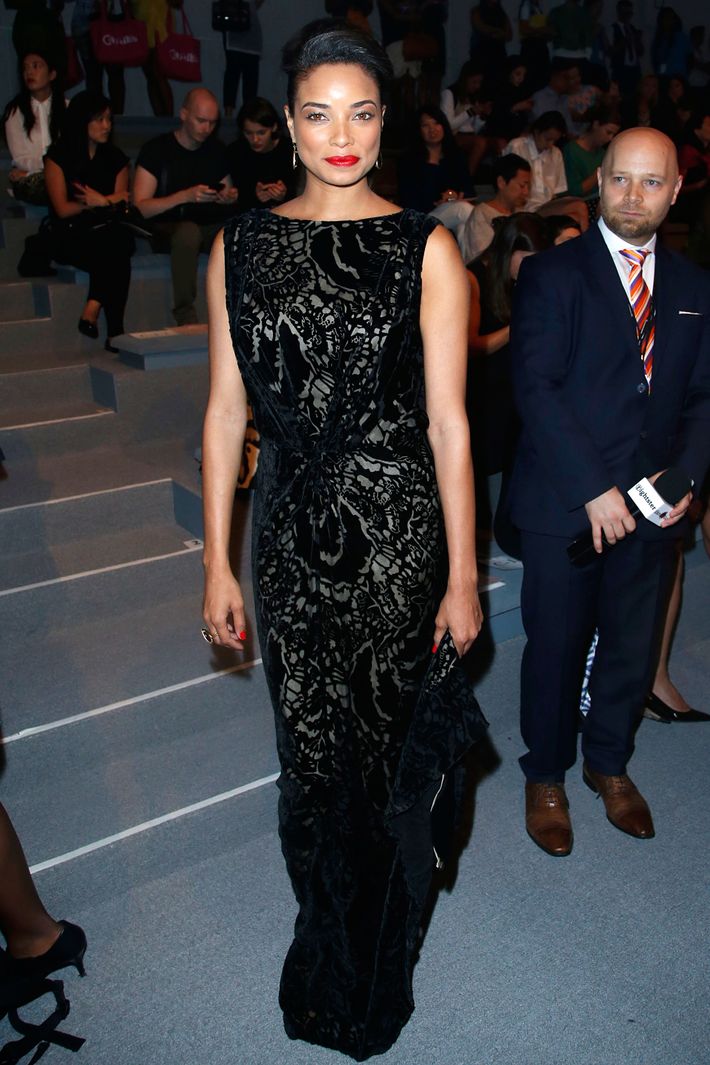 Rochelle Aytes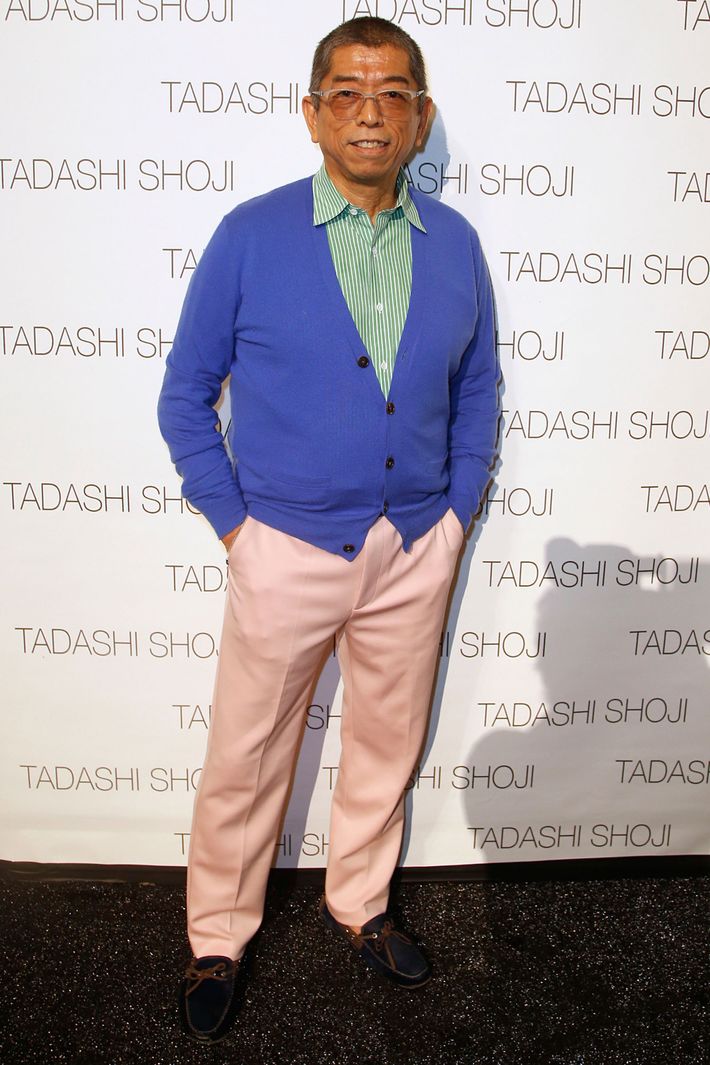 Tadashi Shoji