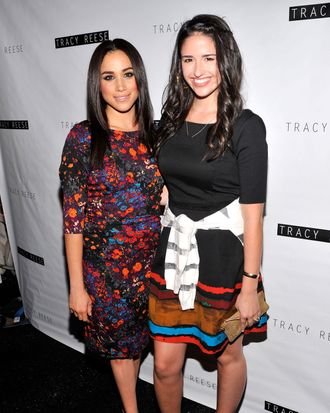 Meghan Markle and Rozzi Crane.
Photo: Stephen Lovekin/Getty Images
The front row at Tracy Reese this afternoon was rather sparse, celebrity-wise — which is a shame, because we can think of several starlets off the tops of our heads who would be well-served to snap up some of her flattering, feminine pieces. On the other hand, it gave us an opportunity to chat with Meghan Markle, who plays Rachel on Suits, and who looked lovely in a patterned body-con number.
When we asked Markle what she's learned from being on one of TV's better-dressed shows, she smartly shouted out the costume designer, Jolie Andreatta, before sharing that it's all about tailoring, and "finding the designers that will really suit your figure versus something you just like that doesn't look good on you."
Speaking of clothes that don't look good on you, does she have any fashion regrets? "Everything?" She laughed. "My god, I think about way back in the day when we were running around in Mary Janes and Doc Martens, that whole 90210-inspired look. I'm glad that's long gone. Even in recent years, just trying too hard. I think so much of what we learn when we get older is being comfortable in our own skin and learning what looks good, and not being so trend-centric."
Let's recap: Get your stuff tailored, don't be too beholden to trends, dress for the body you've got, and rejoice in the fact that none of us are trying to dress like Donna Martin anymore. All sounds like very solid advice to us. Meghan Markle can dominate the front row anytime.