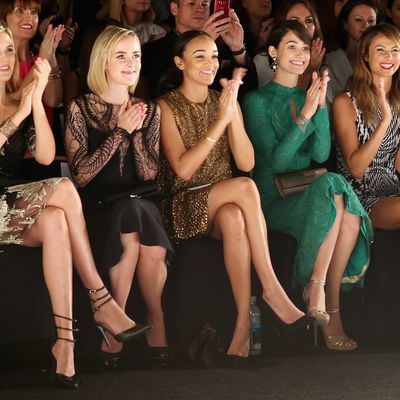 Photo: Neilson Barnard/2013 Getty Images
They say looking good is the best revenge, but looking good when you've just been written off Revenge is probably even better. Actress Ashley Madekwe should sleep well then, because sitting in the front row of Monique Lhuillier's show on Saturday night, she rocked a sparkling gold sequin dress that did the job better than her ineffectual character ever did any of hers. But along with the world's longest resume and least glowing references, the fictional Ashley Davenport did boast Revenge's best outfits, so we wondered if Madekwe at least snuck out of there with any sartorial souvenirs. "I didn't walk away with anything," she groaned. "ABC is very smart, in that they archive everything, which is so sad. No souvenirs for me." Maybe Ashley should send Madeleine Stowe in there to sneak out a couple dresses — between cooking the books a little and suffering Victoria Grayson's disdain, we'll jack with the math every time.
Rose McGowan slipped into her seat almost unnoticed, where she was flanked by Jessica Lowndes and Perrey Reeves. Stacy Keibler and Emmy Rossum, in gorgeous emerald green, were the latecomers to the section, arriving for a quick set of pictures together just before the runway was cleared to start the show. And Jena Malone fielded a lot of questions from reporters while her seatmate Maggie Grace of Lost seemed a bit … well, lost. Or perhaps relaxed and content not to have tape recorders jammed in her face, but we decided it was the former, and so went up and jammed a tape recorder in her face. Sorry, Maggie. But she was lovely about it, chatting at length to us about the cool gold sword necklace she wore with her black and white cocktail dress. "I have a couple of these," she said. "The first one I bought, I was going through a tough time, so it was a symbol of strength for me. And now it's become kind of a thing. It's tough. It's Madonna-esque." We think she should turn that into an entire collection of actual swords, but she seemed to think that would lead to being impaled, which … probably isn't an illogical fear, but whipping one out to answer the door at night would be an amusing way to freak out the pizza guy.
Grace laughed that her style has evolved a lot since she started working at age sixteen, when "my style for work events was really, really awful," she remembered. "I still make some missteps now, but it's a quick news cycle, so if you make a mistake, who cares? Just enjoy yourself." She did note that there are some things she still struggles with: "It's getting harder and harder to convince myself to change out the Tevas for the Fashion Week–appropriate footwear," she said, gesturing to the pointy-toed black heels with three ankle straps. "My friends back in my little beach town" — we assume she means that island with Sayid and a smoke monster with a God complex — "are beginning to worry that I'm wearing Tevas all the time, so this is a shout-out to them. See, guys? I can still dress like a grown-up. It's possible." And if they still give you a hard time, just wave your neck sword at them, or better yet, reconsider buying a real one. Looking good is nice revenge and all, but a duel? Now that is a statement.
For more from the Fug Girls, visit their blog, here.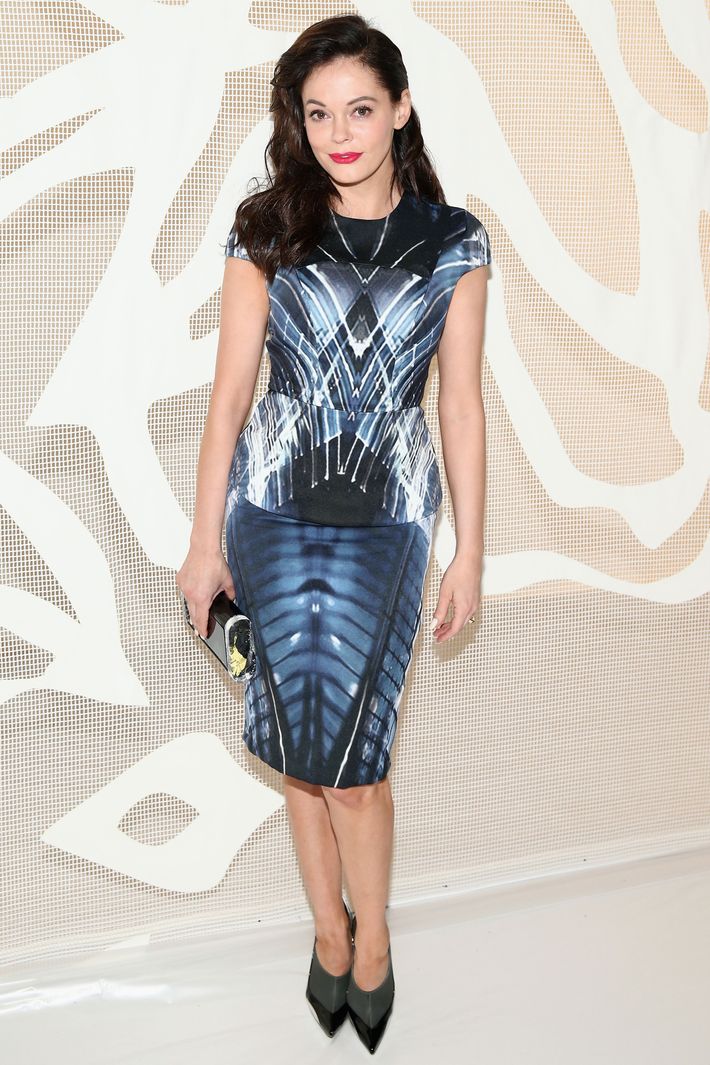 Rose McGowen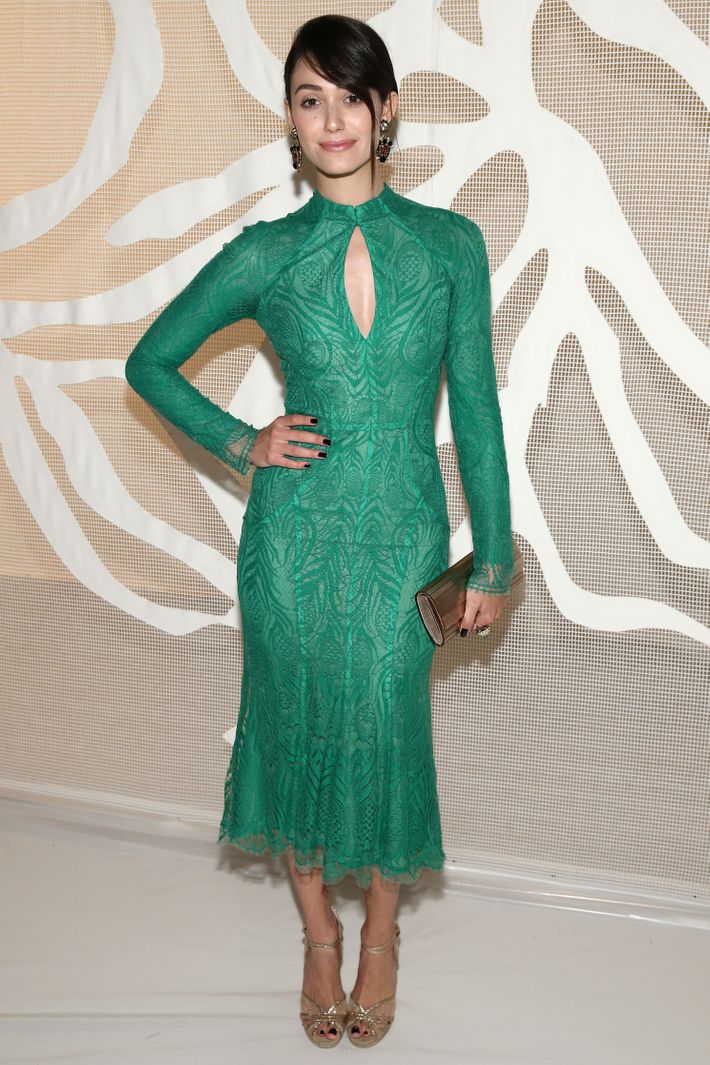 Emmy Rossum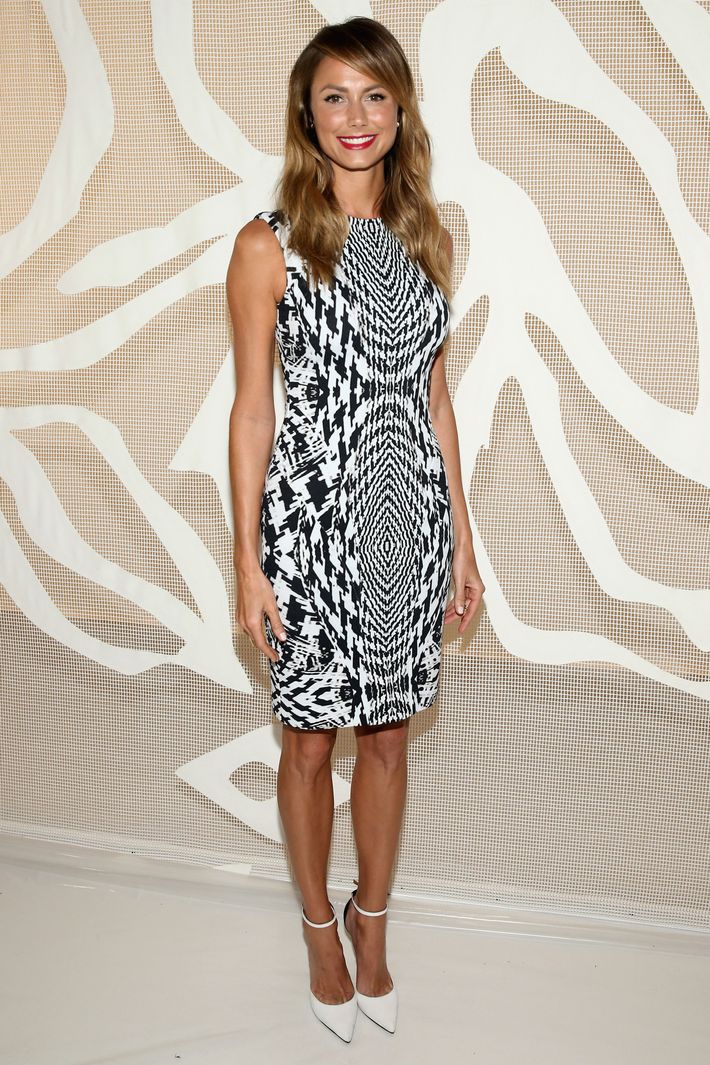 Stacy Keibler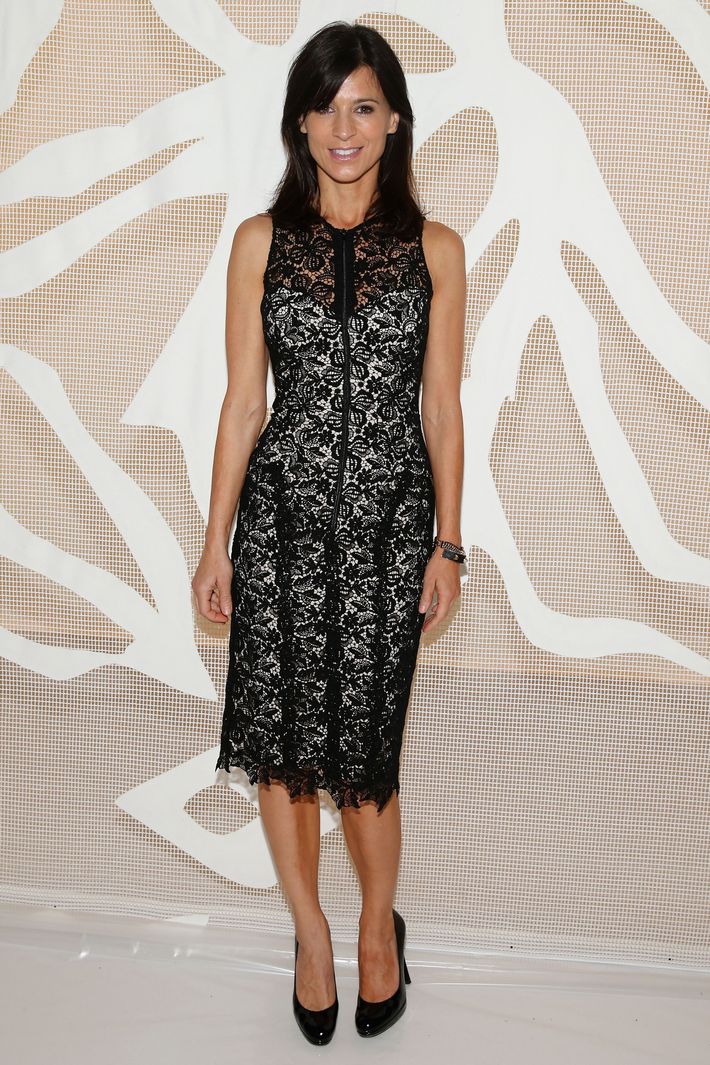 Perrey Reeves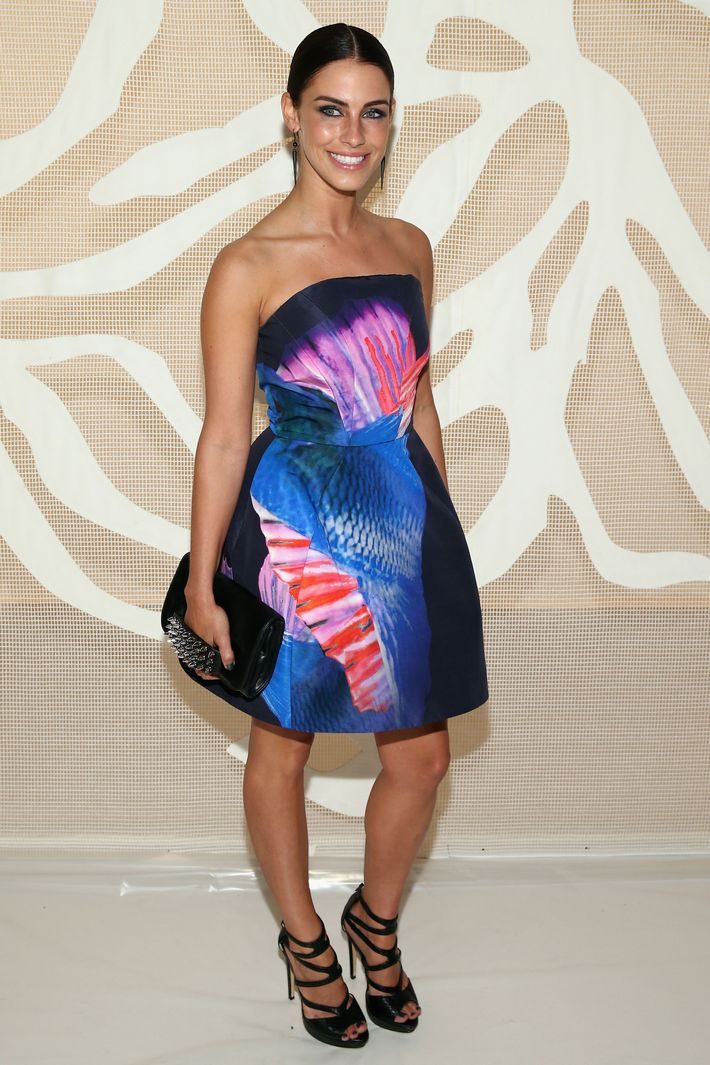 Jessica Lowndes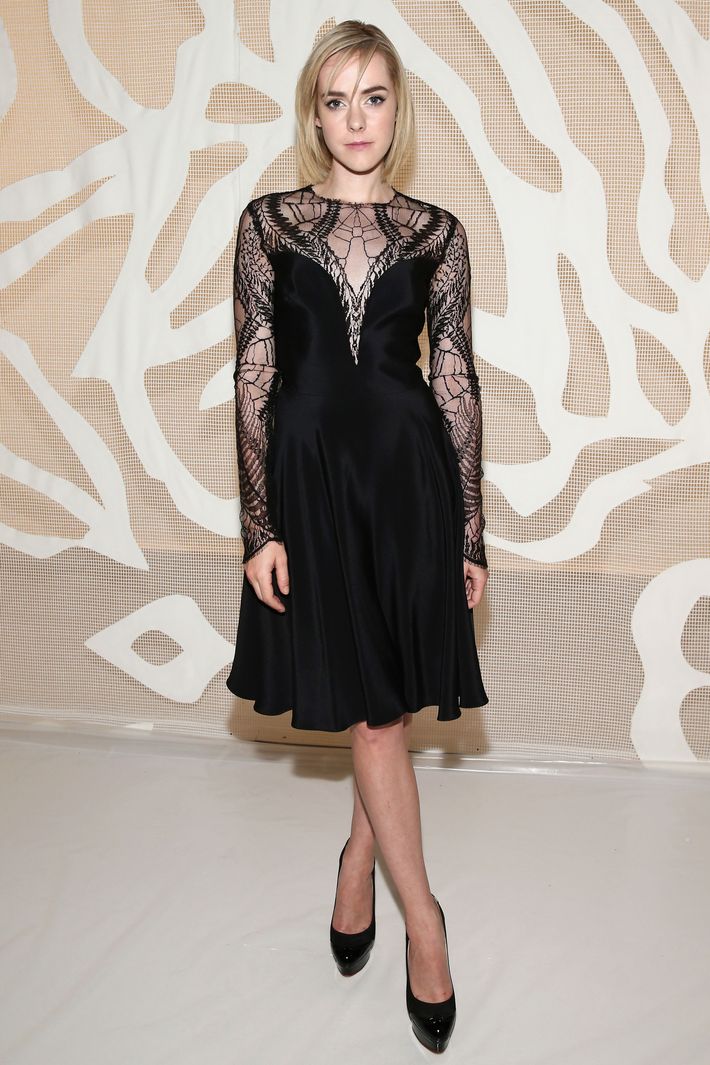 Jena Malone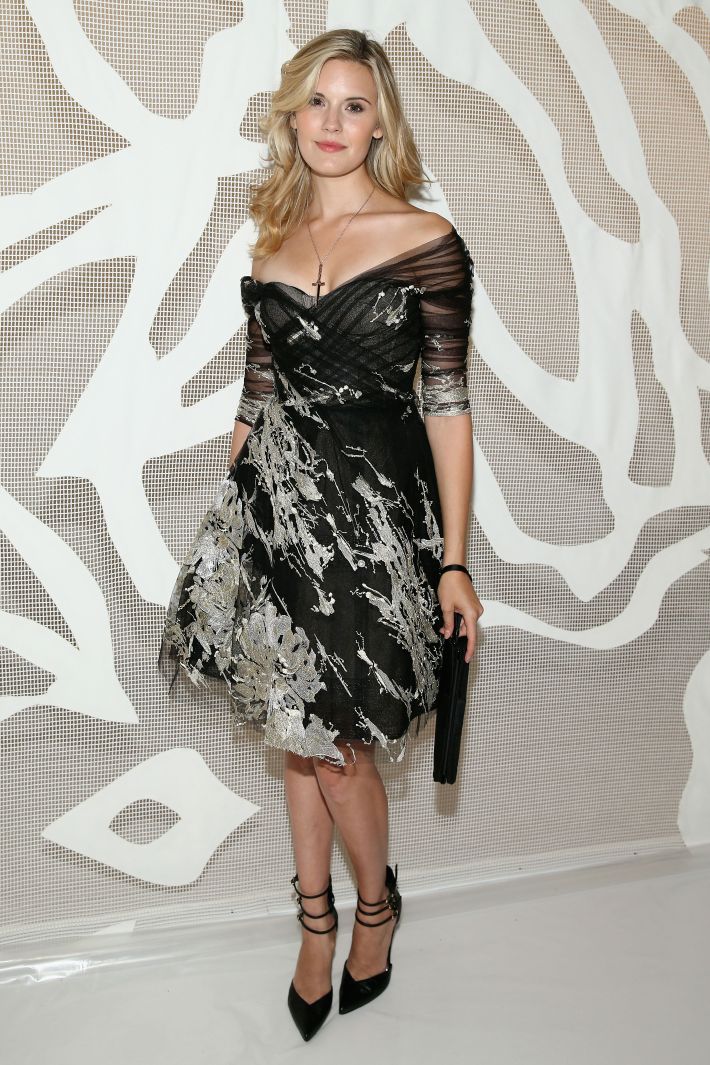 Maggie Grace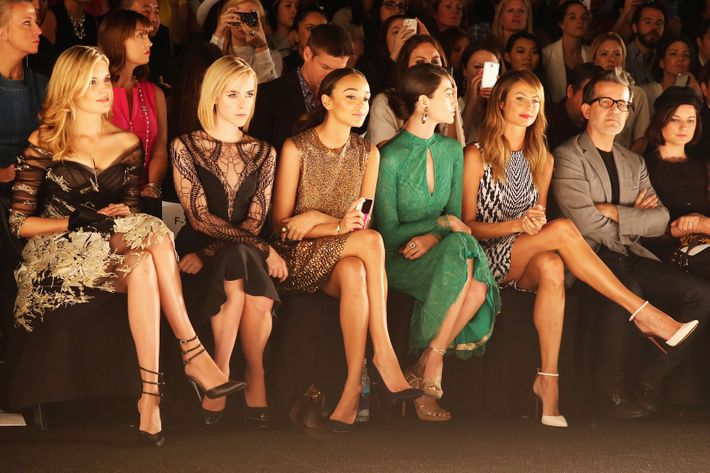 Front Row