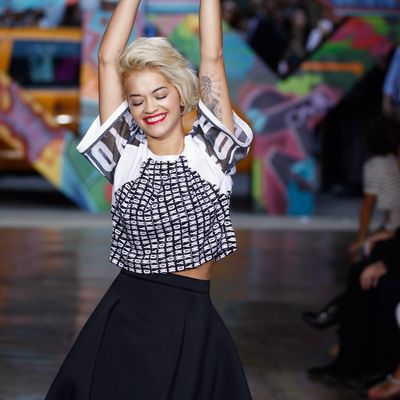 Rita Ora at DKNY.
Photo: Peter Michael Dills/Getty Images
Sometimes the pairings of designer and celebrity are a little discordant, but Donna Karan has long loved her up-and-coming starlets, so the front row at DKNY on Sunday afternoon made a lot of sense: Bella Thorne, Alexandra Daddario, and Holland Roden, the latter of whom hopped out of her car a full twenty minutes before the posted start time (and, by Fashion Week tradition, thus about 50 minutes before the actual time) and happily posed for photos with fans on the sidewalk. Kids today love their Teen Wolf. If you'd mentioned that to Michael J. Fox — the original Teen Wolf — back in the eighties while he was playing basketball in his werewolf makeup, he'd probably have had you arrested for public inanity.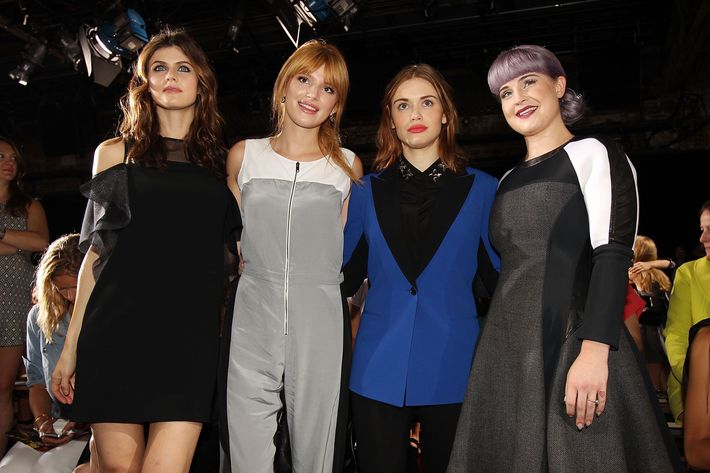 We were slightly more surprised by Kelly Osbourne's seatmate. We had heard Anthony Kiedis was coming and kept looking around the venue for him, scanning over and over again right past the short-haired hipster guy next to Kelly until we blinked and realized that WAS Kiedis. He had on a long-sleeve black and white shirt, along with his reedy mustache and the kind of gelled-down short coif that made him look like a cross between stylist Ken Paves and a louche French beat poet, who had then been caught in the rain. All of which is hard to swallow when, in your head, he perpetually has long hair and thrashes around shirtless. We do fear change.
The biggest surprise of all, though, came at the end of the show. Just as it appeared Karlie Kloss had closed things in a sexy backless orange dress, the music switched up to "Fight for Your Right" by the Beastie Boys, and Rita Ora marched out from backstage. She fluffed her hair, struck a pose, and then stomped a lap around the room while the models did the finale walk behind her — like her own army of pro-partying soldiers. The reaction of the crowd veered between giddy "OMG" faces and confused Wait, who is that? expressions. But if we learned anything in college, it's that as long as SOMEONE is fighting for your right to party, it doesn't matter if you know their name or even who they are. Just embrace it and pass the beer.