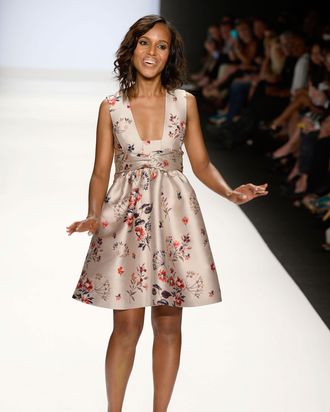 Photo: Frazer Harrison/Getty Images
Last season, we suggested it might have been a harbinger of doom for Project Runway that the celebrity front row consisted of an actress few had heard of (Paula Garcés, now of Devious Maids) and Sammi Sweetheart from The Jersey Shore, and couldn't (or just didn't) get a guest judge that wasn't former panelist Michael Kors. And so, at this season's finale show on Friday morning, we feared the worst again when we saw Garcés alone in celebrity row next to a seat marked for The Jersey Shore star … until we wandered further and spied a prime spot labeled "Kerry Washington." That is an exceedingly smart get for Runway — few fashion people are a bigger deal right now than Ms. Olivia Pope, and considering that the show's smart format tweaks have yielded a much better season so far, it's apt that their choice for the big climax would be TV's hottest fixer. Hopefully it wasn't also because Heidi Klum murdered someone and needs professional help.
Alyssa Milano, the newly and randomly minted host of Project Runway: All-Stars, wore an intricately braided hairdo and a frankly cracked-out ensemble of a blue button-down shirt underneath a neon-yellow sequined tank. She looked like a crossing guard with Big Dreams. The judges all looked great, however. Nina Garcia, in black, was not wearing the Google Glass (Google Glasses? Google glasses? Do we really have to care or can we wait for them to go away?) she has put on elsewhere at Fashion Week, so we can't yet report on whether they make us as stabby in person as the prospect of Face Internet makes us in theory. Klum looked resplendent in a gold cocktail dress we are told was Max Azria, and Washington had on a lovely floral dress and a huge, charming smile, the likes of which she never gets to deploy on Scandal because of all the, you know, scandal. It's hard out there when you're in love with a president who is (a) married, and (b) kind of a terrible president.
Much like the episodes that preceded it, the Runway finale was light years better than the hellfests of recent seasons. We won't spoil what the final challenge was, but eight designers showed clothes, leaving us to extrapolate from any clues or visual cues which of them are the real finalists. Jeremy seemed bored and blasé during his bow (although his collection wasn't bad). Alexandria, whose stuff was mostly slouchy separates, acted disengaged at first — her intro was basically, "Hi, enjoy this, bye" — and when she walked at the end she was crying in what we would not term "a positive way." Her name-twin Alexander showed a weird, messy, and occasionally pantsless collection that felt like a bogey, but did involve pageantry: The last model walked out all wrapped up like a freaky glittering tree, and then unzipped herself at the end of the runway, unfolding like a backwards umbrella to look like a freaky glittering nymph. The audience loved that, and no wonder he went first: By starting off with a bang, it was like the producers were saying, "Yeah, we are REALLY sorry about those last couple of seasons."

But all the collections looked well-made — a problem that has dogged Runway before — and had bits and pieces to offer, even if everything was not totally cohesive. Dom and a very buoyant and proud Braden both had some nice prints; sniffly, gushy Kate had pretty ideas, even if overall her collection was a bit of an snore ("God, enough already," was the mutter review of the woman next to us); and a jubilant Helen's work seemed the most accomplished of all, despite the fact that it was the first collection she's ever put together. If we had to guess, we'd suggest the finalists are most likely to be her, Braden, Kate, and … Dom? Jeremy? We can't say for sure. But whomever it turns out to be, it's refreshing not to walk out thinking, "Egads, only one of those is even merely COMPETENT." Well played, Runway.

Of course, not everything has been fixed: The show had several technical difficulties. Heidi couldn't hear her cue, then later had to reshoot her introduction of the judges because "someone forgot to press record"; and either Kate's music kept cutting out at the beginning and restarting, or it was just awful and poorly mixed. As fun as it is to be getting a sneak preview, sitting through a bum-numbing eight shows — each set to a worse pulsing, blaring, mediocre electronic jam than the last — is tougher than an unconventional materials challenge. Can't y'all fork over some cash to get a little Daft Punk up in this joint? Next season's guest judge (and random celebrity attendees) will probably thank you.