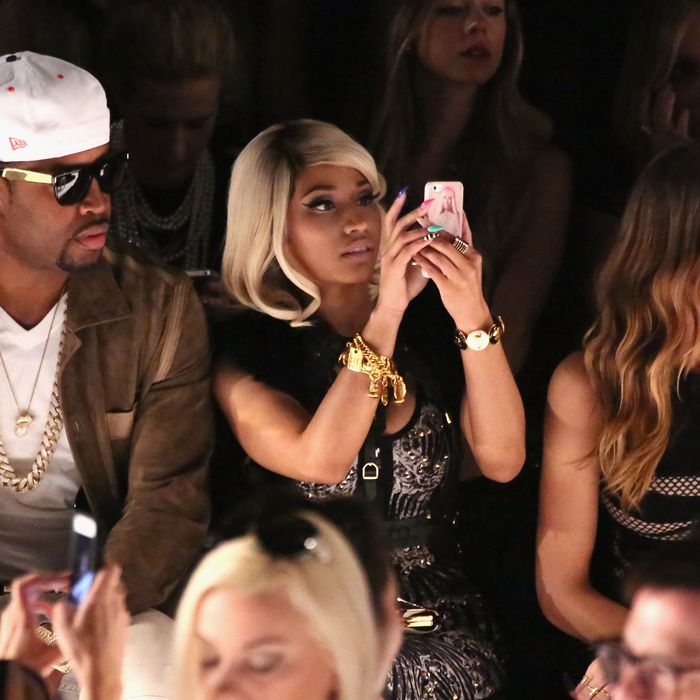 Photo: Astrid Stawiarz/Getty Images
The major gossip in the scrum of reporters and photographers at Hervé Léger on Saturday afternoon was that Blake Lively was in the house. We all agreed that this seemed extremely unlikely —  would Blake really come out of what seems like retirement in Connecticut and a peaceful life of, like, making crème brûlée with Ryan Reynolds, for a parade of bandage dresses?
The answer is no. No, she would not. Instead, we got Suits' very lovely Meghan Markle, who we overheard confessing that this was her first fashion week. "It's surreal, isn't it?" she laughed, before running down her schedule. Suits mega-fans, she's going to Marchesa, so start preparing your Harvey/Donna questions now.
The rest of the front row felt fairly pedestrian — you've got your Giuliana Rancic, your Petra Nemcova, your Katie Cassidy — until all hell broke loose in the form of Nicki Minaj, her sunglassed and behatted boyfriend, and her two enormous, bald, hair-trigger bodyguards.
With all due respect to Nicki, who is quite small and could probably use a little hired muscle, her crew was acting as if they were members of the Secret Service and there was a credible threat to the president … and that president was Nicki Minaj. They yelled at reporters to get out of their faces, manhandled those in their wake, and seemingly came close to decking a member of the press corps who tried to snap a front row photo of Nicki — a credentialed photographer, not some looky-loo with a camera phone, and he basically got the equivalent of, "YOU WANNA PIECE OF ME??!" from the more intense of the two bodyguards. (He did not; he retreated to the photo pit.)
Eventually, the super rage-y guard retreated (to do a scan of the perimeter, we presume), and the other spent the entirety of the show crouched at the ready just behind Nicki's shoulder, as did two security guards from the venue, all crammed so tightly into the aisle that, at one point, one of them almost toppled into the runway. Is Nicki Minaj's life in danger, you guys? And if so, should she be risking it for Hervé Léger?
As everyone was getting into tactical positions, the PR girl next to us turned to one of her comrades and cheerfully announced, "Well, that was INSANE." She went on to explain that she'd been one of the people escorting Nicki from her car into the venue, and that Nicki's fans had been beyond intense, basically losing any semblance of sanity as soon as Nicki appeared. "They were screaming, 'I live for you, my life's for you!' I was like … oh my god." Oh my god, indeed. Nicki herself did seen a little overwhelmed, but she bounced back enough to take a couple of selfies during the show. Perhaps she was able to relax knowing that her Bodyguards — capital letter required, as we suspect either would have carried her out of the tents in their arms to the strains of "I Will Always Love You" — were on the case.
For more from the Fug Girls, visit their blog, here.