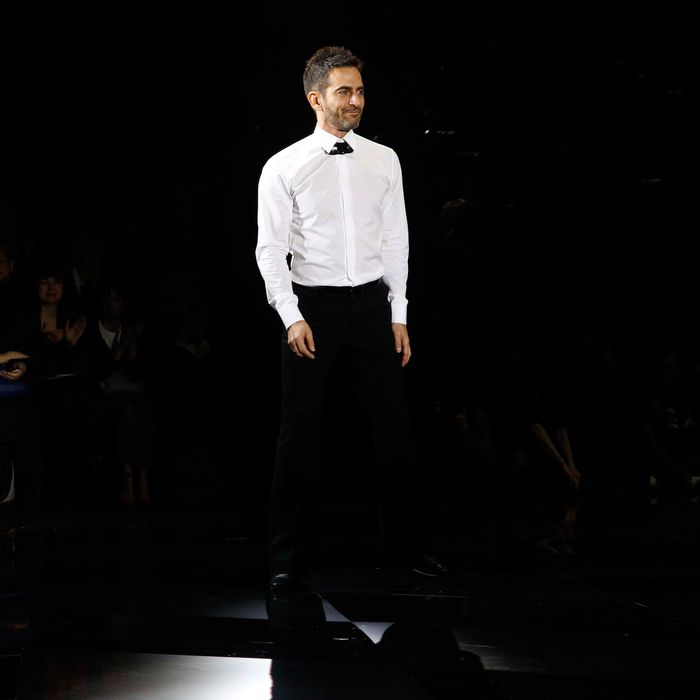 Marc Jacobs.
Photo: Eric Ryan/Getty Images
Now here's some interesting gossip from Paris: Marc Jacobs is said to be in the process of detaching himself from Louis Vuitton and its parent company, LVMH, after a sixteen-year relationship. To make matters even juicier, WWD reports that former Balenciaga designer Nicolas Ghesquière is in negotiations to succeed him.
The designer and his business partner, Robert Duffy, may not renew their ten-year contract with the French conglomerate when it expires in a few months, according to WWD. Jacobs supposedly wants to end his tenure at Vuitton to focus more on his New York–based eponymous brand, which just launched a makeup line (through the LVMH-owned beauty retailer Sephora). As you can see, his will be a long and tangled divorce: LVMH owns a majority stake in the Marc Jacobs label, as well as one third of the Jacobs trademark. "They're married for the future," says one of WWD's sources (darkly, we imagine). "The question is how they change their relationship." There's wide speculation that Jacobs may want to take his brand public, which would call for LVMH's approval. A time line for all of the above remains unknown.
So, what about Ghesquière, who is still in the midst of that lawsuit with his former Balenciaga bosses? WWD leaves us with this: "The likelihood of an agreement with him could not immediately be learned." This business needs better cliff-hanger sentences.