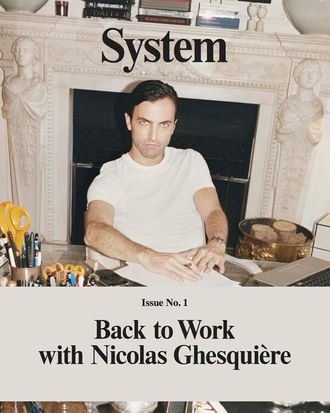 Balenciaga's $9 million lawsuit against their former designer Nicolas Ghesquière, who allegedly said "harmful" things about the company in an interview last spring, will get its first court hearing on October 15, WWD reports. The backstory: Following Ghesquière's rather sudden departure from the brand last November (he was replaced a few months later by Alexander Wang, to much fanfare), he appeared on the inaugural cover of System magazine (his longtime right-hand stylist, Marie-Amélie Sauvé, guested-edited the issue; she is also named in the suit). The corresponding interview came out in May, and revealed Ghesquière's many qualms with his former job. Some examples:
Over the last two or three years it became one frustration after another … There was no one helping me on the business side … They wanted to open up a load of stores but in really mediocre spaces, where people weren't aware of the brand … There wasn't really any direction … I began to feel as though I was sucked dry, like they wanted to steal my identity while trying to homogenize things …

It was really that lack of culture which bothered me in the end. The strongest pieces that we made for the catwalk got ignored by the business people. They forgot that in order to get to that easily sellable biker jacket, it had to go via a technically mastered piece that had been shown on the catwalk. I started to become unhappy when I realised that there was no esteem, interest, or recognition for the research that I'd done; they only cared about what the merchandisable result would look like.
Who knows what kind of nondisclosure agreement Ghesquière signed when he stepped down, but those comments definitely violated it, according to Balenciaga's lawsuit:
Balenciaga didn't want its designer to justify his departure by criticizing the house that employed him … In general, the parties, knowing the hypersensitivity of the fashion industry to changes in creative direction, were forbidden from commenting on the break in order to avoid any detrimental effect on their economic interests or their image.
Court documents say Ghesquière was paid 6.6 million euros (about $8.7 million) as compensation for breaking his employment contracts when he left. He also sold his 10 percent stake in the label back to the company for 32 million euros, or $42.3 million. But until a decision is reached, he might want to hold off on spending it.