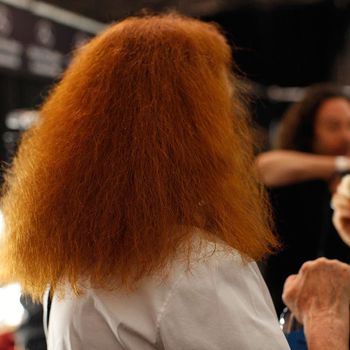 Fashion Week went the celebrity-baiting route over the weekend, most notably with Kanye & Co. at the Alexander Wang festival. On Sunday, Diane Von Furstenberg proved she was a star in her own right at her megalithic show at Lincoln Center. So let's start by going backstage there, where makeup artist James Kaliardos tickled Grace Coddington with his brush as fellow ginger Karen Elson giggled in the background.
As the lights went down, the iPhones came out.
In the distance, watch as Designer Diane pull a Sheryl Sandberg, waving her way down that long runway.
Later in the day, Zac Posen stacked his show — full of gorgeous, sculptural dresses — with a front row that included Elson, Molly Sims (iPhone video included), Christina Hendricks, and Stacy Kiebler.
Of course, Hendricks even looks good when giving side eye.
See, we told you: Gorgeous, sculptural dresses. Or maybe this qualifies as a gown.
And we'll leave you with Leigh Lezark posing from behind. Girl looks fantastic in that dress.