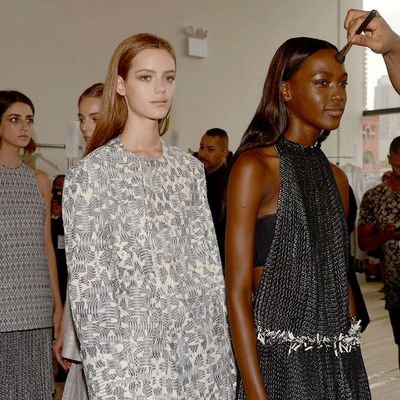 Hooray, New York Fashion Week is done! Our GIF specialist Clint Spaulding captured this joyful model illustrating exactly how we feel about the week's completion. Or rather, how we feel about getting to sleep in tomorrow:
But let's not get ahead of ourselves. Yesterday, Calvin Klein designer Francisco Costa gave his staff a round of applause post-show, like the classy mensch he is.
And models got their primp on, like usual.
But most important, it was MARC JACOBS NIGHT, which meant blonde, short bob wigs:
And a really sweaty audience packed into a dark room. Luckily, everyone got free fans.
And of course, the show was worth it.
Marc was so relieved it was over that he literally jogged off the runway after his bow. Gotta get to Paris!
And with that, we're done. It's been real, kids.