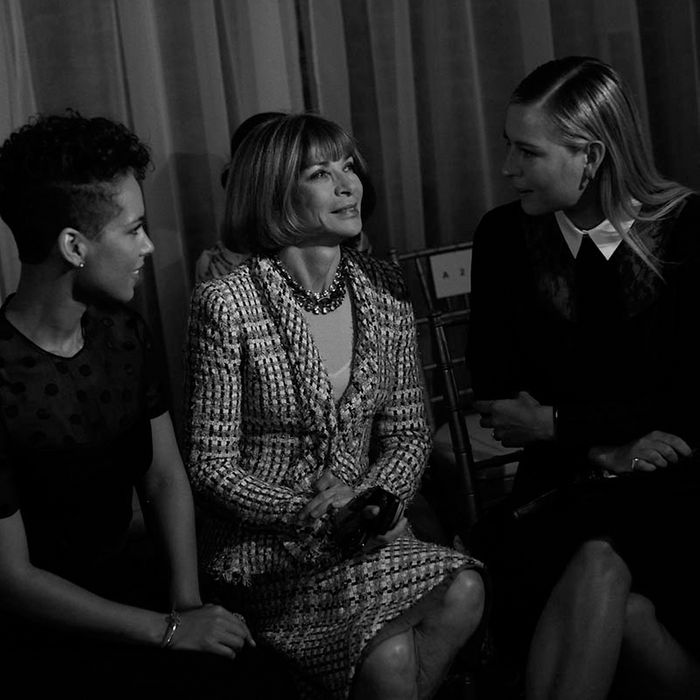 Of all the shows that presented on day two, Jason Wu was probably one of the most anticipated — at least by Queen Wintour, who was so delighted last season that she even burst into song ( … or so we imagined). Before the show began, she arrived at Wu's show in a light pink skirt-suit and chatted with her famous front-row seatmates, Alicia Keys and Maria Sharapova. She looked genuinely enthralled (perhaps by the artful light fixtures in the center of the runway) and even smiled and looked on at Keys like a doting mother. A rare glimpse of "Ebullient Anna."
Backstage at Wu, the flame-haired Karen Elson took a moment to sign an autograph for a fan and laugh.
Over at the Fashion Media Awards, a trio of fashion's beloved managed to sit on the same couch: Bill Cunningham, Stephen Gan, and Mermaid Gaga. The girl with the camera behind them must have just spotted Bill.
And we say goodbye to the second day of fashion week with Karlie Kloss working the red carpet. She claimed "The Chop" — and now, "The I-Own-This-World" one-elbow shoulder sweep.