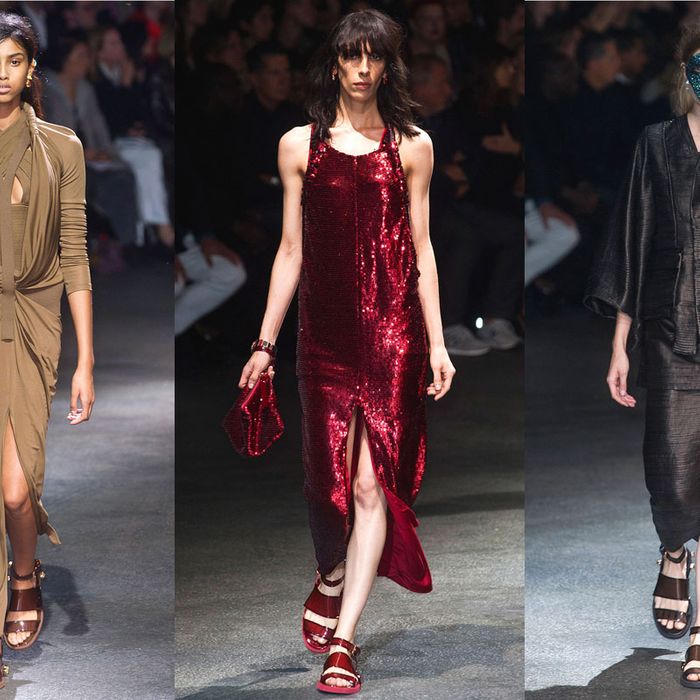 It's hard to resist a fashion show with a dazzling mise-en-scène and Givenchy had just that. A pileup of cars sat in the middle of a circular concrete runway, suggesting a giant faux wreck that continued to smolder as guests arrived Sunday night for the house's spring 2014 show. Security guards shooed people away as they meandered toward the crumpled mess with their mobile phones thrust forward in picture-taking mode. No pictures. No pictures. Oh boy, we must be in for a treat!
The lights dimmed, the spotlights switched on, and suddenly six drummers — perched about the crowd — began beating out a primal rhythm that built to a dramatic crescendo. And then … not much. It was a pleasant collection built on bright prints and sparkling crystals, reassuring shapes, and inspiration that did not go very far beyond the easy clichés.
The models walked out in long jersey skirts twisted and knotted around the hips. They wore kimono-style jackets in murky shades of ink, midnight, and black. There were trousers coated in carrot-colored sequins and dresses covered in cherry red ones. Casually draped dresses in patterned silk jersey hung fluidly from the body. And occasionally the models' faces were covered in a Swarovski crystal mask because, well, why not?
For designer Riccardo Tisci, the collection represented a collision between African and Japanese cultures. And one must assume that Tisci literally meant a car crash, as that is the only explanation for the giant wreck in the middle of the runway. In the show notes, there was talk of refined Japanese elegance and African naturalism, references to kimonos and that most beloved fashion inspiration — the Maasai people of east Africa, who, by now, should be getting some kind of royalty from half the frock industry.
It was a pleasant collection but one that tread a lot of familiar ground without bringing any new insights. It was impossible to look at Tisci's yards of twisted, earth-tone jersey and not think of Donna Karan. The collection lacked any sense that it was connected to the Givenchy point of view. Or that Tisci designed it. Where was his signature?
The presentation was made more interesting thanks to the live drummers, whose presence spoke to both Japanese and African culture. And the smoking wreckage gave one something to ponder: What is the meaning of crumpled metal juxtaposed with traditional rhythms? Is history assaulting industrialization? Are Africans and the Japanese bad drivers? But mostly, the set read like an intentional distraction — a way to elevate clothes that could not stand on their own.