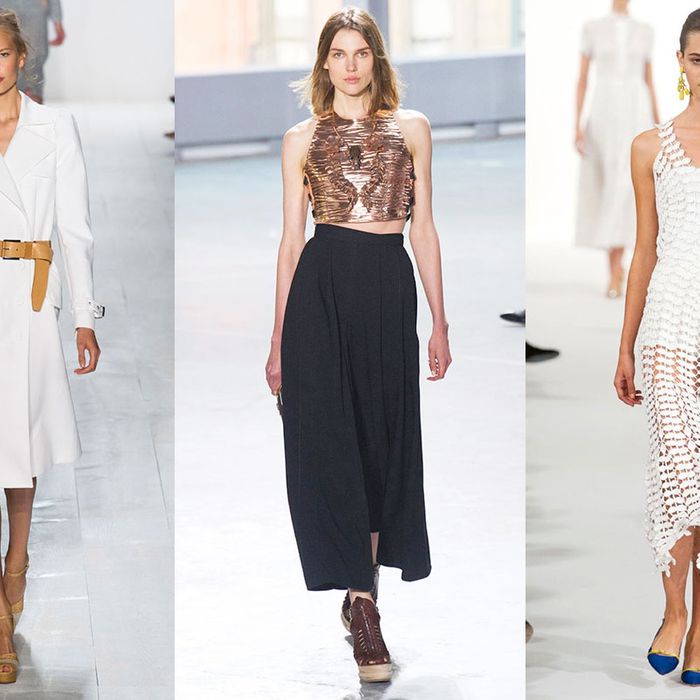 During New York Fashion Week, insiders often gripe about the commercialization of the Lincoln Center shows. While it's true that walking into the official Fashion Week venue feels like navigating a sprawling trade show, having to dodge the hired beauties who hand out Maybelline eye shadow, magazines, and snacks hardly counts as a hardship.
The companies that latch onto the glamorous coattails of the garment trade aren't parasites. They're underwriting the excessive costs of mounting a fashion show. That support might offend the sensibility of editors who think shows in a sweaty grotto are somehow purer than those in a pleasantly air-conditioned venue, but it's hardly damaging the nature of fashion.
Yet the subtext of the complaints is that the corporate sponsors make the New York collections more banal by some kind of mass-market osmosis. The distaste for Lincoln Center often sounds like a repudiation of American fashion in general. After all, American fashion, rooted in New York City, has always had a wide embrace. And a democratic approach to style allowed the industry to grow and profit in a way that its French counterpart did not. The brands that show in Lincoln Center are not interested in rewriting the definition of fashion by taking subversive stances on femininity, beauty, or power. Mostly they just strive to make clothes that are pretty and fun and, in a few cases, relatively affordable.
Tory Burch and J.Crew both presented collections at Lincoln Center. Burch's inspiration came from the French Riviera of the sixties. Her models walked along a runway built to resemble the swirling waters of a pool, wearing dresses embroidered with botanical prints, perforated leather tops, and slim jeans enlivened with scarf prints. No heavy intellectual lifting required; nothing on that runway was going to make anyone re-consider the morality of capitalism versus inherited wealth.
The more modestly priced J.Crew women's collection, under the guidance of Jenna Lyons, looked like a close cousin to the Tory Burch collection. It, too, focused on simple shapes, fun prints, and nonchalant layers. Pointing out the similarity between the two collections is not meant as a criticism, but rather an observation: American fashion's common vocabulary is rooted in pragmatism. The most successful American brands have tapped into that vocabulary, welcoming an enormous population of women into their fold. Those women are better dressed because of it.
And frankly, most American women don't want their fashion lives to get any more complicated than J. Crew. Indeed, it's telling that some of the best selling brands at high-end, national stores, according to one retailer, are lines such as The Row and 3.1 Phillip Lim. They come in at vastly different price points, but both of them excel at delivering the right amount of fashion for the dollar.
When Michael Kors put his spring 2014 collection on the runway at Lincoln Center, it almost made one sigh with relief. Sometimes, American designers work so hard to convince their audience – and perhaps, themselves – that they are just as creative as those folks in Paris, that just looking at their collections is a tense and exhausting exercise.
Kors's collection of short-sleeve jackets with tucked shoulders, pleated skirts, and sweeping trousers felt delightfully American. He described the collection as being about "summer romance," and the easy silhouettes did conjure an uncomplicated, visceral joy. Why do we make everything so hard when it comes to fashion? The creative process can be grueling enough, why slather on the misery of cynicism, crankiness, and clothes that require an instruction manual?
Meanwhile, neither Oscar de la Renta nor Proenza Schouler's Lazaro Hernandez and Jack McCollough presented their collections in Lincoln Center. De la Renta used his own headquarters on West 42nd Street, while Hernandez and McCollough chose the unfinished second floor of a building on West 55th Street. Nonetheless, both collections made the clothes look effortless.
De la Renta's collection hit its stride with its fanciful cocktail and evening dresses with tiered skirts, necklines embellished with chunky crystals, tank dresses cut from tablecloth lace, and party dresses in which floral appliques were layered atop sparkling embroidery. These dresses had a simple goal: Make women look classically, memorably beautiful. Not groundbreaking, but still an irresistible fantasy.
Hernandez and McCollough were more adventurous, with their maxi silhouettes and elephant pant legs. Many of the touches called to mind the work of the groundbreaking American designer Bonnie Cashin, who popularized the use of turnkey closures and employed long, sporty lines. Hernandez and McCollough continue to concoct fabrics that play tricks on the eye, with one tailored coat looking like it had been given a delicate sponge bath in pale coral watercolor. Everything about their collection, from the towering stacked platform heels, to the skirts that stretched far beyond the knees, read like a bold, hyperbolic statement on the runway while not being alienated from real city streets.
Reed Krakoff, who recently announced that he and his co-investors had closed on the purchase of his signature business from Coach, has an exquisite understanding of the American aesthetic. With a stint at Tommy Hilfiger, before helping to transform Coach into a billion-dollar company, Krakoff is steeped in preppy style, the founding tenants of American sportswear as defined by Cashin — who designed for Coach — and the lucrative sweet spot between the luxury and mass markets. His own collection continues to evolve into one that espouses minimalist lines, splashes of color, city seriousness, and … something. That missing, unidentified emotional something that will ultimately define the brand. His spring collection of barely there dresses, crisscrossing skirts, and sleeveless trenchcoat dresses was filled with pretty lines. Its pale peach color palette, with bursts of neon lime, veered from wan to jarring; a pleasant collection that lacked personality.
All of these designers are exceedingly comfortable with the American-ness in their work. Whether it is simplicity or pragmatism, sweetness or joy, the clothes speak with a common vocabulary. Each designer, of course, says something unique. Some are more eloquent. Some are fancier in their expression. But they are all speaking the same language.
Catch up on all of Robin's reviews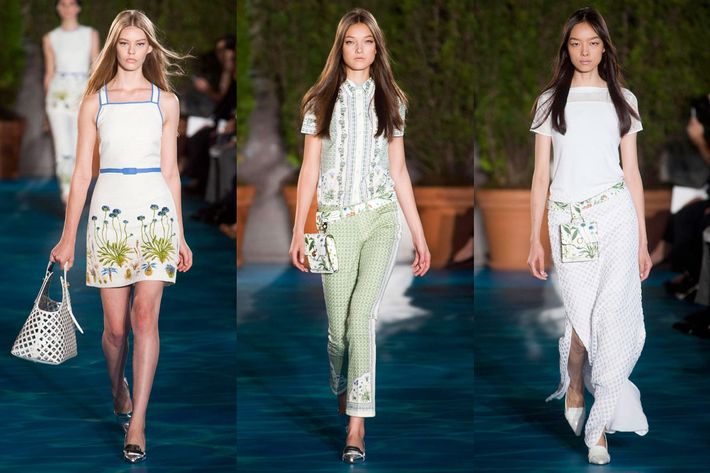 Tory Burch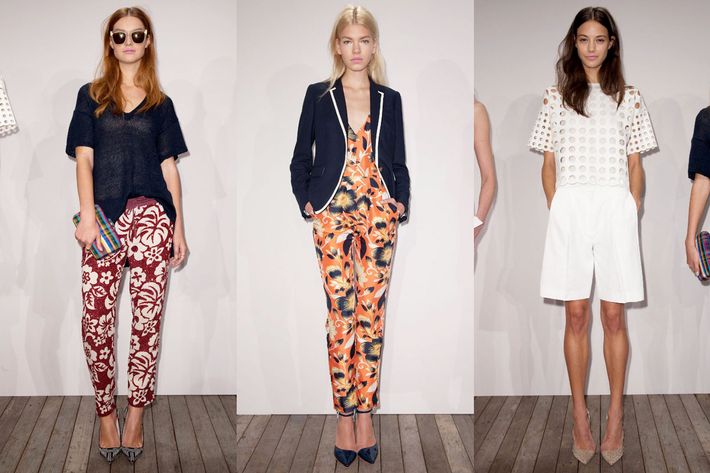 J.Crew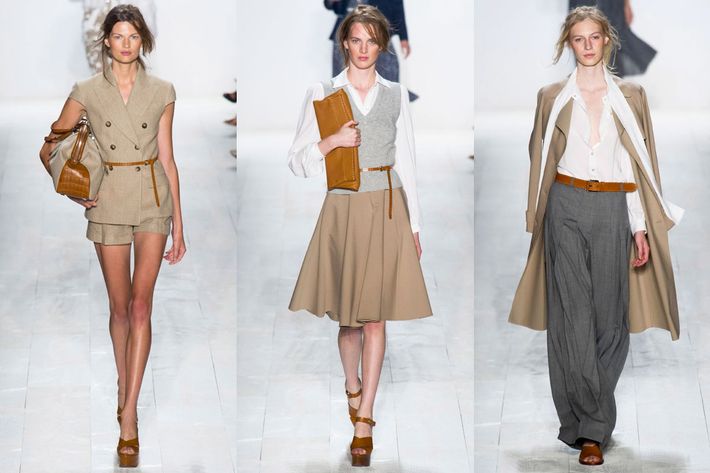 Michael Kors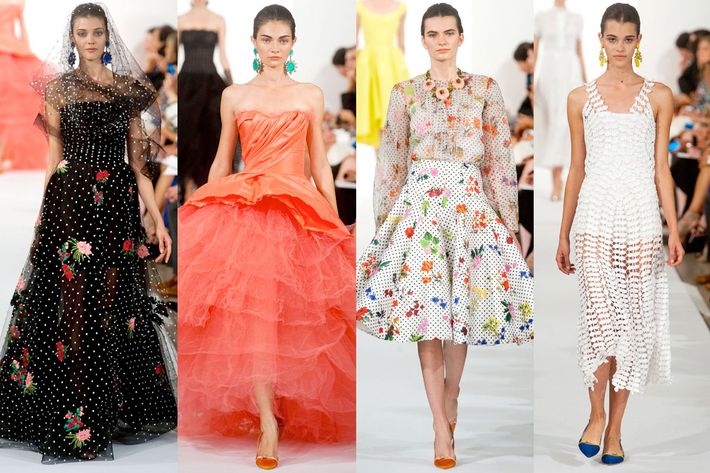 Oscar de la Renta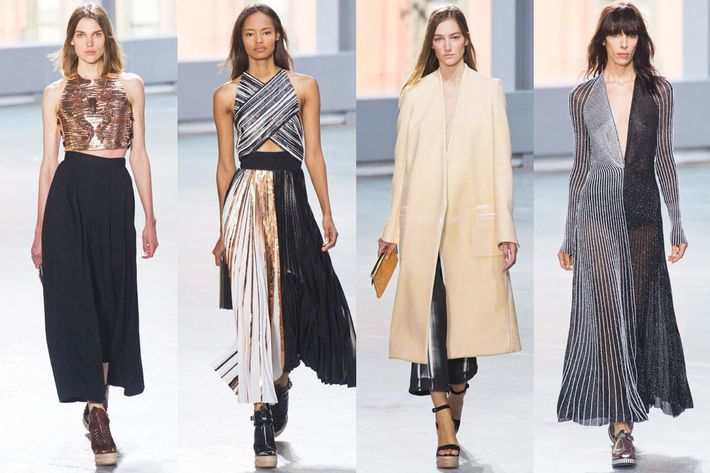 Proenza Schouler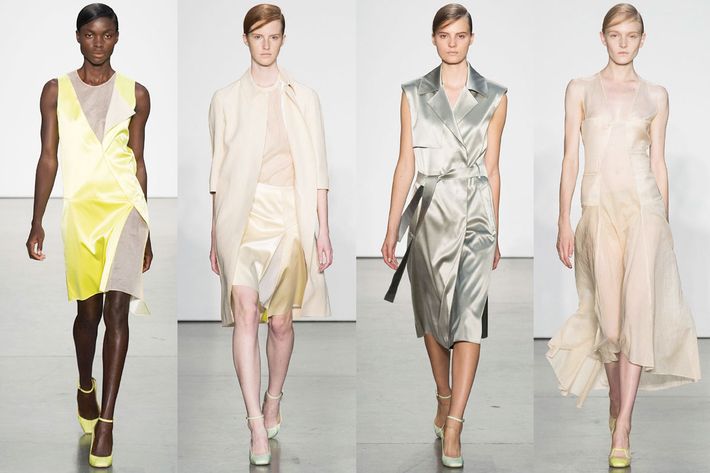 Reed Krakoff