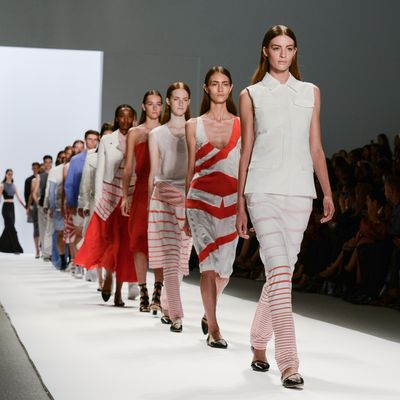 Photo: Dean Neville/BFAnyc.com
Diplomacy has shifted to confrontation.
Bethann Hardison, the former model agency owner who has been a leading advocate for greater diversity on the fashion runway, has gone live with an international roll call of design houses whose actions she characterizes as "racist" due to the lack of black models in their fall 2013 shows.
A strongly worded letter, posted at the website Balance Diversity reads, in part:
"Eyes are on an industry that season after season watches fashion design houses consistently use … one or no models of color. No matter the intention, the result is racism. Not accepting another based on the color of their skin is clearly beyond 'aesthetic' when it is consistent with the designer's brand. Whether it's the decision of the designer, stylist or casting director, that decision to use basically all white models, reveals a trait that is unbecoming to modern society."
The letter continues with a list of fashion houses "guilty of this racist act." It includes some two dozen New York-based womenswear and menswear brands that showed in February, boldface names such as Donna Karan, Proenza Schouler, Calvin Klein Collection, rag & bone, Narciso Rodriguez, Reed Krakoff and Duckie Brown. (We reached out to all New York design houses mentioned in this piece, and only Duckie Brown responded to comment.)
Hardison worked with a volunteer who spent nearly a month sifting through thousands of runway images online to come up with the final tally. The designers listed represent a snapshot taken in a single season — a sort of spot check rather than an analysis of long-term engagement. A fact noted by Daniel Silver of Duckie Brown.
"We cast our show based on the boys we see  — who is in town — and who fits the clothing best," Silver says. For the spring 2014 show, for example, he and partner Steven Cox booked five models of color.
"Some seasons there are less — or none, or more, models of color," Silver says. Indeed, the company once received plaudits from Hardison for its diverse runway.
"Take a look at all the shows we've done and you will see a wide range of men," Silver says. "We feel that if the modeling agencies had a more diverse roster, our casting would in turn be more diverse."
The single-season assessment also looked at brands showing in London, Milan, and Paris. The list of offenders reads like a directory of top designers: Giorgio Armani, Versace, Prada, Alexander McQueen, Temperley London, Marni, Celine, Dries Van Noten, Chanel, and so on.
"I'm not here to tell anyone what to do," Hardison says. "But I'm telling them that they're being inappropriate."
The letter, also supported by model Naomi Campbell and model-turned-businesswoman Iman, is aimed at creating some form of public accountability. To that end, individual letters were also sent directly to the CFDA, the British Fashion Council, the Camera Nazionale della Moda Italiana in Milan and the Fédération Française de la Couture du Prêt-à-Porter des Couturiers and Créateurs de Mode in Paris.
"They can say this is fashion, but let's cut to the chase," Hardison says. "It used to be fashion, but now we're talking about clothing. It's about business."
Black models were at the height of their popularity in the seventies and eighties. They fell out of favor in the nineties when the fashion industry became enamored of the waif. Since first raising the issue of diversity more than five years ago at a town hall meeting with members of the fashion industry, Hardison has noted incremental changes, including seeing more polished, more accomplished black models on the runways. And the CFDA continues to encourage its members to be mindful of creating more ethnically mixed shows, although there have been no repercussions for failing to do so.
"I do think there's been progress," Hardison says. "But I don't see the continued progression and the stability."  The open letter, she says, is the launch of an initiative to power the necessary momentum.