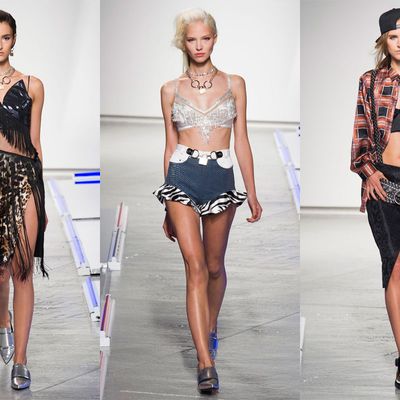 In fashion, trying to envision a new way of dressing, coming up with a different iteration of a silhouette, or attempting to push the outré into the mainstream means taking risks. When the risk pays off, everyone wins: the designer, the consumer, the retailer. God bless fashion's gamblers. They keep the industry churning.
But pity them, too. Because when things go wrong — really, truly wrong — sometimes they end up with a heaping pile of ugly.
Rodarte's designers, Kate and Laura Mulleavy, took a big leap of faith with a spring collection that attempted to give L.A. street-style icons — particularly its swaggering cholos — a thick coat of glamour. To that end, the sisters shrouded shiny leopard skirts with a scrim of trembling fringe. They stitched zebra- and tiger-stripe dresses out of silk and included hand-cut panels of satin. They trimmed faux-leather briefs with zebra-striped ruffles. A bra-style top shimmered with silver fringe and slim-cut dresses were embroidered with giant scorpions. None of it was especially attractive. But more important, none of it exuded the kind of nonchalant "I don't care what you think" confidence it should have. 
Certainly, attempting to domesticate a style that was born from defiance and filled with its own wild glamour has a precedent. Fashion companies have reaped great rewards by appropriating street culture and sanitizing it for broad consumption. And you'll find no argument here about who owns what and who has the right to exploit it. But the Mulleavys did not do justice to their inspiration. By removing an aesthetic that percolated on the street from its natural habitat and putting it into the rarefied space of a Chelsea gallery, the Mulleavys, in effect, left it open to misrepresentation and ridicule. Styles that germinate on the street form a protective armor of their own. They bond the wearer to a particular tribe. They communicate a bond across a crowded street corner. They bolster the strut of people who've been disenfranchised or ostracized from the Establishment. They impart confidence.
Yet there was little swagger on the Rodarte runway. For all the limp ennui in the air, the models might as well have been strolling along in floral sundresses. The models done up in chunky gold jewelry, studded belts, and trucker hats mostly called to mind cultural tourism. They looked as if they'd just come from some souvenir stand hawking "authentic" homeboy tchotchkes.
Sure, the Mulleavys elevated the street sensibility with better fabric, hand stitching, and a high-minded philosophy. But the clothes did not look better for it. On the runway, they read as cheap — even though they most certainly are not. And even more disappointing, the models looked cheap, too. They didn't move as if they owned the provocativeness of bare midriffs, tiny shorts, and revealing bra-tops. They looked meek. Models who were allowed to show more personality would have helped the presentation. What makes street style so attractive is not the cut of the cloth but the attitude of the wearers. They are able to take something that is typically modest and make it look like it's worth a million bucks. They can wear a T-shirt and make it look tough because they bring strength and aggression in their carriage. And trucker hats on girls can look sexy simply because of the look in their eyes. In this case, however, their eyes simply looked empty.