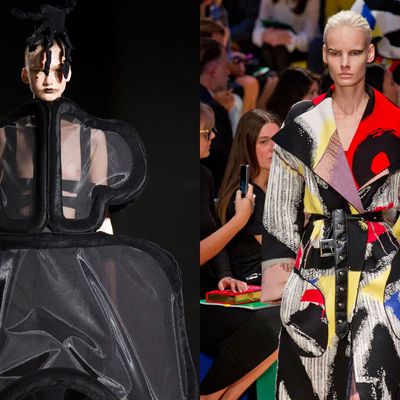 Observers of women in the workplace often lament that we tend to hesitate in pressing our point of view. We accommodate others too easily, are too risk averse. But if the runway is a kind of klieg-lit boardroom, the strength of both Rei Kawakubo of Comme des Garçons and Céline's Phoebe Philo lies in their wholly unapologetic vision. Though their aesthetics couldn't be more different, their stature as fashion leaders is notable because all too often it is male designers who are seen as carving out new paths.
Philo's influence in fashion is plain to any woman recently compelled to streamline the look of her wardrobe, suddenly finding exquisite beauty in the simplicity of a plain white shirt and a pair of navy trousers that have so much structure they can practically stand up on their own. This clear-eyed minimalism has been Philo's mantra since becoming creative director of Céline in 2008. From her first collection, she set about uncluttering our wardrobes — and creating a series of handbags desirable enough to cause that same shopper's heart to skip a beat.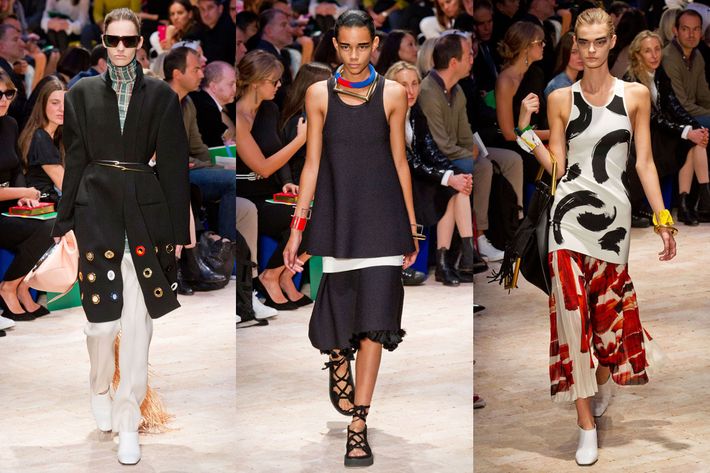 But when Philo unveiled her spring 2014 collection Sunday afternoon at the Tennis Club of Paris (with her No. 1 fan Kanye West in attendance), much had changed. Brushstrokes of primary colors slashed across oversize shirts; ribbed knit tops and argyle tunics stretched from the shoulders almost to mid-thigh; knife-pleated skirts, which have been ubiquitous on the runways in Paris, looked new and surprising because Philo cut them with a handkerchief hemline. Wrap coats with black leather belts, haphazardly knotted rather that neatly buckled, came in deep textures, bold patterns and intense hues. And giant metal washers created peek-a-boo patterns on overcoats and handbags. Slingback-style shoes had playful heels shaped like giant, silver ball bearings or golden right triangles. Bracelets looked like distressed chunks of metal with their yellow paint chipping.
When listed in detail, this sounds garish and overwrought. But it wasn't. And that's what made it exceptional. Philo executed every bold stroke, oversize garment and Paul Bunyan–size accessory while keeping her silhouettes so simple that the result was an improbable display of control and even restraint. One of the marks of an accomplished designer is an ability to propose not just an endless series of ideas, but also a singular vision. Certainly, every component of that vision may not be perfect. For example, it was hard to imagine how a Céline customer might make use of a daytime handbag that resembled a collapsed cube. But with every look, Philo underscored her focus and expressed her conviction. No apologies and no back-pedaling, just a lot of fashion worth considering.

Rei Kawakubo is even more strong-willed and aggressively contrarian than Philo, willing to leave an entire audience scratching its head in order to satisfy the urge to go down a new road. While Philo has changed the way women dress from the city centers to the suburbs, Kawakubo has transformed the way in which her colleagues and admirers in the industry design. Of course, Kawakubo did not enter the fashion industry as an intellectual exercise. She is a businesswoman as well as a creative force. And she has seen to it that her sensibility — love of black, deconstruction, jolie-laide flourishes — made its way into the marketplace through the various divisions of her company as well as her retail ventures. But the collection that she presents on the runway in Paris is Kawakubo in her purest form — straight, no chaser.

To understand the unsettling impact of her spring collection, one must first get a sense of the presentation in a stripped-down cavelike lair in the elegant Place Vendome. The modest-size room was dimly lit with rows of seats facing an elevated runway that arched gracefully downward at its foot. The first model appeared to the swelling sound of classical violins. She wore a skirt that looked as though it were stitched out of a fine mesh screen and trimmed in a fabric that mimicked black velvet. The silhouette appeared almost two-dimensional, as the skirt had no volume, simply spreading out from side to side. The top was similarly designed and also as flat as a child's sketch. The model paused for the photographers, then the music ceased and she clomped up the runway to her backstage perch.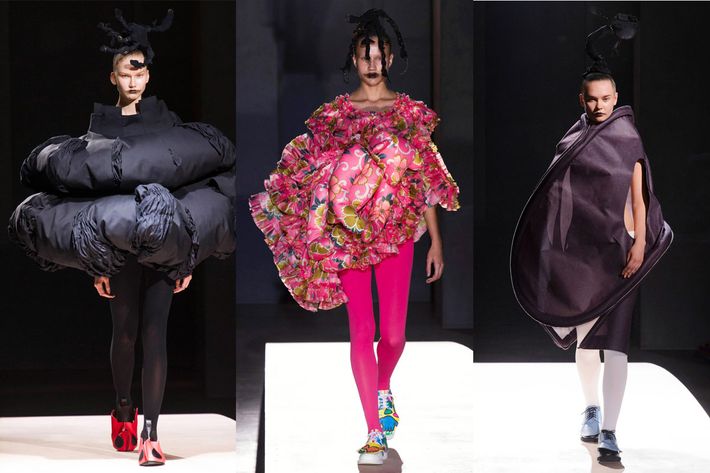 The next model wore a black dress covered in padded abstract shape, as though she were wearing a dress made out of pincushions. A steady beat of drums served as her brief soundtrack. A model stuffed into carnation pink tights and a dress that resembled a circular life raft walked the runway next. This time a bouncy circus melody played over the speakers. And so it went. Every few seconds a new ensemble, a new piece of music. At least one model even paraded down the catwalk to nothing but the sound of static; as discombobulating and aggravating as channel surfing. Just as your eye would settle in on the idea of clothing as flat, unadorned utilitarian tools, it would be asked to assess a frock that resembled nothing less than a wearable balloon.

To some degree, the presentation was a bit of a retrospective. Kawakubo has long explored volume and its impact on our understanding of the body. She has played with the notion of fashion as a kind of carnival sideshow. She has riffed on clothing as constricting, cultural prison. Yet no individual look this season was as powerful as the ones that made up those past collections that were so cohesive and lyrical. The spring 2014 collection was jarring, unsatisfying, and reflective of a culture where our minds are so constantly stimulated that nothing really ever settles in with impact. We seek joy through instant gratification. We mourn on fast-forward as we race to find closure. We hunt for love through high-speed Internet connections.

Kawakubo's presentation jumped from frocks that were brain-teasing puzzles, to those that were spirited pleasures or freaky fetishes to others that were like sorrowful embraces. But none resonated. Not because they were bad clothes or uninteresting ones, but simply because the fashion — like so much else — was in a constant state of interruption.