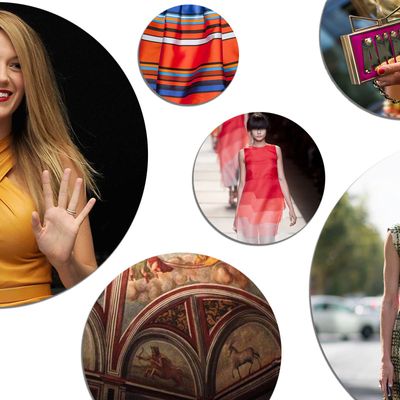 The first few days of Milan are done, with big hits at Gucci, Fendi, and Prada already a distant memory. The spectacular sunshine has put everybody in a decent mood so far. Blake Lively's radiant blonde mane also warmed up a few events, from my plane flight to the Gucci front row to a glamorous party in a villa held by Procter & Gamble. There seems to be less of a street style frenzy here than in New York, but it is nice to see Anna Dello Russo on her own turf in all her golden glory. But … on to the clothes, because that's what we came here for, right?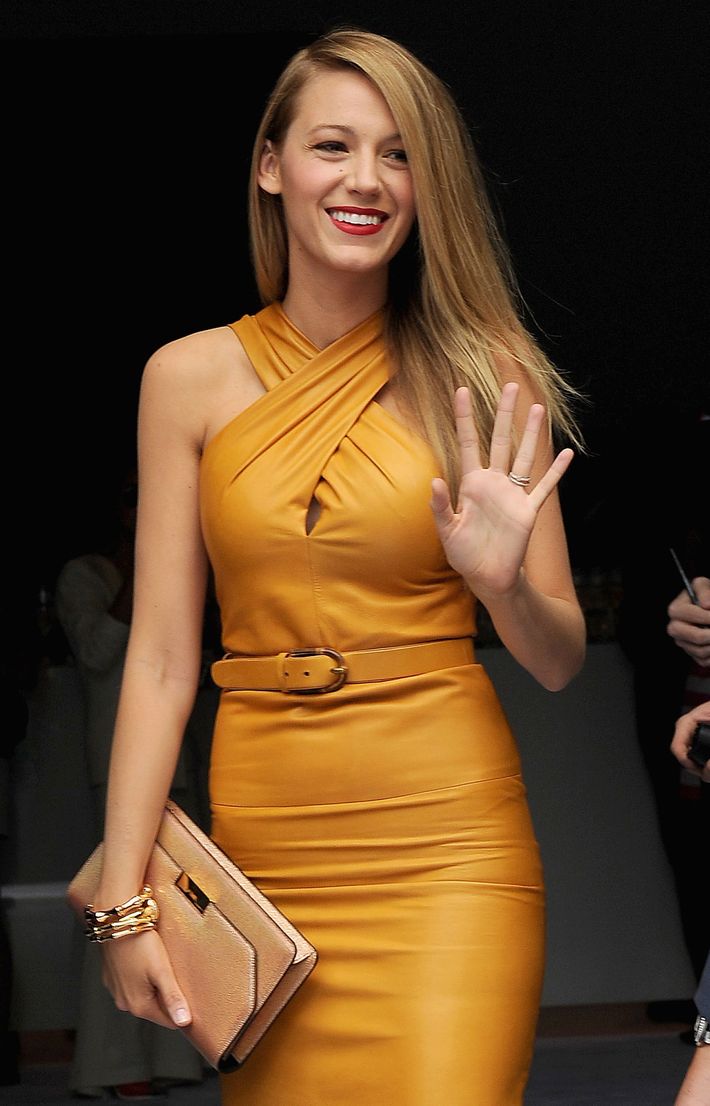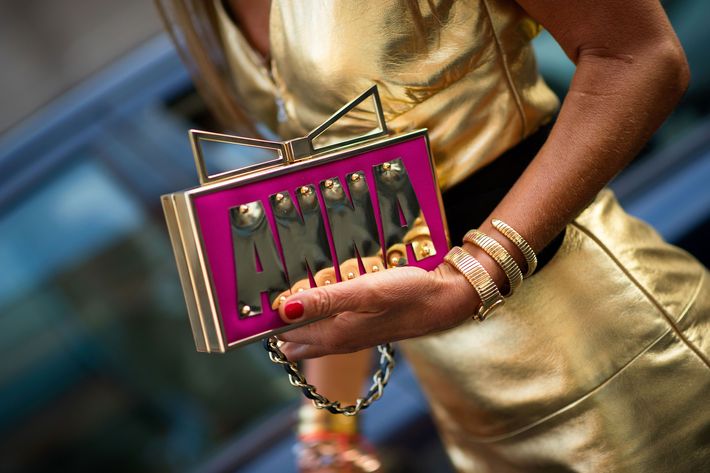 Since Gucci staged two shows, I'd had a little preview on Twitter.
That didn't, however, prepare me for the actual looks as they came sauntering down the runway. The mash-up of references was broad, from the Notorious B.I.G. song covered by Arcade Fire to the Art Nouveau florals mixed with athletic mesh. I kept thinking: Lady Sybil's flapper moment from Downton Abbey meets Downtown 81. A little bit Deco, a little bit Disco.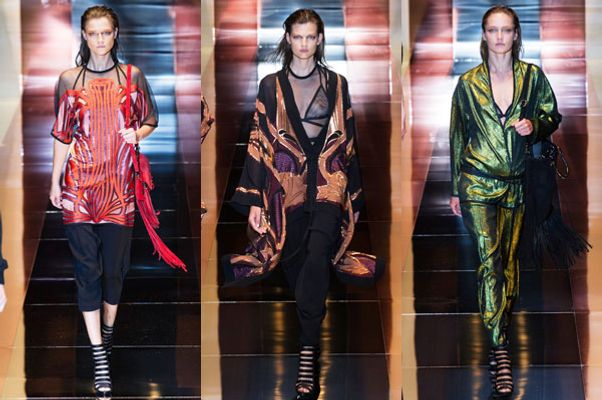 Writer J.J. Martin made an impression in a vintage gown from Hong Kong, paired with Prada shoes. A nice reminder that original personal style still captivates amidst all of the trendy clothing you see on the audience.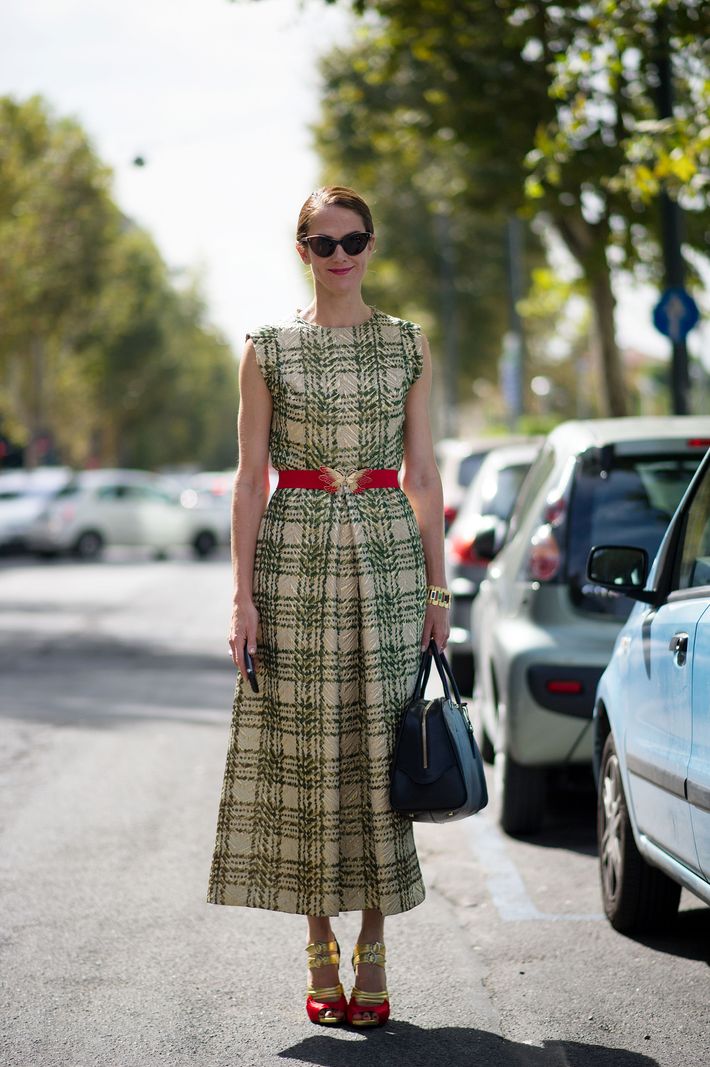 Alberta Ferretti's flirty conquistadoras were the long-lost daughters of Frida Kahlo. Dangling earrings with rosebuds shook hypnotically as the señoritas wearing single braids came down the runway in tops embroidered with flowers and broad-striped skirts.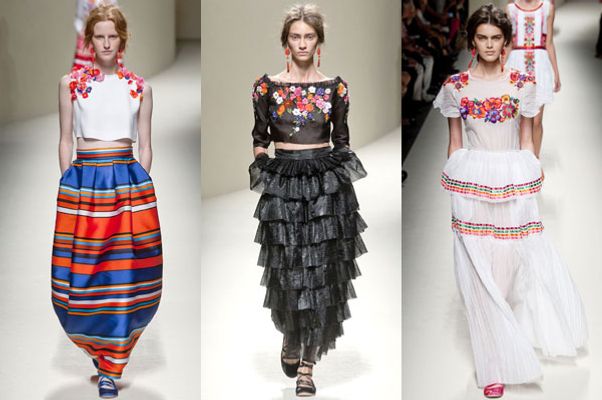 No 21 Allesandro dell'Acqua presented his vacation-themed collection that mixed all kinds of sporty references — bowling shirts, boxer shorts, and crop tops made of fancy jacquards, duchesse satin, and laser-cut lace — to the seductive sound of "Le Temps de l'Amour," by Françoise Hardy. The effect was like a very chic romp through the thrift stores outside of Palm Springs.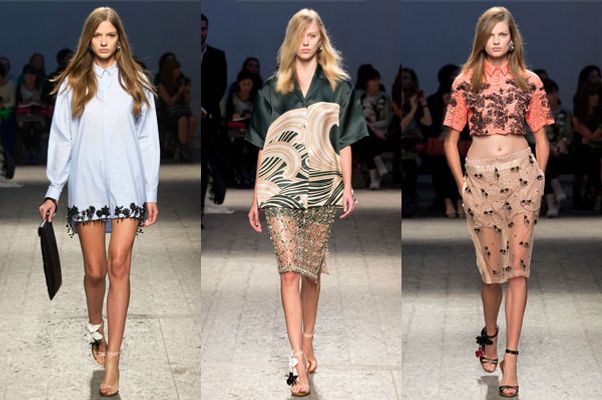 At Max Mara, a whopping 25 of the 44 looks were rendered in putty-colored neutrals. The show notes touting that the accessories had been "rigorously coordinated" (my new favorite term) did not lie. Of the eight non-neutrals, each vibrant hue was paired with matching bags, tights, and shoes.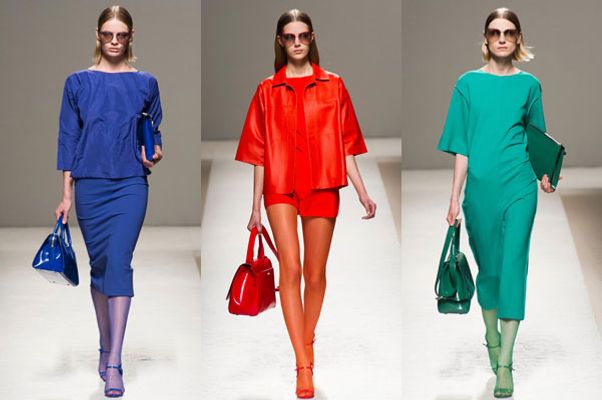 A quick stop at the Casadei showroom brought me face to face with these gold chain-link laser-cut leather heels. Don't worry, there's a hidden platform in there.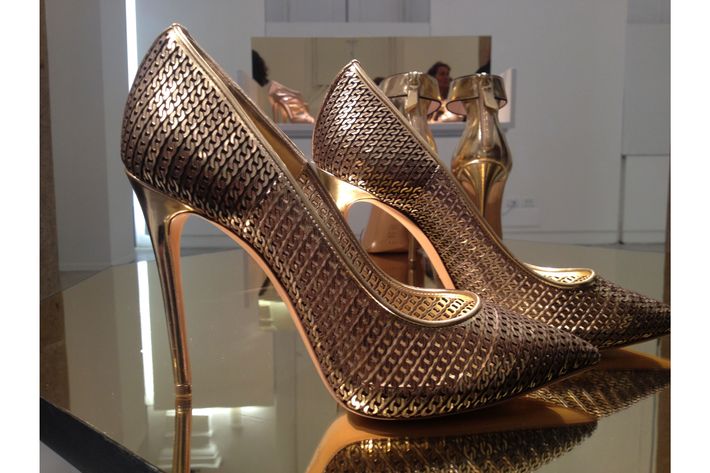 From the tiered invite in shades of bright peach to the show notes that included Karl Lagerfeld's sketches, Fendi felt seamless. Cara Delevingne opened the show, her brows instantly recognizable even as she was hidden under a choppy black wig. Architectural chiffon dresses paired with sharp heels gave way to graphic minks and jeweled mini-gowns. Fur moments on big bags made the models look like they were carrying their cartoon pomeranians down the runway. I can't wait to get my hands on those strange furry earcuffs by Delfina Delettrez.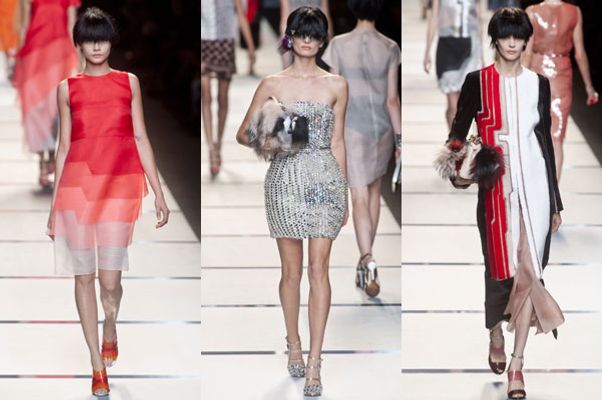 After Fendi, I went back to the hotel for a moment. To my dismay, I entered the elevator with Joan Smalls, and felt really unattractive standing next to her astounding beauty. Seriously, that woman wins all contests.
Speaking of winning, watching Prada live (and not just live-streamed) was a high point of my year. And what a collection! From the vibrant murals on the walls that then appeared on the coats to the jewel-encrusted knee-socks, somehow, Mrs. Prada collapsed all the notions of femininity into single outfits. It begged for a deeper conversation.
Prada was not the only place where dialogues about modern womanhood surfaced. At every show I attended, I overheard editors talking amongst themselves about leaving their children at home to come to Fashion Week/Month. Some shared baby photos, some swapped coping mechanisms. Conversations tended to start with, "How is your little babe?" and end with, "I don't know if this is worth it," or, "I had to fly my mother into town to help me," or flat out, "I can't think about it or I will cry." One buyer mentioned scheduled Skype sessions, another sighed and said, "I'm just trying to provide for us."
And then the lights go down, the music comes up, the world's most alien beauties saunter by, and for a few minutes, we all forget everything.