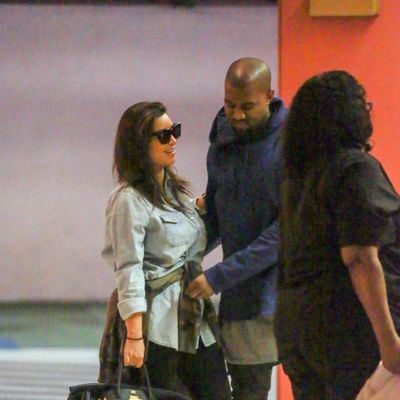 Photo: SGGS/AKM Images/GSI Media
Kim Kardashian has been photographed three times with her daughter since North West's birth. In two of those pictures, she carries a large bag — presumably a diaper bag — designed by Hermès. One appears to be a Birkin, the other a larger Haut à Courroies, the design from which the Birkin is derived. Kim Kardashian, the world concluded, is carrying North's poopy diapers in exquisite leather handbags worth something like $40,000. And she is not the first.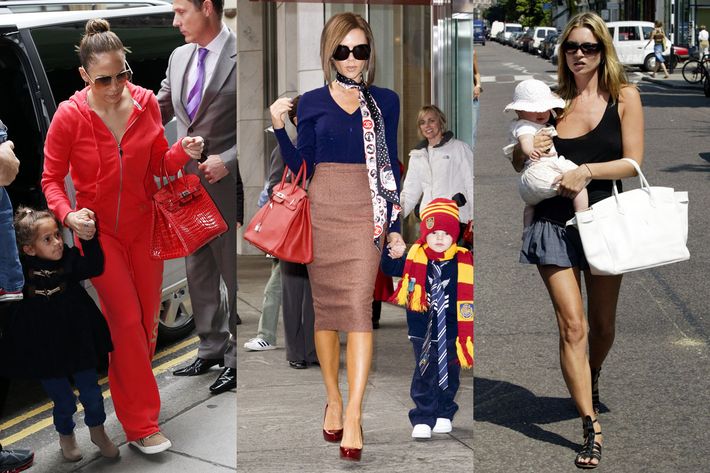 The Birkin is, in fact, a popular carryall for filthy rich and/or extravagantly accessorized moms. Kate Moss carried a white Birkin diaper bag for daughter Lila Grace. Aerin Lauder's sister gave her a Birkin "customized with holsters for baby bottles." Victoria Beckham carried Birkins through her children's young years, as did Jennifer Lopez. Though we can't say for certain if actual diapers were in their bags (maybe the diapers were farmed out to nannies?), Birkins were their only bags on various outings with their children. So, to the extent that these women carried any baby accoutrements, the wipes, powders, and pacifiers were in the Hermès. Even before baby Nori was a glimmer in Kanye West's eye, Kim carried a diaper-bag Birkin while babysitting for sister Kourtney's son. Mason lived out of Birkins when his mother cared for him, too.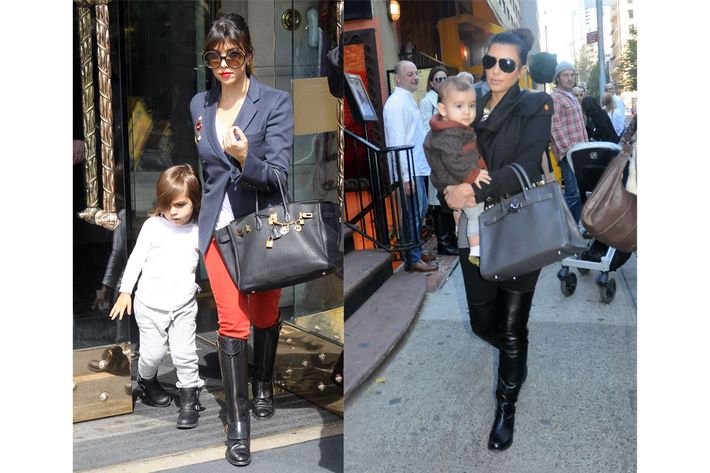 Now, before you get all huffy about celebrities making the coveted tote trashy, recall that the bag was invented for and named after a celebrity in the first place. You think Jane Birkin — who personally dictated the dimensions of the Birkin bag — hasn't thrown some poo into one, at some point? Because for all the hype, the Birkin is at its core a functional bag, designed for actresses to carry in airplane cabins. "When I was pregnant, mine served as the perfect diaper bag," Bag Snob's Tina Craig says. "I'd toss my baby's diapers and bottles in them and go."
For what it's worth, though, Jane Birkin is a bit sick of her namesake bag. Citing its "snobbish" reputation, she once advised users to "hang as many things as you can [on it] so it doesn't look like a bloody Birkin bag." Like the spittle of an A-list infant.