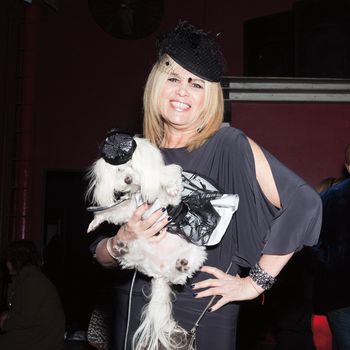 All photos courtesy of Paul Nathan/Couture Dogs of New York paulnathanstudio.com
Photo: Paul Nathan/www.paulnathanstudio.com
The first model to come down the runway when the fashion show begins is a Chihuahua in a full sailor's outfit, including a jaunty cap. The pooch is seated in a stroller, pushed along by its owner, a precisely dressed, visibly anxious stage mother. She needn't be worried: The crowd loves the look.
Next up is a pantsuited older woman who proffers a squirming dog in a sundress and straw hat like some ritualistic offering to the god of kitsch.
An emcee yells out details about each dog's wardrobe — "Mr. America is wearing a super cute …" — but it's barely audible above the coos of attendees, the skull-piercing yaps of 30 other small dogs, and giggling from a clutch of Japanese women, who are there to watch.
This isn't Fashion Week. It's just another night in New York's doggie couture scene. This evening's event — it's a Friday in August — is called the Americana canine fashion show and takes place at the Hannari USA dog salon in Gramercy.
All photos courtesy of Paul Nathan/Couture Dogs of New York paulnathanstudio.com
Americans spend an estimated $55 billion annually on their pets, and last year they dropped around $370 million on Halloween costumes for their animal friends. But for a small, though apparently growing, population of women — and they are almost all women — dressing up their dogs is a year-round affair. Some of these pets and their owners will attend three or four doggie couture events every week. Some of the dogs will never wear the same outfit twice.
Most of these events are themed "pawties," with profits benefiting animal shelters and the like. But then there are more extravagant affairs like "Bark Mitzvahs," celebrations of "Holy Muttrimony," and fashion shows.
When Wendy Diamond, a Martha Stewart type in the dog set, threw a $250,000 black-tie wedding for two of her dogs last year, it was a watershed event of the scene — like Truman Capote's Black and White Ball, albeit with a lot more piss on the dance floor (but no less dry humping). The "puptuals" featured a chuppah (the ceremony was Jewish), live band, and dog-friendly cake made by Hoboken's Cake Boss.
A cocktail party follows tonight's fashion show, and a few dozen attendees — mostly tucked under the arms of their human companions — mingle wearing tiny hoodies, tank tops, and kimonos that range in price from about $30 to $90, but can cost much more.
The priciest attire is made by semi-professionals like Anthony Rubio (photo below), whose business card describes him as "Top Pet Couturier." A high-school teacher and Bronx native, he wears a pencil mustache that gives him the look of a puffy John Waters. His pieces run upwards of $1000 a pop and can require as much as two days of hand stitching.
Typically, he only designs for smaller dogs. "Once they get past a certain size it looks strange," he says, holding two Chihuahuas dressed in tartan suits and sequined top hats, a look inspired by Alexander McQueen.
But these are not society ladies with bottomless reserves of Real Housewives spending money. For the most part, they are older, single, working women who put most or all — or more than all — of their disposable income toward dog clothes, matching carrying cases, and tickets to benefit events. They fight for closet space in studio apartments with their pets, whose tiny, shiny outfits are carefully hung in rows. The animals aren't from fancy lineages either; almost all of them are rescue dogs.
Despite their economic limitations, the hardcore enthusiasts — there are probably 100 of them in New York, with a less-passionate second tier numbering around 500 — take every chance they get to dress up their dogs and hit the town.
The dogs, too, have a healthy social life. They all have their own Facebook pages;some have business cards. They also have active romantic lives.
Ilene Zeins (pictured at the top of the page), a real-estate agent from Brighton Beach, says her dog Zee Zee is just getting out of a relationship. "He just wasn't the right match," she explains. "He was just a sweatshirt kind of guy, but Zee Zee needs someone who's going to walk her down the red carpet."
New Zealander Paul Nathan, who has become a kind of society photographer for the crowd and has documented the furry fashionistas in his book Couture Dogs of New York, which came out earlier this year, calls out encouragement to Zee Zee and his other largely unaware subjects. A PR consultant scouts for talent. Bored interlocutors don't so much scan the room as sweep the floors, looking for some dog outfit to critique.
The canine fashion scene is often, for lack of a better term, catty.
There was a golden age of doggie couture. In this prelapsarian era — around five years back — the scene consisted of a small group of friends who just liked to dress up their dogs in something other than Petco's dismal togs. They planned outings to the Build-a-Bear Workshop and then repurposed the teddy-bear outfits for their dogs (largely this consisted of accommodating a working anatomy).
Like matrons at an Edith Wharton party, a few of these O.G. grandes dames will bemoan the current state of affairs, but there's no fighting the fact that this has become a big, increasingly glam business.
As the evening starts to wind down, a Hannari employee scurries around the room with paper towels and organic detergent, cleaning up a few errant puddles. Attendees rifle through their gift bags, filled with samples of dog food and beauty aids (for dogs). The women hug, plan to meet up at a roaring-twenties party planned for the following week.
The dogs are oblivious to it all, good-byes eliciting just glassy stares from the crook of their owners' arms.