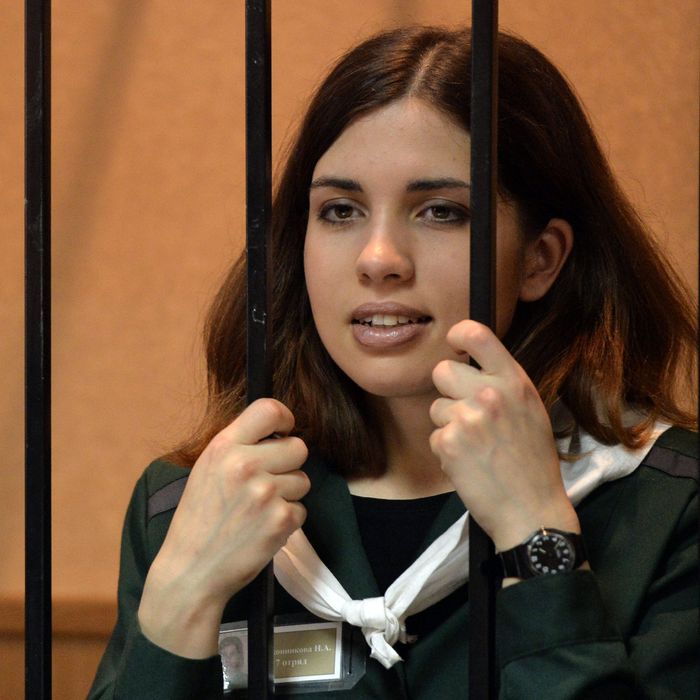 Incarcerated Pussy Riot member Nadezhda Tolokonnikova kicked off a hunger strike today, protesting the slaverylike conditions and human-rights violations at Penal Colony No. 14 in Mordovia, where she has been held for a year. In an open letter published in the Guardian today, Tolokonnikova writes that her brigade in the sewing shop (which manufactures police uniforms) works sixteen to seventeen hours a day (the legal limit is eight), seven days a week, to meet production quotas, which were increased by 50 percent two weeks ago, despite defective machinery.
A threatening, anxious atmosphere pervades the work zone. Eternally sleep-deprived, overwhelmed by the endless race to fulfill inhumanly large quotas, prisoners are always on the verge of breaking down, screaming at each other, fighting over the smallest things. Just recently, a young woman got stabbed in the head with a pair of scissors because she didn't turn in a pair of pants on time. Another tried to cut her own stomach open with a hacksaw. They stopped her.
Worse, Tolokonnikova explains, prisoners who file complaints or miss quotas risk collective, unofficial punishment for their whole unit: standing outside in the cold for hours, loss of food or bathroom privileges, loss of hot water, beatings from other prisoners with ties to the administration. Her friends and fellow inmates have received beatings and been denied parole just for their association with her. Hence the solo hunger strike: "I will [strike] until the administration starts obeying the law and stops treating incarcerated women like cattle ejected from the realm of justice for the purpose of stoking the production of the sewing industry; until they start treating us like humans," she wrote.