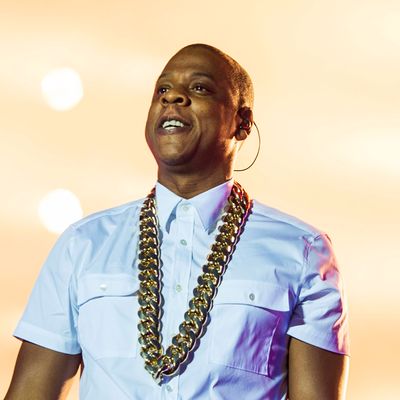 Jay-Z.
Photo: Samir Hussein/WireImage
As previously rumored, Jay Z has partnered with Barneys for their annual holiday collection, which will be feted with special-edition merchandise, themed window decorations, lots of ads, and, most important, a huge party — hopefully with Beyoncé in attendance, and maybe some kind of special performance. You may recall that last year's theme was Disney, and the year before that was Lady Gaga, who arrived at her ribbon-cutting ceremony looking like this.
While Gaga ginned up an insane-looking shop-in-shop that sold things like toddler-size biker jackets ($525 to $625), armadillo-shoe-shaped cookies ($95), and plush monster toys ($48), Jay Z's taste is less weird and even more expensive. According to WWD, he's gotten a bunch of his designer friends (labels like Lanvin, Balenciaga, and Proenza Schouler, to name a few) to make special-edition goods for the occasion, all with a streamlined black, white, silver, and gold color scheme. And whereas Gaga's funhouse-style boutique was called a "Gaga's Workshop," Jay Z's will be named the "BNY SCC Gallery" (standing for Barneys New York and Shawn Corey Carter), like a fine art dealer.
A sampling of what'll be for sale:
• A black leather backpack by Alexander Wang for Balenciaga
• A men's raincoat with gold snap buttons by Stockholm-based designer Alexander Stutterheim ($675)
• A cashmere blanket by the Elder Statesman
• An 18-karat-gold double ring by Hoorsenbuhs
• A men's bag by Proenza Schouler 
• A Shawn Carter by Hublot watch with black alligator straps ($33,900), also available in polished black ceramic ($17,900)
 • Or, on the cheaper end, a Barneys cotton T-shirt ($70)
More prices and items are forthcoming, but for the more frugal among us, it's safe to say there will also be Jay Z albums for sale — and hopefully some toddler-size Tom Ford shoes, or at least cookies shaped like them.