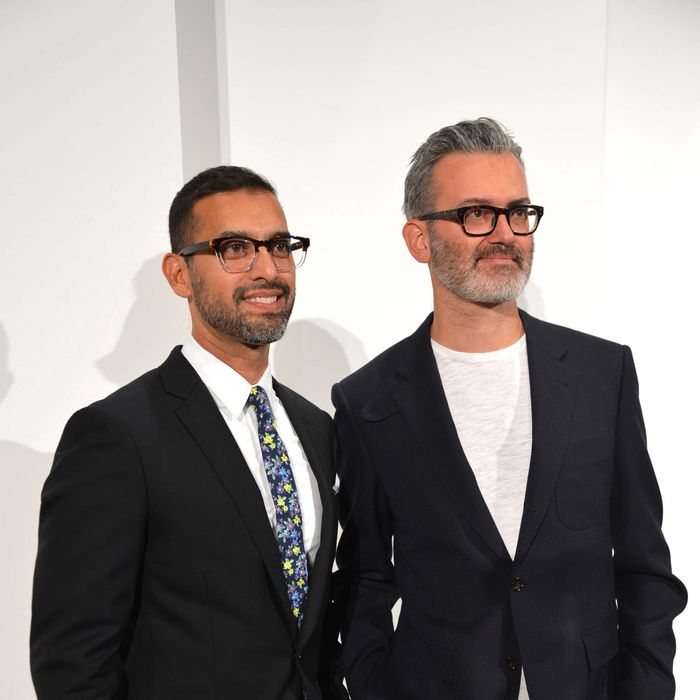 Photo: Mike Coppola/Getty Images
Earlier today, we stopped J.Crew's Tom Mora and Frank Muytjens to get the scoop on the spring/summer 2014 collection before it was presented. This season, the women's collection was inspired by the sartorial hallmarks of two surf cultures: the athletic, bold, graphic elements and technical fabrics (neoprene, sail cloth, and athletic jerseys) of Cali surf cool and the proper beach dressing of the Lido lifestyle of the Venetian coast — think linen, eyelet, and nautical stripes. To complete the surf sophisticate vibe, Mora and Muytjens recommended grabbing bomber jackets, windbreakers, and sweatpants from the men's collection. The rustic, warm vibe of which Frank Muytjens, head of menswear, says was inspired by the National Parks.
So, will all these trends — especially the dressy sweatpant — actually be something even the average woman (or vocal, irate housewife) can wear? "What we show on the runway has many versions. If you are adventurous, try the cropped sweatshirt, backed in neoprene. If not, there are a variety of other sweatshirts, longer, fuller," insists Mora, head of women's design. Click ahead to see every look and decide for yourself.